As children, we were often told the grass is never actually greener on the other side, but if you're a U.S.-focused investor, that old adage may not prove accurate. Investors in U.S. markets have seen a historic rise to record new highs against the backdrop of an improving domestic economy, but higher prices usually mean less value opportunities. So what is a value investor to do now?
It may be time to look at what Europe has to offer.
As a measure of relative value, the Stoxx Euro 600 trades at 13.1 times earnings, which is less than the S&P 500's figure of 14.1 over the next 12 months. The signal for a turnaround may have been sounded when the Eurozone economy grew 0.3%, better than expected for the second quarter. The concerns about the value of the Euro have abated and the average price-to-book ratio for European stocks is 1.7 versus 2.4 for U.S. stocks, according to research by JPMorgan.
As Europe begins to warm up, European stocks with a market cap of $10 billion or more and a P/E of less than 15 represent value without the speculation factor of investing in a foreign company. As accounting rules can differ in non-U.S. markets, larger cap European companies can make for a safer investment, when performing your due diligence.
Here are three stocks we think will fare well over the next 12 months that meet this market cap and P/E criteria.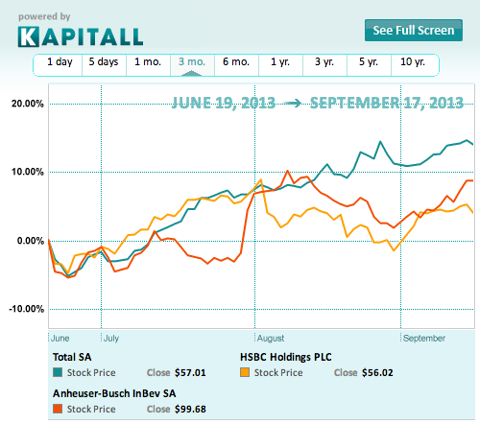 (Click to enlarge. Sourced from Zacks Investment Research.)
Out of France, we begin with the $125 billion oil giant, Total SA (NYSE:TOT). The company has been expanding operations in West Africa and now over 30% of the company's revenue currently streams from that region. The price of oil has been inching its way higher and that should help amplify Total's profits.
One of Total's most attractive features is its high 4.8% dividend yield. And with a P/E ratio of 10, this stock is undervalued against the general stock market. Total should fare well if inflation starts to become a concern, as energy companies typically perform well in inflationary environments due to their ability to pass price increases on to the consumer.
The largest market cap Europe-based stock that fit our criteria is the $204 billion banking empire HSBC Holdings (HBC). HSBC is one of the largest holdings of most European institutional portfolios - just look at the Vanguard FTSE Europe ETF (NYSEARCA:VGK). This ETF has 2.6% of its funds in HSBC stock, which could provide investors with a potential gain through fund purchases.
HSBC has a P/E of 13.36 and expected earnings of $4.80 for next year. Even with modest growth of just over 14%, that gives HSBC a PEG ratio of 0.92, which makes it undervalued next to not just the overall stock market, but also next to its peers like JPMorgan Chase (NYSE:JPM), which has a PEG ratio of 1.46. Like Total, HSBC offers investors an extra incentive through its dividend, a respectable 3.6% yield.
The final European stock on our large cap value search should be familiar to most Americans: Anheuser-Busch InBev SA (NYSE:BUD), the $154 billion beer conglomerate out of Belgium. This company has a P/E of 12, beating both the overall market and peers like SABMiller (LON:SAB), the maker of Miller and Miller Lite, which has a P/E of 24. "Sin" stocks like Anheuser-Busch tend to do well in both poor and rich economic environments, as evidenced by the company's impressive year-over-year quarterly earnings growth of 283%. As the official sponsor of the 2014 World Cup in Brazil, Anheuser-Busch is set for tremendous growth for a company of its size. Anheuser-Busch offers a 2% dividend, the lowest of the three stocks covered, but still provides some level of downside protection for investors.
Total, HSBC, and Anheuser-Busch are all large-cap companies housed in Europe that are being undervalued, based on their P/E relative to the overall global markets. All three stocks provide a dividend that will help offset any market pullbacks, while the larger macroeconomic theme of Europe's comeback begins to get established. Still, it would be worthwhile to keep a close eye on the U.S. Federal Reserve's actions regarding a taper, as the European markets will likely react in correlation with U.S. markets.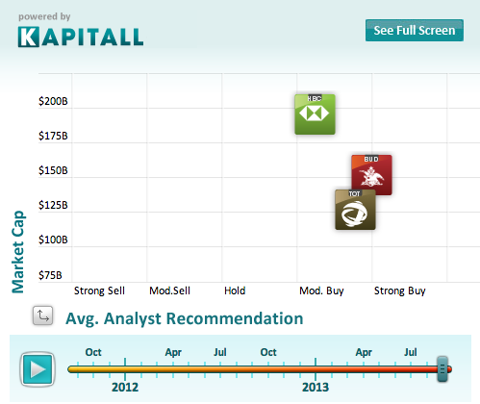 (Click to enlarge. Sourced from Zacks Investment Research.)
Disclosure: I have no positions in any stocks mentioned, and no plans to initiate any positions within the next 72 hours.
Business relationship disclosure: Kapitall is a team of analysts. This article was written by Daniel Cross, one of our writers. We did not receive compensation for this article (other than from Seeking Alpha), and we have no business relationship with any company whose stock is mentioned in this article.