Wal-Mart (NYSE:WMT) recently scored a major victory in Washington, DC, getting Mayor Vincent Gray to veto the 'living wage' bill, which would have dramatically increased the minimum wage. The retailer had made clear that passage of the bill would lead it to cease plans to build new stores in the nation's capital, a view held by others retailers including Target (NYSE:TGT) and Home Depot (NYSE:HD). The veto clears the way for the new construction and is a positive for the stock.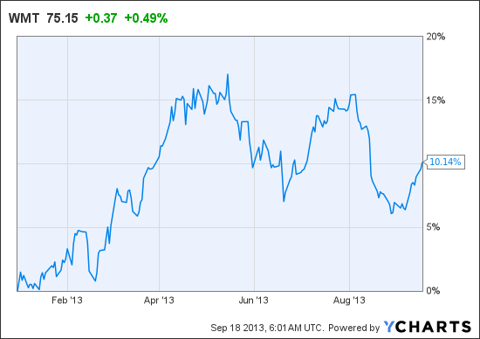 Wal-Mart has been openly criticized for various moves it has made to shore up costs against legislation - including the Affordable Care Act, also known as Obamacare. Many have argued that the retailer's practices are not in keeping with the spirit of the laws, but the reality is that the moves are good for shareholders. In the video below, I discuss details of the recent veto and how it impacts my overall thesis on Wal-Mart.
Disclosure: I have no positions in any stocks mentioned, and no plans to initiate any positions within the next 72 hours. I wrote this article myself, and it expresses my own opinions. I am not receiving compensation for it (other than from Seeking Alpha). I have no business relationship with any company whose stock is mentioned in this article.