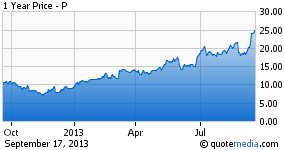 Pandora (NYSE:P) has been on a tear lately as it is up over 170% year-to-date reaching an all time high of $25.28. The rise in share price is due partly to the introduction of new CEO Brian McAndrews, a revenue beat of expectations in the previous quarter, the recent announcement of raising cash by issuing more shares, and a few other reasons.
Pandora now has over 200 million registered users with over 70 million active listeners. However, I believe that Pandora's meteoric rise in share price has been too fast and intense competition will cause a decrease in the share price. I believe you should sell Pandora if you currently own it and book profits, and that Pandora is a great candidate to initiate a short position in.
iTunes Radio
The first issue I have with Pandora is not actually with Pandora, but rather with its competition. Apple's (NASDAQ:AAPL) iTunes Radio is finally coming to market with the release of iOS 7 on September 18, 2013. iTunes Radio will be readily available with iOS 7 and with all of the newly released iPhones including the iPhone 5C and iPhone 5S. Apple can make the application readily available to each consumer, so it will already have an edge over Pandora in terms of visibility.
Additionally, Apple has another major advantage with regards to the competition between Pandora and Apple's iTunes Radio. Apple can use its already existent iTune's platform in tandem with their service. Apple already has 575 million credit card accounts which could enable easy access for consumers to purchase songs that they like. Besides service, Apple also undercuts Pandora's price as iTunes Radio's premium tier ad-free service will cost $24.99 per year (actually for iTunes Match Service). Pandora on the other hand charges $36.00 per year.
One other area where Apple will have an edge is global reach. While Pandora will certainly eventually attempt to reach more global markets, it seems as if Apple will be able to beat them to market throughout the globe. Pandora does have global reach with Australia and New Zealand, but Apple will be able to be first to market elsewhere. One major reason for this is because Apple was able to strike deals directly with the music labels and publishers, while Pandora goes through certain government organizations. Pandora will be forced to sign a new deal and the process begins in January with negotiations with the Copyright and Royalty Board.
Besides Apple, there are also many other competitors in the market from Google's (NASDAQ:GOOG) newly released serve, to Spotify, to iheartradio, to Slacker, and many others. Pandora was one of the first to market with an outstanding service, but the competition has been raised tremendously and many of the bigger players do not even need their service to be profitable.
Conclusion
Pandora is about to encounter many problems with increased competition from Apple. Pandora will be forced to pay more as they negotiate their new deal while Apple has a deal directly with the labels and publishers. However, the main reason that Apple can afford to undercut the price of the service, provide a more cumulative service with better content, and have higher costs themselves is because Apple does not need to be profitable with their service. Apple is a company currently worth over $400 billion and a music streaming service is not going to grow their bottom line in a meaningful way. However, this service can be used to complement their device and provide further incentive for consumers to purchase an Apple device. iTunes Radio further strengthens the Apple ecosystem Pandora will face a huge fight against this new competitor.
With all of the competition Pandora is going to continue to face, I strongly believe that it will have a very difficult time succeeding in the foreseeable future. Besides the competition, Pandora's costs will continue to go up as the artists will demand higher royalties. With all that being said, I would recommend booking profits if you currently own Pandora and maybe even consider shorting it.
Disclosure: I have no positions in any stocks mentioned, and no plans to initiate any positions within the next 72 hours. I wrote this article myself, and it expresses my own opinions. I am not receiving compensation for it (other than from Seeking Alpha). I have no business relationship with any company whose stock is mentioned in this article. The information contained herein is for informational purposes only. Before buying or selling any stock you should do your own research and reach your own conclusion or consult a financial advisor. Investing includes risks, including loss of principal.