Much has been said and written about a looming supply shortage in uranium pointing to the termination of the HEU agreement, the anticipated restart of nuclear power generation in Japan, and plans to increase the total number of power stations world-wide. The same chain of arguments typically also points to the shelving and down-scaling of many projects due to the presently very low uranium price environment. While we do not share the extreme bullish view of some analysts, we still agree that fundamentals are slowly shifting in favor of uranium.
Listening to Cameco's (NYSE:CCJ) last earnings call, we could not help to notice yet again that this premier uranium mining company continues to reiterate a similar view:
"We're expecting average annual growth in uranium consumption in the order of 3% per year out to 2022."
said CEO Timothy Gitzel and proceeded to update investors on Cameco's largest growth project, the Cigar Lake mine development. He had some news to break, and the news wasn't pretty:
"[…] our capital expenditures at Cigar will increase by 15% to 25%. That's mainly because of some scope changes at the mine and at the AREVA mill, as well as the same upward pressure being felt on cost across the mining industry. In addition, the previous estimate only included our expenditures to first ore and not the capitalization of start-up costs."
In total numbers, the announced increase translates to $165M to $275M in additional capex. News about Cigar Lake kept coming and only a few days later a conference call with another update on the project was scheduled on short notice. The news boiled down to the following excerpt of the release:
"During commissioning of the underground ore handling facilities in the mine, Cameco identified additional work that will delay jet boring in ore. Based on current information, Cameco expects to begin ore production during the first quarter of 2014"

"In addition, AREVA has advised Cameco that it has determined that further mill modifications are required and that the mill is expected to begin processing Cigar Lake ore by the end of the second quarter of 2014."
These delays are not the first experienced at this project. Originally start-up was scheduled for early 2008. In October 2006, the project had been 60% built when rock fall triggered water inflow that could not be contained. Remediation work went smoothly for some time and in June 2008 production start-up was still deemed possible by 2011. However, soon thereafter, further water management problems arose delaying mine construction further. It took until October 2009 before de-watering could resume and early in 2010 Cameco crews were able to re-enter the main working level. Milling arrangements for Cigar Lake ore were amended late in 2011 to exclusive processing of ore at the McClean Lake facility owned by Areva (70%), Denison Mines (NYSEMKT:DNN) (22.5%) and OURD (7.5%). Development progressed smoothly thereafter until a couple of weeks ago.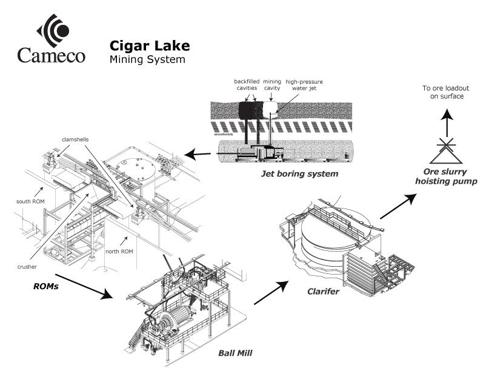 Click to enlarge
(Illustration of mining process taken from the company web site)
The Cigar Lake Mine
The mine at Cigar Lake in the Athabasca Basin is a world-first in many respects. The two joint owners of this project, Cameco (50%) and Areva (OTCPK:ARVCF) (37%) and two Japanese partners, are trialing the jet boring mining technology which has been developed for ore bodies that are typical for this particular region in Saskatchewan, Canada. The Cigar Lake deposit is situated at over 400m depth. The ore body sits within highly variable rock and is frozen prior to mining to improve ground conditions and prevent water inflow. Access to the ore is achieved from tunnels running 25m below the ore body in the basement rock. Access holes are pierced into the ore body and high pressure water from oscillating and rotating jets is used to carve out cavities. The resulting ore slurry is collected in separate pipes and pumped to underground ROM rooms. The cavities in the ore are filled with concrete before the process is repeated. Jet boring has been tested in waste rock but never been applied in full scale before. The ore slurry is collected and taken to underground grinding and thickening circuits from where it is pumped to the surface and loaded on containers for transport to the mill.
The recent announcement followed water leakage from the ROM cavities. In order to control this outflow, Cameco has decided to implement steel liners which has led to the latest delay. This has been described as a straight forward measure not posing any serious challenges in the conference call. The delays at the mill involve the installation of a ventilation and purging system to counteract the potential for the formation of increased hydrogen formation exists in the leaching circuit.
All going well, Cameco will be starting to produce ore at Cigar Lake early in 2014. This ore will be stockpiled at the McClean Lake plant and processed as soon the upgraded plant comes online towards the middle of the year 2014. The plant design allows for some overcapacity and Areva has indicated that this will be used in order to catch up with mine output.
Economic Implications
Cameco is a Canadian company best known for mining uranium and accounting for 16% of world uranium production from its operating mines in North America and Kazakhstan. Cameco has a market capitalization of $7.9B and is trading at $19.88 at the time of writing. Despite the depressed uranium price, the company still operates profitably and continues to pay dividends at just under 2% yield. The company had $331.6M in cash and $1.3B long-term debt at the end of the second quarter 2013. Cameco sells a large portion of its uranium product through long-term contracts. Revenue is therefore partially independent of the uranium spot price.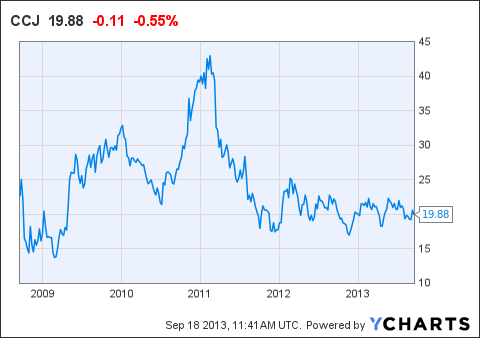 So far, the share price has not suffered from the recent disclosures. On the contrary: the share price increased by almost 5% the day after the last earning call when the cost escalations were announced. Obviously, the other news reported on the day over-ruled the news about cost escalation.
The latest technical report on Cigar Lake was filed in 2011 showing a pre-tax NPV (8%) of $1.435B and an IRR of 32.8%. Payback was scheduled until 2017. This analysis was based on mine start-up late in 2013. The presently announced delay is minimal compared to the estimated 15 years of mine life. The report also includes a sensitivity analysis with regards to changes in capex. According to this sensitivity analysis a 10% increase in capex reduces the NPV by about $50M. Using the announced worst case of a 25% capex increase therefore leads to a reduction of $125M in NPV to around $1.3B for this project.
It appears that the latest delay and cost escalation has no material impact on Cameco. The NPV of the Cigar Lake mine is still very healthy and financing the cost overruns will not cause a material problem. The company is yet to state the impact on its 5-year outlook, if any. Areva has indicated that it will be stockpiling ore until the plant at McClean Lake is ready and will be using overcapacity to catch up with production. We therefore do not anticipate a significant reduction in Cameco's long-term production outlook.
Disclosure: I have no positions in any stocks mentioned, and no plans to initiate any positions within the next 72 hours. I wrote this article myself, and it expresses my own opinions. I am not receiving compensation for it (other than from Seeking Alpha). I have no business relationship with any company whose stock is mentioned in this article.