JinkoSolar Holding (NYSE:JKS) just recently announced that it will do a stock offering for 3.5 million shares. This follows the stock's strong run-up in 2013 from around $6 to over $18. This share offering is likely to cause a correction for the stock as it is now overbought and overvalued. This combination of an overvalued state and the resulting share dilution following the stock offering could cause the stock to fall by 15% to 25%. The stock has a history of falling drastically in short periods of time and I think that this share offering will cause the next fall.
The company is a small-cap solar PV manufacturer that produces mono- and multi- crystalline PV panels. JinkoSolar manufactures ingots, wafers, solar cells, and solar modules. The solar modules are used for residential, commercial, and utility applications. JinkoSolar provides its products to customers in over 20 countries.
I'm not trying to put the company down or to say that there is anything wrong with the business itself. I am merely pointing out the fact that the stock is overbought and overvalued with the recent stock offering acting as a negative catalyst that is likely to drive the stock lower.
Overvalued
The stock more than doubled in 2013. It was trading below $3 just last year. However, the stock is now too far ahead of the company's earnings. Stocks tend to rise in relation to their earnings over the long-term. So, when we have a large discrepancy between the rise in stock price and earnings growth, a red flag emerges. JinkoSolar's stock is now trading at 36 times next year's earnings. The PEG ratio of 3.5 shows that JinkoSolar is trading ahead of its 5-year expected earnings growth of 10%. I view stocks trading with a PEG under one as attractively undervalued and between one and two as fairly valued. So, I definitely would consider JinkoSolar as overvalued with the PEG over three.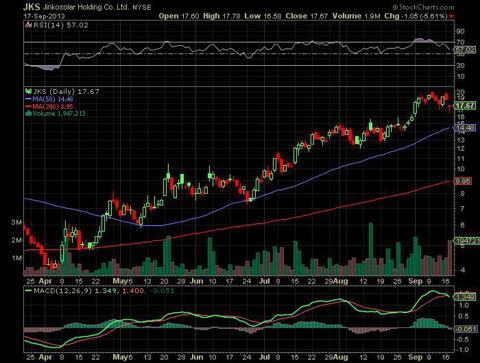 Click to enlarge
How Low Will it Go?
The company's stock offering is for 3.5 million shares. The current shares outstanding before the offering was 22.26 million shares. Therefore, the total shares outstanding will now be 25.76. The stock price was $18.72 before the offering announcement. The stock is likely to drop to about $16 just based on the share dilution. However, I think that it will go lower because of the overvalued price. The stock has a history of falling drastically from overbought conditions. It took a 60% dive earlier this year and a large dive in 2012 of about 80%. I don't think that this drop will be that dramatic, but I do think that a drop of 15% to 25% is reasonable. I am taking the pre-stock offering announcement price of $18.72 and accounting for an approximate 10% drop based on share dilution. Since stocks tend to overshoot to the upside and downside, I think that the total drop is likely to be closer to 25% when taking the overvalued levels into consideration. This would take the stock down to as low as $14, giving it a forward PE of 28. Unless the company comes out with some new negative news, I don't think the stock would fall much further.
Disclosure: I have no positions in any stocks mentioned, and no plans to initiate any positions within the next 72 hours. I wrote this article myself, and it expresses my own opinions. I am not receiving compensation for it (other than from Seeking Alpha). I have no business relationship with any company whose stock is mentioned in this article.