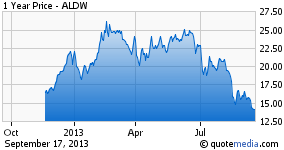 Over a several day period, I submitted questions and Mr. Eisman, President, Chief Executive Officer and Director of Alon USA Energy Inc. (ALJ) and the parent company of Alon USA Partners LP Inc. (ALDW) responded. He provided some key insights to some challenges the company faces, where the company is going, and the opportunities available in the future. This insight should provide investors with additional information to understand the value of the company and the opportunity as an investor in the company.
One of the questions I asked was, "Do you have plans to expand the company operations within the next several years?"
His reply was general in the respect that the company does not discuss current and future operations that could affect the market or insights for his competitors; however, he was positive and upbeat with a strong response.
"While our general practice is to not discuss future operational plans, we have several growth opportunities at the Big Spring Refinery. These include a further increase in production of toluene and aromatic solvents, and modification of the vacuum tower during our planned 2014 turnaround to increase distillate recovery and increase throughput by as much as 3,000 barrels per day. We also are working on projects to improve LPG recovery, enabling the Refinery to run lighter crudes and to more significantly increase capacity."
A take away here is that Mr. Eisman is looking for opportunities that will enhance the business operations for the company. A simple translation for investors would be the company is looking to improve their business operations to enhance the bottom line.
Since we are 2 months plus into the third quarter of 2013, I asked the question about the current quarter. "In the third quarter of 2013, are there any changes to your business environment that will affect your bottom line or distribution? I am mostly concerned with the current price of oil, the spread between Brent and WTI, the processing of oil into products and the sales of your products?"
Once again his answer was forthcoming, straight to the point. He identified several challenges in the market, but also described how the company is meeting these challenges and creating interesting solutions.
His comment included: "As noted by a number of other industry participants and observers, the refining industry has faced headwinds in 3Q due to narrowing crude differentials and weakening crack spreads. We will continue to follow strategies and take actions that have made us successful in addressing these sorts of challenges in the marketplace."
Once again I note the leadership is very aware of the current challenges throughout market operations and are keen on identifying new avenues to success.
Although Mr. Eisman did not present at the Barclay's Energy-Power Conference held earlier in September, his presence was noted and he accomplished several productive engagements with other attendees in one-on-one meetings.
Alon USA Partners LP is an excellent investment for investors who are looking to buy and hold this investment. The quarterly distribution alone is a double digit payout that can grow you investment, or if you are looking for a cash payout, will pay an excellent return. The company is a Master Limited Partnership that must pay a quarterly distribution between 85-90% of their earned income. Last quarter, ALDW shut down its refinery at Big Springs, Texas for 25 days for a planned upgrade to the facility. The last quarter's distribution dropped from $1.48 to $0.71, and this quarter we anticipate the distribution going back up, over $1.00 again. At the current price per share, that would make the annual return near 28%. (If we use $1.00 as the 3rd quarter's distribution, and times it by 4 quarters, = $4.00. $4.00 divided by today's market price of $14.08 = 28.4% return on your investment. That would be a great return. But even $0.50 distribution would be 14.2% return.)
One reason the price has dropped so much over the last quarter is a huge sell by big hedge funds, and not driven by the individual investors. As the large blocks are dumped on the market the price dropped significantly. This does not imply the value of the company is down, inversely, the opportunity to benefit from the value in the stock is stronger, with a higher distribution percentage.
One of the driving factors of the sell by hedge funds may have included the refinery shut down during the 2nd quarter. The reduction in the distribution encouraged the large hedge funds to adjust (sell) as investors are looking for big, uninterrupted returns. The fact this was a planned shut down for 25 days to conduct upgrades at the refinery may not have been acceptable to the hedge fund managers. The company brought the refinery back on-line successfully and the rest of second quarter and all of third quarter has been steady production.
Alon USA Partners, LP owns and operates refining and petroleum products marketing business. Its integrated downstream business operates primarily in the South Central and Southwestern regions of the United States. It owns and operates a crude oil refinery in Big Spring, Texas with total throughput capacity of approximately 70,000 barrels per day. The crude oil pipelines the Company utilizes consist of the Amdel, White Oil, Mesa Interconnect, Centurion and Centurion Interconnect. Its Big Spring refinery produces ultra-low sulfur gasoline, ultra-low sulfur diesel, jet fuel, petrochemicals, petrochemical feedstocks, asphalt and other petroleum products. The company web address is: www.alonpartners.com
ALDW's parent company is Alon USA Energy Inc. Alon USA Energy owns and operates sour and heavy crude oil refineries in Big Spring, Texas, and Paramount, Long Beach and Bakersfield, California (collectively known as our California refineries), as well as a light sweet crude oil refinery in Krotz Springs, Louisiana. Alon USA Energy Inc web address is: www.alonusa.com
Alon USA Energy Inc has a refining capacity of nearly 214,000 barrels per day. Its refineries produce several grades of clean-burning gasoline, ultra-low-sulfur diesel, jet fuel, specialty chemicals and advanced-performance asphalt products for road construction. Ultra-low-sulfur diesel produced by Alon takes less energy to refine than gasoline and burns cleaner than gasoline, producing more power more efficiently. It also can be refined and distributed within the existing infrastructure.
Alon USA Partners, LP is near its 52 week range low (14.01 - 29.12), with a market cap of $887 million dollars. Alon USA Partners, LP dividend history is short with just 3 quarterly dividends of:
Date Distribution 08/14/13 0.710 05/08/13 1.480 02/20/13 0.570
Based on current reporting numbers from the company and the activity in the market, Alon USA Partners, LP will produce another profitable quarter and pay a handsome distribution to its unit holders. If your investment goals are to buy and hold investments that will return a 10% or better return on your investment, this ALDW is a great investment in your portfolio.
Disclosure: I am long ALDW. I wrote this article myself, and it expresses my own opinions. I am not receiving compensation for it (other than from Seeking Alpha). I have no business relationship with any company whose stock is mentioned in this article. Information collected for this article includes the interview with Mr. Eisman, the company website and media reports. The interview was through the public relations officer and not a direct face-to-face interview. All information I received was addressed as from Mr. Eisman.