On Thursday, September 12, it was announced that China would begin banning the construction of any new coal-fired plants in and around Beijing, Shanghai, and Guangzhou. Although detrimental to the international coal (NYSEARCA:KOL) trade, this should come as no surprise, since this is just one the many initiatives the country has taken to curb coal imports. These actions are clearly the most recent black eye to an industry that's seen significant declines over the last 12-24 months.
As a result of Thursday's announcement I wanted to take a closer look at Peabody Energy (BTU) by not only recapping the company's past performance but by also highlighting a number areas in which I think Peabody could show significant improvements.
Company Profile
Headquartered in Saint Louis, Missouri, Peabody Energy serves a number of high-growth markets in more than 25 nations that span a total of six continents. Peabody is not just the only global pure-play coal investment, but a global leader in clean coal solutions. From mine to rail, rail to ports, and ports to plants, Peabody is fueling the world with energy essential to sustain life, build communities and grow economies.
Recent Performance and Trend Status
On Monday, shares of Peabody Energy -- which currently possess a market cap of $4.88 billion, a forward P/E ratio of 28.21, and a forward yield of 1.86% ($0.34) -- settled at $18.28. As of June 30, 2013, Peabody Energy had a total of $523 million in cash and a total of $6.0 billion in debt on its books . Based on Monday's closing price of $18.28, shares of Peabody Energy are trading 2.75% above their 20-day simple moving average, 7.57% above their 50-day simple moving average, and 10.81% below their 200-day simple moving average. These numbers indicate a near-term uptrend and a longer-term downtrend for the stock, which generally translates into a selling mode for most traders.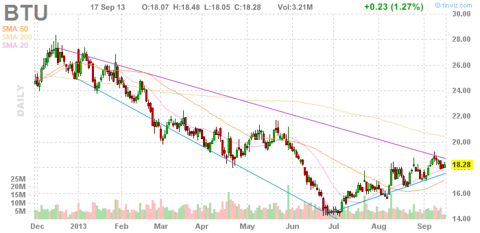 Recapping A Strong Second Quarter
U.S. coal companies thrived during the second quarter of 2013, as major industry names surpassed estimates by a considerable margin. For example Peabody Energy, Arch Coal (ACI) and James River (JRCC) beat estimates by margins of $0.38/share, $0.29/share and $0.04/share, respectively. In my opinion, it was the way all three managed their individual cost-cutting efforts that led to each company's specifically strong quarter. When it comes to cost-cutting Peabody's spending initiatives have been reduced significantly, as management has lowered its 2013 capital targets by a margin of $100 million to $350 from a previously forecasted amount of $450 million.
Estimated 18-Month EBITDA Outlook
For the remainder of 2013 and for all of 2014, I strongly believe that soft coal prices will play a significant role when it comes to Peabody's earnings growth. As we head into the fourth quarter of 2013, I think Peabody's full year 2013 EBITDA could end up in a range of $955 million to $975 million, (especially since the company achieved first half EBITDA of approximately $479 million), and its full year 2014 EBITDA could be in a range of $982 million to $997 million. Based on the above calculated ranges I estimate Peabody will demonstrate an annual increase in EBITDA of about 3.33% by 2014.
Continued Cost Cutting Initiatives
According the company's 8-K, dated September 6th, 2013, "Peabody continues to expect a 2% to 3% decrease in its U.S. operating costs and expenses in 2013 compared to the prior year on a per-ton basis, and a mid-$70s per ton range for its Australia costs, as well as 2013 capital spending levels of $350 to $450 million. The company also continues to target full-year 2013 sales of 230 to 250 million tons, including 33 to 36 million tons from Australia, 180 to 190 million tons from the U.S. and the remainder from Trading and Brokerage activities".
When it comes to US operating costs and the company's fairly aggressive efforts to reduce them (a projected reduction of $100 million from a full year perspective), I think an additional reduction of $25-to-$30 million would put a large majority of shareholders at ease knowing that such efforts have and will continue to strengthen the company now and in the future.
Although the additional $25-to-$30 million has yet to be implemented, I could very easily see Peabody cutting manpower related costs (overtime and temporary workers), expenses related to various private contractors (and sub-contractors) and a number of miscellaneous costs associated with material and supplies. Investors should note that Peabody did mention its initial efforts reduce the above mentioned costs in its most recent quarterly earnings report.
Australian Operations - Overview
According to the company's website, "Peabody's operations in Australia service export and domestic markets with a diverse product range of coal through multiple coal ports. In 2012, Peabody's Australian operations achieved total sales of 33 million tons primarily to steel producers in Japan, Europe, Taiwan, India and South America, as well as to electricity generators in Australia and Asia".
The good news for Peabody is the fact that Japan, Taiwan, India and a number of other electricity providers are buying coal for steel-related operations. The bad news is China continues impact overall growth by establishing anti-coal initiatives, such as its most recent ban on the construction of coal-fired plants, that will continued to hinder Peabody's operations in the region since imports are subsequently lowered.
Any continuation in the reduction of Chinese imports will have a direct impact on Peabody's Australian sales. If imports experience a sustained decline and annualized Australian sales come in at-or-below expectations, shareholders could be in for a very volatile ride over the next 6-12 months, if not longer.
Peabody's Chinese Conundrum
China will continue to put a damper on US-based and US-affiliated imports and Thursday's announcement seeking an end to the construction any new coal-fired plants is just the first of what I believe to be a number of advanced steps that Chinese are taking to move away from its reliance on coal.
Over the course of the next 6-12 months, I strongly believe that China has the potential to shut down a number of its fully-operational coal-fired plants in and around Beijing, Shanghai, and Guangzhou in an effort to fortify its recent stance on pollution reduction and clean-air initiatives. For example, Christopher Helman recently noted that these initiatives could include "bringing China's reliance on coal down to a level of 65% of total power generation versus the 70% it has recently maintained".
Conclusion
When it comes to those who may be looking to establish a position in Peabody Energy, I'd continue to keep a watchful eye on not only the company's growth over the next 12-24 months, but any adverse effect China might have on the company's long-term earnings performance as well as its long-term revenue generation. Coal revenues will continue to weigh heavily on the company's earnings performance and revenue generation. If things don't improve and Chinese continues to move away from its reliance on coal, investors may be headed down a very unfavorable path over at least the next 12-24 months.
Disclosure: I have no positions in any stocks mentioned, but may initiate a long position in ACI, BTU over the next 72 hours. I wrote this article myself, and it expresses my own opinions. I am not receiving compensation for it (other than from Seeking Alpha). I have no business relationship with any company whose stock is mentioned in this article.