Back in January, I wrote a series of articles on my Top 13 picks for 2013. I had a couple bad ideas (NASDAQ:BBRY) and (NYSE:SLW), a couple of so-so ideas (NYSE:DHI) (NYSE:TOL) (NYSE:DE), and a couple "wins" (NYSE:HCA) (NYSE:DSW) (NASDAQ:SBUX) (NYSE:KOG), if you measure based on the first half of the year. I haven't calculated the overall gain/loss but I'll do an article on t in December/January. For now I'd like to cover one of the picks again -- Kodiak Oil and Gas Corp. It has seen a large rally over the past for months and I'd like to look at what it behind the move, in addition to deciding whether it has room to run more.
If you are new to the company, know that Kodiak is a domestic oil and natural gas producer with operations in North Dakota, Montana, Wyoming, and Colorado; the majority of which are located in the Williston Basin in North Dakota and Montana. Within the Williston is the Bakken Formation, a major oil producing rock formation. The area has become, as you likely know, the major new oil production area in the United States these last few years.
For a while after we wrote about it the stock treaded water, before selling off. Then in May it started what would be roughly a 45% rally of the lows. There could be many factors behind this move. But it's easiest to separate them into the two dominant share price movers: 1) macro -- the price of oil, and 2) micro -- operations at Kodiak (hereafter KOG).
Oil
The price of oil started a 20% rally at about the same point as the KOG rally began in May. This oil rally has apparently been in anticipation of a potential Syria intervention (funny how markets can predict). We can speculate that to be the reason because supply and demand have not changed markedly. Specifically, OPEC has held production relatively steady on the supply side, and on the demand side China has (until he past week or two) looked like its economy was continuing to slow. That implies that it was the Syria risk that was moving the price up. Of course there is also the possibility that it was yet another bubble product of QE or the hopes for a EU recovery.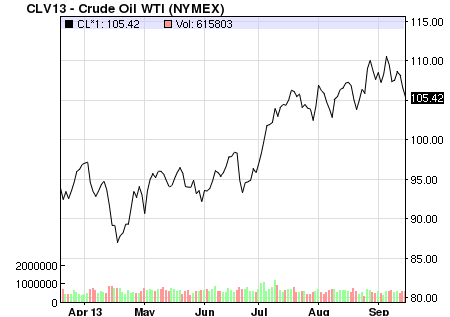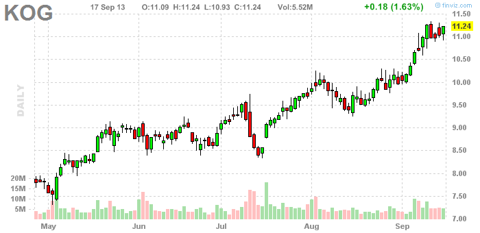 Regardless of why the oil price rose since May, it is very clearly one factor in the pricing of oil production stocks, and played a role in the rally. But I believe that fundamentals (specifically productivity gains) have also played a role in this rally for KOG.
Kodiak Fundamentals
In July a whole lot of well completions that had been delayed (due to poor weather earlier in the year) came online all at once in North Dakota -- 55,000 new barrels per day to be exact. Some of those wells were KOG's. An increase in production, and thus revenue, could have been responsible for part of the price pop.
The company has taken on a large amount of debt this year to finance expansion. According to CEO Lynn Peterson, the company will have spent about $1 billion dollars this year and will be operating about 100 wells. This brings up questions about whether the company is expanding too quickly.
I believe that this is a valid question, but baring a sudden "severe" Taper by the Fed, I don't see commodity prices collapsing any time soon. Also, China and Europe's economies seem to be speeding back up and that should provide a solid base for oil.
KOG has also increased efforts to lower costs. It began utilizing the method of pad drilling, which is more efficient than other methods. By drilling 4 wells on one pad without needing to "re-rig," you could argue that this almost quadruples efficiency. Unfortunately, the cost for new wells has only dropped about 10% ($10.5M per rig to $9.5M), so it's not a quadruple in efficiency, but it definitely adds to the bottom line. Now the company is planning on drilling eight wells per pad, potentially increasing productivity and margins even more. This type of news is what investors want to hear.
One more thing that investors want to hear is that time spent drilling each well has decreased between 30% - 40%. Again, this acts to increase margins and add to profitability.
Value
Despite the revenue and EPS growth potential of this company due to its expanded number of wells coming on line, it has a reasonable forward P/E ratio of 11.27, and a cheap PEG of .61 (I believe anything under 1 is good).
The company has high operating margins of 34.9%, meaning future revenues translate well to EPS. The company has a modest return on equity of 9.6% but I expect this to increase as their borrowed money begins to result in higher production, revenue, and earnings.
The one negative in the metrics, as mentioned above, is the debt. The company has a debt-to-equity ratio of 1.31. Obviously, many companies attempt to grow incredibly fast, but in some cases it can be a wise decision. For example, when market share is wide open for the taking it may make sense. That's what Amazon (NASDAQ:AMZN) did a decade ago to solidify its spot as a top online retailer, and while it can be argued that it should now focus on profitability, it can't be argued that those early reaches for market share were unwise. It remains to be seen if the same applies to KOG.
All in all, I would say that the valuation on this stock is very reasonable despite its growth prospects. Additionally, there are other catalysts which I'll mention below.
Short Squeeze Candidate?
The short float on KOG currently sits at almost 15% of the float. Based on current volumes, that produces a short ratio of 6.4 (6.4 days to cover those short shares). Obviously short-covering can be frantic, and can occur in less time than the short ratio implies, but that is a pretty substantial number. More bad news from Syria could lead to more shorts trying to get out of KOG. That could produce much higher prices, in a hurry. Keep an eye on this factor.
Whale Buying
While John Paulsen's GLD position has not turned out according to plan, his company, Paulsen & Co., make most of their money on arbitrage and merger plays, so his purchase of 15 million KOG shares last month is interesting. If KOG is bought out, he could see a windfall gain here. So could you.
Random Correlations
Finally, this chart isn't directly related, but if you are a rock music lover you'll love it. It means that we should see better rock music soon since U.S. oil production has been rocking the past couple years. I'm still waiting for it though.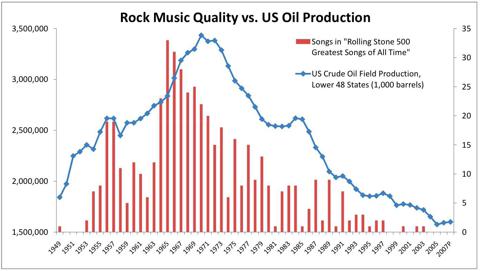 The Play
Assuming the Fed doesn't announce a massive Taper, I believe oil prices shouldn't dive anytime soon, and that, combined with increased productivity and efficiency by KOG, should mean higher prices for KOG. Add to that the wildcards of 1) short covering gains and 2) a buyout, and it appears that the risk versus reward is right for a purchase at these levels. Investors wary of owning a "volatile name" can play this more cheaply with a small call spread with a December expiration.
Disclaimer: We do not know your personal financial situation, so the information contained in this article represents an opinion, and should not be construed as personalized investment advice. Past performance is no guarantee of future results. Do your own research on individual issues.
Disclosure: I have no positions in any stocks mentioned, and no plans to initiate any positions within the next 72 hours. I wrote this article myself, and it expresses my own opinions. I am not receiving compensation for it (other than from Seeking Alpha). I have no business relationship with any company whose stock is mentioned in this article.