Note: This article covers a micro-cap stock. Please be aware of the risks associated with these stocks.
SuperCom (SPCB, formerly SPCBD.OB) is a micro-cap company with a market cap of around $45 million. It is a provider of Electronic Identity (EID) and RFID solutions.
The company sells EID solutions to Governments, primarily in developing countries. We believe that about two thirds of the revenue is derived from the EID business, with the majority of that from one customer in Eastern Europe for passports with embedded EID chips.
The balance of revenue is derived from the sale of RFID products. In past years, the RFID segment was not profitable. However, the current management team has restructured this business to focus on selling turnkey solutions rather than products into three primary verticals: electronic monitoring of home-detention prisoners; animal tracking; and RFID for the healthcare and homecare markets.
Electronic monitoring is a primary focus of the RFID business. Prison overcrowding and the high cost of incarceration has led to an increased push for home detention for light offenders, which given a saving of 90-95% per prisoner, represents a significant ROI and cost saving to the prison service. According to SuperCom's estimates which quote Incucomm, the market is expected to grow fast to $6 billion in 2018, from a base of $0.5 billion in 2010.
The source of much of this data comes from the company presentation which is available from the SuperCom website.
History
SuperCom was established in 1988 in Israel and has had many ups and downs over the years. The company experienced a severe downturn in 2008, culminating in a loss of approximately $12 million. Facing imminent bankruptcy, in 2010, SigmaWave, a family owned private-equity fund based in Israel, took over the company. SigmaWave acquired control of around 45% of the outstanding shares. Arie Trabelsi, President of SigmaWave, installed himself as CEO.
Mr. Trabelsi has indeed been successful at turning around the company. He reduced a loss of $5 million in 2009 to $1.8 million in 2010 by hiving off and restructuring the unprofitable parts of the business.
In 2012, the company reported organic revenue growth of 13% with a net income of $4.8 million. On a non-GAAP basis, the net income was $3.1 million which excludes non-cash or one-time items.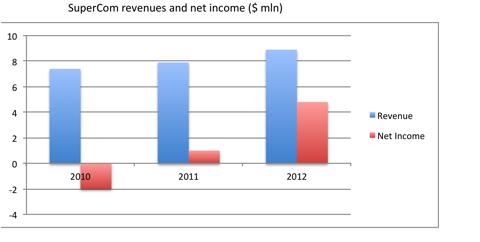 While quietly turning the company around between 2010 and 2012, the past few months in 2013 have been particularly eventful for SuperCom.
Back in March, the company was trading at around $0.43 (post a recent reverse split) and then following the release of its fourth quarter 2012 results had a sharp jump, multiplying the stock price by 4. It fell back a little and from June onwards, it has been on another very nice run on comparatively high volume - from around $1 to the current approximate $5. The move from June onwards was not based on any new information coming out from the company. The only clues were two SEC 13G filings by institutional investors which purchased significant stakes in SuperCom. This implies that some institutional investors have woken up and taken notice of the stock.
While 10-plus bagger is a significant gain in a six month period and on the face of it, would seem for an investor as being late to the party. However, we note that based on 2012 numbers, the current market cap of $45 million and a (non-GAAP) net income of $3.1 million implies a fairly reasonable historical PE of about 14 times.
The OTI SmartID Acquisition
What we find most compelling is the potential that comes from a recently announced acquisition that of OTI's (NASDAQ:OTIV) SmartID business. Based on the company's announced figures, a successful acquisition potentially lowers this PE ratio to closer to 4 times on a 2012 pro-forma basis.
The acquisition of OTI's SmartID division makes perfect sense for SuperCom, as this means consolidation with the company's main competitor in the space. In addition, there are strong similarities between SuperCom's and OTI's SmartID operations which allow for strong operational and technological synergies.
Both are companies based in Israel, with similar work ethos. Both companies are competing for the same projects in developing markets - many times winning the number 1 and 2 slots in a bid. The two companies use similar technologies and often SuperCom buys products from OTI for use in their projects.
In recent months, SuperCom has poached some key employees from that division. Finally, because OTI originally bought that division itself from SuperCom in 2006, SuperCom knows that division well making the integration all that easier.
Under the terms of the deal, SuperCom will pay $10 million and an additional earn-out of up to $12.5 million for the SmartID division. The acquired business generated $17.4 million in revenue (almost double SuperCom's revenue in 2012). However, it reported a net loss of $834K in 2012.
On August 14, the company announced the acquisition and on August 26, the company filed an amendment to an outstanding F1 filing, revealing post acquisition pro-forma results. The deal is expected to close in a 60-90 day timeframe.
The combined pro-forma P&L statement in the F1 amendment is actually what it is interesting here.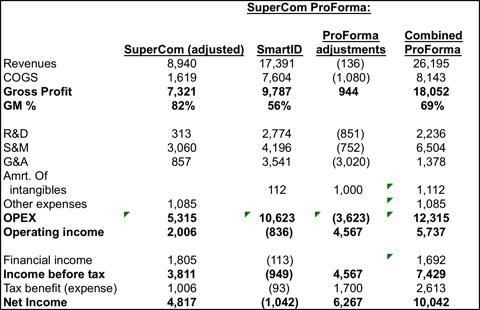 On a conference call announcing the acquisition, management reported that SuperCom is primarily buying the projects and IP from OTI without a large portion of the management overhead. In addition, management believes it will be possible to increase the gross margin of the acquired business up to that of SuperCom's average from 56% to 80%.
Assuming the pro-forma adjustments are reasonable, these results demonstrate expense savings of $4.6 million on a combined revenue base of $26.2 million.
Valuation
Using the latest share price of $5.05 and current market cap of $45 million, a pro-forma net income of $10 million suggests a PE ratio of approximately 4.5 times 2012 net income. For a micro-cap company which is profitable and has been growing very strongly on an organic basis, this appears very cheap.
Obviously, there are risks that the revenues will not be as great as the company thinks, and they may face increased expenses which they currently cannot foresee. Even so, our worst-case scenario (assuming no acquisition occurs) is still a growing and profitable company, trading at a PE of 14 times.
Our base case (which is based on management's internal expectations) is buying a company at a PE of 4.5 times. Even if the acquisition turns out to be less accretive, which yields a PE of somewhere between 4.5 and 14 times, still gives us a cheap company.
Upside to the valuation
However, we think there is strong upside well beyond management's base case.
Firstly, the deal removes SuperCom's primary competitor, OTI. We believe the two companies were competing head to head on a number of projects. The removal of OTI from the tendering processes significantly increases the chances that SuperCom stands to win new deals. We believe, there is at least one deal in the current pipeline which SuperCom has a high probability of winning on the basis that OTI will drop its objections. Each new EID deal won, can add tens of millions of dollars in recurring revenue per year. Thus, even just one win per year makes a major difference to SuperCom.
Second, because the company is becoming a more diversified company with multiple customers, each generating a smaller portion of their revenue, the risk is significantly lowered. That, and the company's larger revenue base and increased scale, could in itself boost the company's ability to win more deals.
Third, the company is bidding for RFID projects in three growing markets. Any traction in this business would provide significant upside.
Finally, given the historical losses, the company has around $50 million in net operating losses (NOLs) over the years. In Israel, these NOLs can be claimed on taxes unlimited amount of time, so there will be no tax liability for the foreseeable future. As such, this will increase the net income slightly, as the tax asset is recognized on an ongoing basis.
Catalysts
As a side point to all this, the company transferred its trading to NASDAQ starting from September 17 from an OTC listing. This in itself puts the stock onto more investor radars, and we believe should increase interest from institutional investors.
The company has also announced that it intends to raise capital of around $25 million in a secondary offering. Assuming this offering does go ahead, this will likely bring a slew of institutional investors as well as research coverage from the banks executing the deal, which should allow the story to get marketed further.
Risks
The main risk circulates around the acquisition of OTI's SmartID division.
The acquisition is going through due diligence and there is a risk it won't happen in the end. However, we believe the risk is low. SuperCom actually owned this division prior to 2006 and has recently poached a number of key executives from this division, so SuperCom knows exactly what it is getting itself into. In addition, this will make the assimilation process also fairly easy.
The company also has to pay for the acquisition. This means raising or borrowing money in the market. Market conditions are obviously beyond the control of the company and can dictate whether this is a successful process or not. In addition, depending on valuation and the amount actually raised in the end, it could be quite dilutive to shareholders. We note that they have indicated they want to raise $25 million, while in reality they only need $10 million for their payment to OTI.
Conclusion
Despite the run-up in SuperCom's share price over the past 6 months, in the worst-case scenario (without an OTI acquisition) at the current valuation - we see a fairly cheap (PE of 14 times), profitable and growing company.
In our base case scenario, we see an exceptionally cheap company (trading at a pro-forma PE of 4.5 times) with considerable upside. We see upside from winning at least one of the EID deals in the current pipeline, some traction in their RFID efforts as well as additional synergies from their SmartID acquisition in their EID business.
With SuperCom, we see an exceptionally cheap and under followed stock, with some upcoming catalysts which could drive the stock.
Disclosure: I have no positions in any stocks mentioned, and no plans to initiate any positions within the next 72 hours. I wrote this article myself, and it expresses my own opinions. I am not receiving compensation for it. I have no business relationship with any company whose stock is mentioned in this article.