As I looked at both my mail, fantasy team, and stocks this morning, I saw a common pattern: they were all provided by Yahoo! (NASDAQ:YHOO).
Once left in the dust behind Google (NASDAQ:GOOG) and Bing (NASDAQ:MSFT), Yahoo! is making a comeback powered by "new" (four quarters) CEO Marissa Mayer.
"Hire and retain a great team, build inspiring products that will attract users and increase traffic, that traffic will increase advertiser interest and ultimately translate into revenue. People then products then traffic then revenue... The first sprint was all about people and culture, the second and current sprint is all about execution, execution around improving products and increasing traffic."

-Marissa Mayer, Yahoo! CEO, Q2 2013 Earnings Call
As Marissa Mayer stated, Yahoo! is in the middle of an extreme makeover. Through both people and culture, Yahoo! has redone its hompage, changed its logo and colors, and modified its services. Yahoo! has now entered the "execution" phase, in which it plans on "improving products and increasing traffic."
Over the past several months, Yahoo! has completed several acquisitions including the major Flickr deal. In this article I plan on analyzing Yahoo!'s current value and future potential broken down by business segment.
Alibaba Group (24% stake)
Alibaba.com is one of the largest online retailers in the world, with over 2 million supplier storefronts. In Yahoo!'s Q2 report it also released Alibaba's Q1 numbers: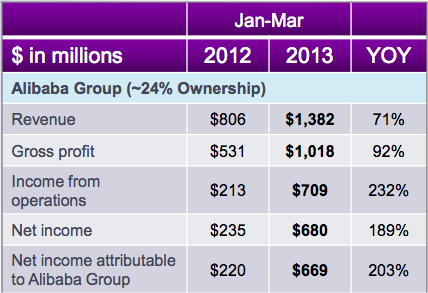 Using the numbers reported, it saw $669 in net income, representing more than 200% year/year growth (on top of the original $220M). Revenues are also growing at more than 70%, leading some to value Alibaba at upwards of $40 Billion -- Yahoo!'s stake would be worth $9.6B.
Alibaba generated $1.8B in net income in 2012, though most came in Q3 and Q4, making it harder to calculate growth:
| | |
| --- | --- |
| Year (est. growth) | Net Income |
| 2011 | $547M |
| 2012 | $1.8B |
| 2013 (50%) | $2.7B |
| 2014 (50%) | $4B |
| 2014 (25%) | $3.375B |
| 2015 (50%) | $6B |
| 2015 (25%) | $4.2B |
In my calculations, I used 50% growth for 2013, and then either 50% or 25% for 2014 and 2015. There is a reason why I chose to calculate until 2015 - under their current agreement, Yahoo! has agreed to sell roughly half of its remaining stake (14% of Alibaba) in an IPO, though it could keep the other 10% indefinitely.
Using a P/E of 12 in 2015 (an estimated year for the IPO) Alibaba could be valued between $50.4B and $72B, though it is more likely to be valued at a P/E of around 18 ($75B - $108B).
If the IPO were valued today at $50B (a very conservative estimate), Yahoo! could sell its required 14% stake generating $7B, and could keep its remaining 10% stake indefinitely. With many predicting Alibaba to be worth upwards of $100B in the coming years, its remaining stake could be worth upwards of $10B!
For the purpose of this article, I will assume that Yahoo! sells 14% of Alibaba for $7B, and the remaining 10% for $10B, giving the current stake a value of $17B (instead of the $8.1B currently recorded on its balance sheet).
Yahoo! Japan (35% stake)
Similarly to Alibaba, Yahoo! reported results for its partially owned Yahoo! Japan segment: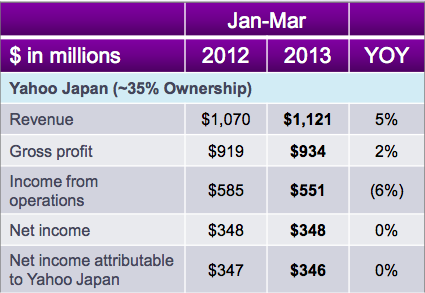 Since Yahoo! Japan is a public company on its own right, it makes it extremely easy to value Yahoo!'s stake. With the shares trading with a market cap of 3.1 Trillion yen, or $31.2B in USD, Yahoo!'s 35% stake is worth approximately $11B (versus the $10.1B recorded in the last earnings report).
Yahoo's Core Business
Yahoo! is undergoing a massive makeover for a simple reason - it is currently going in the wrong direction. The remains of Yahoo!'s business comes from advertising (both search and display), whether through articles, fantasy sports, mail or the search engine. The revenue generated by this segment has been in decline for several quarters, with Yahoo! trying to quickly reverse direction.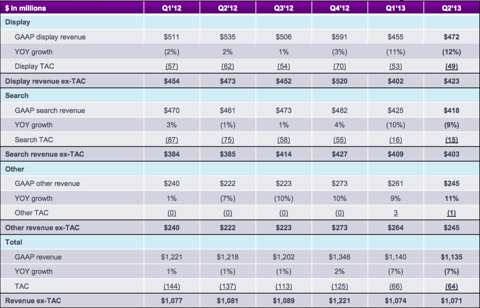 As seen in the most recent earnings, Yahoo! has been able to increase display revenue q/q, while slowing down the revenue loss from their search advertising segment (which is largely powered by its recently extended agreement with Microsoft). Yahoo! has tried revamping its platform through the acquisition of Timblr, in which it paid $1.1B (including $750M in 'goodwill' for potential).
While it is hard to value Yahoo's core business, it generates roughly $3.2B in revenue, and is estimated to generate roughly $700M in net income in 2013 (taking away roughly $300M from guidance for equity ventures). A P/E of 12 would value the segment at roughly $8.4B.
Yahoo! also has roughly $4.5B in cash, accounts receivables, prepaid assets, and property/equipment, as well as $2.37B in liabilities. With everything taken in, Yahoo! could be valued at:
| | |
| --- | --- |
| Segment | Value (est.) |
| Alibaba: | $17B |
| Yahoo! Japan: | $11B |
| Advertising/Core: | $8.4B |
| Net "Real" Assets: | $2.13B |
| Total: | $38.5B |
With the market currently valuing Yahoo! at $30.6B, Yahoo! still has more than 25% short-term upside even after a recent run-up. The model I used above did not include any growth in Yahoo!'s core business, in which many are very optimistic. While there are multiple downsides (especially in the equity investment segments), Yahoo! has the ability to increase value through expanding the advertising businesses and investments. While some pessimists may see Yahoo!'s investments in Tumblr, Alibaba, and Yahoo! Japan as overvalued, an optimist may see the special opportunity that Yahoo! has placed itself in: a chance to 'execute and improve' the business, which is only step two in Marissa Mayer's plan (next comes the revenue).
Disclosure: I have no positions in any stocks mentioned, and no plans to initiate any positions within the next 72 hours. I wrote this article myself, and it expresses my own opinions. I am not receiving compensation for it (other than from Seeking Alpha). I have no business relationship with any company whose stock is mentioned in this article.