Being an income-driven investor I tend to be attracted to a number of stocks that lie within the higher-yielding MLP sector. In today's article I wanted to examine one particular small-cap MLP play that is currently in a near-term uptrend, possesses a yield of at least 10%, a forward P/E ratio at-or-under 16.25, and has, in my humble opinion, adopted one pretty impressive growth-by-acquisition strategy.
Performance and Trend Status
On Tuesday, shares of Breitburn Energy Partners (BBEP), currently possessing a market cap of $1.81 billion, a forward P/E ratio of 16.09, and a forward yield of 10.76% ($1.92), settled at $17.84.
Based on Tuesday's closing price, shares of BBEP are trading 0.88% above their 20-day simple moving average, 1.32% above their 50-day simple moving average, and 1.89% below their 200-day simple moving average.
These numbers indicate a near-term uptrend for the stock and a longer-term downtrend for the stock, which generally translates into buying mode for most near-term traders and a holding pattern for some of the longer-term investors.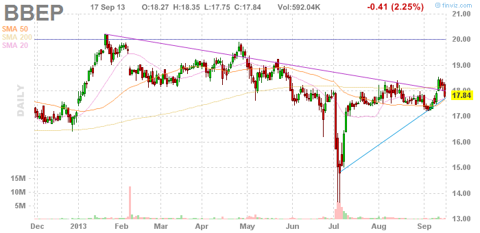 Attractive Dividend Behavior
Since November 7, 2011, the company has increased its quarterly distribution seven times over the last 7 payable months (including the company's most recent payout which took place on August 8). From an income perspective, the company's forward yield of 10.76% ($1.92) coupled with its 24-month dividend behavior certainly make this particular stock a very viable income option for long-term investors in search of a higher-yielding play in the energy sector.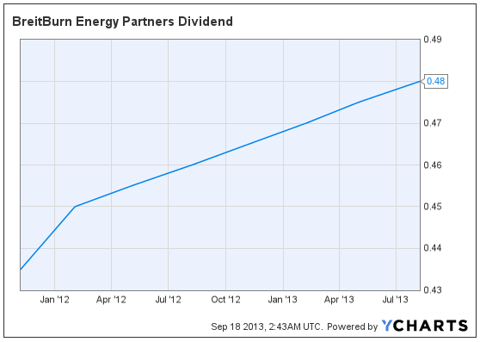 An Asset Acquisition Positively Impacting DCF
On July 15th it was announced that Breitburn Energy Partners had closed on the acquisition of Whiting's Enhanced Oil Recovery Projects located in the Postle and NE Hardesty Fields which are both based in Texas County, Oklahoma. In my opinion, there are several reasons why this transaction should be met with open arms.
There are key reasons why I'm bullish on this particular transaction. First is the fact that the acquisition will be immediately accretive to distributable cash flow ("DCF") per unit.
Second is the fact that the partnership expects second half 2013 total DCF to range between approximately $135 million and $145 million, and my expectations are for second half total DCF to range between $140 million and $150 million. Third is the fact that this transaction only strengthens the company's potential to meet and/or exceed its goal of increasing its distribution by at least 5% over the next several years due in large part to the direct effect this transaction has on the company's total DCF.
If the company can meet and/or exceed my second half DCF expectations, I strongly believe we could see a distribution increase of at least 6% if not more before the mid-point of 2014.
A Rewarding Growth-by-Acquisition Strategy
As my fellow SA colleague Bret Jensen recently pointed out, Breitburn's "revenues are growing rapidly with new acquisitions. The company should post a better than a 50% sales gain this fiscal year and analysts project another 30% or better gain in FY2014. In its last reported quarter, EBITDA rose almost 30% Y/Y. Consensus earnings estimates for both FY2013 and FY2014 have exploded to the upside in the past three months."
How impressive is the company's recent revenue growth? During the second quarter revenues surpassed street estimates by a margin of $171.75 million or nearly five times the $45.23 the street was looking for.
If the company can continue to capitalize on similar acquisitions such as the Whiting asset acquisition (June 24, 2013) the Permian Basin properties acquisition (December 11, 2012) and the Belridge Field acquisition (November 23, 2012), I see no reason why any modifications should be made to its current growth-by-acquisition strategy, especially since revenues have increased quite considerably over the last 12-18 months.
Conclusion
When it comes to those who may be looking to establish a position in Breitburn Energy Partners, I'd continue to keep a watchful eye on not only the company's dividend behavior over the next 12-24 months but also any revenue growth that may be directly related to the company's recent series of acquisitions. I strongly believe that Breitburn will continue to seek out suitable acquisition targets and as a result of such activity revenues could see a considerable jump over the next 12-18 months.
Disclosure: I am long BBEP. I wrote this article myself, and it expresses my own opinions. I am not receiving compensation for it (other than from Seeking Alpha). I have no business relationship with any company whose stock is mentioned in this article.