Since my last article on HollyFrontier Corp. (NYSE:HFC), there have been six new articles on this site advocating purchase of HFC common shares (see here, here, here, here, here and here). Over the past several months the stock has continued to languish and shareholders continue to remain frustrated by both the relative and absolute performance of the equity. It would be easy to explain the poor performance of the stock on the substantive decline in crack spreads in the mid-continent region (leading to concern over second half 2013 and 2014 financial performance). Softness in cracks, not just in the mid-continent but throughout the US, has led the refining group broadly lower since the spring. However, I think there is more to it when exploring the relative performance of the equity since the merger of Holly Corp. and Frontier Oil Corp. formed HFC during the summer of 2011.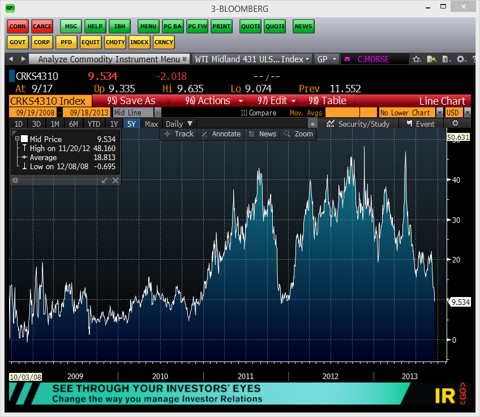 Click to enlarge
I remain a shareholder, because ultimately, cracks go up and down, but in the case of HFC, management can (and I believe should) undertake transformative steps to reshape the capital structure without adding substantive risk to enterprise while enhancing long-term value prospects for shareholders. Let's go over what I think should be done.
Management has missed the mark.
Since the August 2011 merger, HFC has declared 10 special dividends of $0.50/share. During that period, HFC has underperformed peers broadly. Why?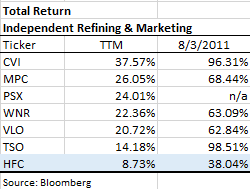 Is it because the company's assets are located in a worse region than peers (I don't think so) or because management is a poor operator (aside from some minor hiccups in 2013, I don't think this the case)? Or, maybe, is it because the equity markets are unwilling to assign a premium to a company in a business with volatile earnings and cash flow that pays out arbitrary, unsustainable and inconsistent special dividends? The refining and marketing business is not generally stable (see the chart on cracks above) like more conventional dividend paying sectors (like utilities, for example) and a return of capital strategy that centers largely around special dividends is not likely to work in garnering absolute relative outperformance versus peers or a dividend-sector premium.
So why does management continue to pursue this strategy? It would appear that the Executive Suite and the HFC Board of Directors are managing the company's return of capital strategy in a vacuum and are tone deaf to the relative performance of the stock. Take this quote from the CEO in the second quarter earnings release, highlighting the management approach to return of capital: "Today's $0.50 special and $0.30 regular dividend announcement demonstrates our ongoing commitment to increasing total shareholder return. Our current regular dividend yield is 2.6%, and our trailing twelve month cash dividend yield stands at 7.8% relative to yesterday's closing price of $45.92." Despite posting reasonable relative (to consensus and the refining group) results, and announcing yet another $0.50/share special dividend, the stock traded down over 3.0% post the earnings release. Now, I'm certain the company and the board have a rationale for these special dividends, but the relative performance tells a more compelling story: the strategy isn't working and should be reconsidered.
The decisions on capitalization make little sense.
During the past quarter, HFC management retired $300.0 million of debt with cash, as opposed to taking advantage of what has been one of the best borrower markets in history to refinance the debt with new debt and preserve cash to return to shareholders. Management has chosen an extreme liquidity position instead of taking a balanced view toward the overall capitalization and keeping a reasonable Weighted Average Cost of Capital ("WACC").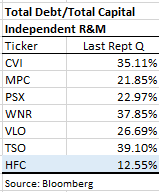 For a business like refining, which (generally speaking) should have consistent needs for maintenance capital as well as modest needs for growth and/or regulation required capital, having some debt in the capital structure just makes sense. Consider the peer group, the relative performance since the merger to form HFC and see if the equity markets are penalizing refining and marketing companies for carrying modest debt loads. Quick note: the "debt" that HFC has (and the 12.5% ratio) is largely tied to the ownership interest and consolidation of the Holly Energy Partners, L.P. ("HEP"). The actual debt ratio for HFC is substantially less.
So why invest in HFC at all?
The cash. The greatest thing HFC has going is the company's cash position ($2.4 billion at the HFC level) and overall capitalization, because management can take a proactive view toward the equity and straighten out the story for shareholders. What makes HFC compelling, versus refining peers, is that the company's financial condition allows you to forget that HFC is in fact a refiner, and cracks have degraded, and focus on an opportunity by management and the board to take action at what appears to be an opportune time (especially in light of the recent decline in cracks). Let me walk through what I hope HFC management is considering at this time.
Here is how I look at the valuation.
Let's consider the EBITDA cycle for HFC. Let's range the EBITDA from $1.0 billion (during stressed periods) to $3.0 billion (during the top of the cycle). That puts the mid-point at $2.0 billion, which is slightly more than the downward revised $1.8 billion in 2013 and $1.9 billion consensus in 2014. At 4.5x (a reasonable multiple for a cyclical, low margin business), that ranges the value of the core refining business between $4.5 billion and $13.5 billion, with the mid-point at $10.0 billion. Using the mid-point, the refining business is worth $44.55/share currently. Add in the net cash position of $10.89/share and roughly $1.0 billion, or $4.95/share, of value from 38.15% owned Master Limited Partnership ("MLP") Holly Energy Partners, L.P. ("HEP") and I believe HFC is worth a bit more than $60.00/share. With the stock currently trading at slightly below $41.50/share, it would appear that the market is discounting the value of the refining business below the mid-cycle (which appears punitive, relative to the consensus) and is giving no credit to the HEP ownership or substantive net cash position (I see the $41.50/share as reflective of the consensus $1.8-$1.9 billion forward EBITDA view, again, offering little to no value for the cash or HEP). What I believe HFC management should undertake is to transition the "upside" in the stock from the cash and HEP position to the refining business.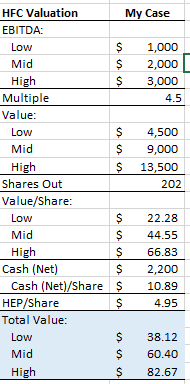 Stop these special dividends and start to aggressively buy back stock.
I am not advocating a large, accelerated share repurchase program with the entire cash balance (as the long-term results are mixed) but do think that instead of throwing out arbitrary dividends at a frustrated shareholder base, buying back $300.0 mm to $400.0 mm of stock per quarter (with the front-end loaded now, in light of the depressed share price relative to the value of the business) just makes sense. The $1.20/share annual dividend (with a yield of 2.85%) is superior to the peer group and the S&P 500 allows the company to remain a compelling dividend story (so for the income investors reading this article, don't have a cow that I'm advocating an abandonment of arbitrary dividends as you won't get them forever). Let's say HFC management buys back $1.2 billion of common stock at an average range of $43.50/share-$49.50/share over the next 12-months. This amounts to 13% of the overall company, and HFC will still have (assuming capital discipline and no major surprise liquidity requirements) $1.0 billion of cash and equivalents to preserve the overall liquidity position. In what I believe is a technical stock market, a company that is a consistent buyer of its own stock (and thus, being the marginal new buyer for sellers) has been a winning strategy for a whole host of well run businesses that have performed well over the past several years. Why not adopt this strategy, and scrap the special dividends, that has led to lackluster results relative to the peer group?
Sell the ownership interest in HEP and use the proceeds to buy back stock.
HFC owns 38% of public Master Limited Partnership HEP (as well as a 2.0% GP interest). HEP is trading at 27x 2014 consensus estimates. This is a substantial premium to the sub-10x multiple where HFC trades. Why hold this investment in HEP, for reasons other than control (as management is comingled here, and selling would be inconvenient) and the ability to sell assets down (to which HFC is not that big a company, and does not seem to have more assets to go)? Would it not make more sense to sell the HEP interest, and use the money to buy back stock (or, for the very creative, offer an exchange of HEP stock for HFC stock, to shareholders who own HFC for income, as HEP pays a 5.53% dividend and is structured as a dividend, income business)? Using the proceeds from an HEP sale (call it an after-tax $650.0 mm, or more, if an exchange is offered and successful), HFC could retire another 5-6% of the company, as well as clean the story and create a more linear valuation as a pure play refiner. The markets do not appear to be giving credit to HFC for the HEP interest, so an exit would certainly help the company realize the value.
Issue some debt for goodness sake!
Would the financial condition of HFC be materially riskier if the company had $1.0 billion of corporate debt against $1.0 billion of cash and equivalents, while using the incremental (to the existing $200 mm or so of debt) to repurchase stock? Let's say management used the full proceeds of a debt offering ($800 mm) to retire shares, and let's call it an incremental 5-6%. Looking out 12 months, the company has retired over 25% of outstanding shares, reduced dividend expense (on the $1.20/share dividend) by close to $60.0 mm, increased interest expense by $42.5 mm (assuming a cost of 5.0% to borrow), still maintained a net debt position of zero and cleaned the story so that the value of the stock is embedded into the underlying fundamentals of the overall business (and not in things like cash and HEP).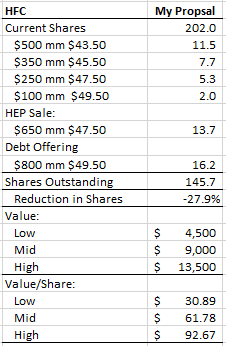 Will management do anything?
I'm just not sure. I'm hopeful, in this age of activism, that I'm not the only investor to see the value in HFC that could be unlocked by management shifting focus. I have also not lost complete hope in management, as the company did repurchase $152.8 million of stock in the second quarter of 2013, and hopefully, is out buying stock now in light of the recent downturn. Bottom line: only own HFC if you are very patient (as time usually tends to work out situations where the underlying financial condition is out of sorts with the value proposition because of strategic decisions), as the situation now appears closely tied to margins with the market showing little regard for the strengths of the HFC enterprise (the balance sheet).
Disclosure: I am long HFC. I wrote this article myself, and it expresses my own opinions. I am not receiving compensation for it (other than from Seeking Alpha). I have no business relationship with any company whose stock is mentioned in this article.