The purpose of this series is to highlight stocks that are undervalued, profitable, underperformed the market, and have a favorable technical outlook. The stock that I will be covering for my undervalued series this week is Amdocs Ltd. (NYSE:DOX). DOX stock has fallen 3.51% in the last month compared to the S&P 500 (NYSEARCA:SPY), which has risen 3.16% in the last month. I believe DOX is a solid undervalued long-term choice to gain exposure to the continued expansion in the need for IT services. Amdocs provides billing and payment processing systems, customer care and IT services. What Amdocs does is help companies find the best way to monetize data for communications and technology companies to get the most out of the services they provide to consumers.
Value
To value DOX I will be using a DCF calculator, with data for earnings and growth coming from Zacks.com, benchmark data from longrundata.com, and CPI data from the BLS. The DCF table below shows shares of DOX are undervalued by 32.60%, which represents a good opportunity for price appreciation for shares of DOX.
EPS [ttm]: $2.76
Long-term Growth Rate: 8.40%
Earnings grow for next: 5 years
Level off: to 1% after
Benchmark return: 10-year annualized SPY return of 7.22%+1.50% inflation= 8.72% benchmark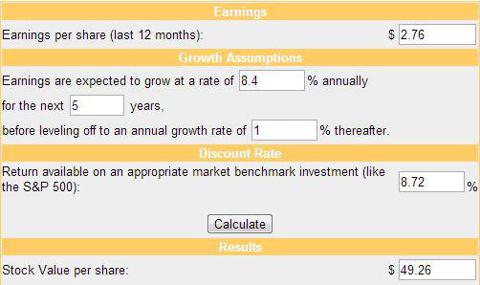 Technical Outlook
The chart below shows that shares of DOX have been in a slow steady decline since the beginning of August when the shares reached a new high. Shares of DOX recently bounced off a rising level of support [Red Line] and in the short term are trending higher. This level of support has held multiple times over the last year, and has rebounded higher after each test of this support level. In addition, shares of DOX are near another short-term level of horizontal support at $36.75. This level is important because this level is where shares made a new high at the beginning of March, then reversed course, and then in July shares broke out above this level and went on to make new highs. With these two levels of support, I believe shares of DOX have a solid base to rebound from with the recent decline in the stock price.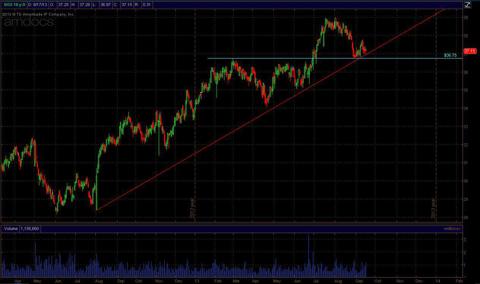 Catalyst
The biggest catalyst for Amdocs is the continued growth in mobile data traffic. The chart below from an Amdocs PowerPoint presentation on data monetization shows that mobile data traffic is expected to double for the near future. With this massive increase in mobile data usage there is strong demand for companies that can monetize that data and get the most revenue out of it, which is what Amdocs products and services provides for companies. In addition, Amdocs recently acquired Actix, which creates software platforms that enable mobile operators to deliver better customer experiences, maximize network ROI and generate new revenues by locating, optimizing and monetizing their subscribers' experience. According to Rebecca Prudhomme, vice president of product and solutions marketing for Amdocs in a press release: "With this acquisition, Amdocs will continue to lead the way in customer experience innovation. Linking network knowledge to customer insight, we will continue to deliver on the promise of our CES 9 portfolio to help service providers unleash the power of experience, while delivering operational efficiencies." Simply put, communications companies can provide a better customer experience and do so in the most efficient and profitable way.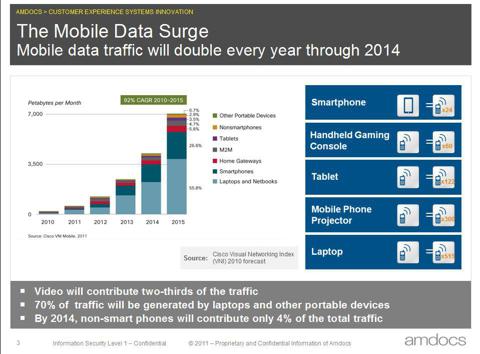 Risks
The biggest risk to DOX is competition in the industry. There are a number of other companies, which provide products and services to the telecommunications and technology sectors, so this is a potential risk. According to Yahoo Finance the main competition for Amdocs is Comverse (CNSI), Convergys (CVG) and CSG Systems International (CSGS). While all of these competitors are smaller than Amdocs, they still have the potential to take business away from Amdocs.
Closing thought
I believe shares of DOX are poised to move higher from current levels, because the stock is undervalued, the stock is near two key levels of support, and the underlying business has a strong tailwind of mobile data growth behind it. Even though there is competition in the industry, I believe DOX being the largest player will succeed going forward because of the products and services it offers, combined with important strategic acquisitions like Actix, which will allow Amdocs to continue being the top player in the industry. I believe going forward shares of Amdocs Ltd in the long term will move higher to my fair value estimate of $49.26.
Disclosure: I have no positions in any stocks mentioned, and no plans to initiate any positions within the next 72 hours. I wrote this article myself, and it expresses my own opinions. I am not receiving compensation for it (other than from Seeking Alpha). I have no business relationship with any company whose stock is mentioned in this article.