Sometimes it is better to be lucky than good - but it's always preferable to be both.

Mid-month we cut back our position in AsiaInfo Holdings (NASDAQ:ASIA) by half on a spike around $23. Since then, as the stock has fallen back, we've made some small purchases, including one this week in the $20s to get our position size back up - nothing big enough in any one batch to mention.

Since I had just added to the position Tuesday, I did not have a stop loss on Wednesday, so unlike quite a few other names Wednesday, we did not lower our exposure on a quick break of the 50 day moving average. Wednesday was so busy I also did not realize earnings for ASIA were out after the bell (usually I'll cut back a position ahead of earnings to reduce risk); so lo and behold, I was scratching my head to see the stock up 15%Thursday morning. Obviously whatever they reported was good; I have not had time to dig into the numbers, but I'm going to take this opportunity to repeat the trade from 2 weeks ago and cut half the stake ...again around $23. Groundhog Day.

Technically, while I sold the stock (assuming the market holds up) should have potential to low $24s at which point its behavior will tell us more.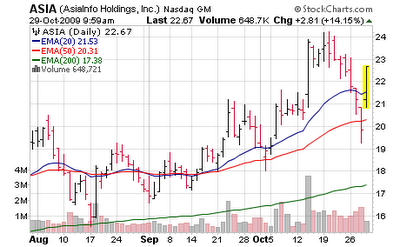 At First glance analysts expected $69M in revenue, 29 cents in EPS. Looks like they actually missed on revenue but hit the EPS figure. More important is guidance - analysts were in for $62M in revenue with 20 cents EPS next quarter, while ASIA is now guiding $70-$72M in revenue and 28/29 cents in EPS.
[Aug 11, 2009: Bookkeeping - Beginning Placeholder Stake in AsiaInfo Holdings]
[Aug 7, 2009: Niche Play on China Telecom - AsiaInfo Holdings]

Disclosure Long AsiaInfo Holdings in fund; no personal position