It's the beginning of "Fed taper week" and I find myself doing battle with Internet access both on my laptop and smartphone. Frustrating, true, but it lead me to think about the infrastructure required to support my frustration. I have one simple theory, if it is going to affect you, learn to make money from it.
It's been over a year since I wrote about Digital Realty (NYSE:DLR), stating:
Digital Realty Trust affords investors an opportunity to diversify their REIT holdings without sacrificing safety, growth or income. I believe the company's securities are attractive across the capital structure.
DLR data by YCharts
Umm, looks like I was either early or late or just plain wrong. Digital Realty has significantly underperformed the Vanguard REIT ETF (NYSEARCA:VNQ). How the heck was I so far off? Was it the super sector (REITs), sub-sector (data center REITs) or Digital Realty? Let's take a look.
There are three primary players in the data center REIT space, they are:
Digital Realty: Digital Realty is a data center REIT which provides secure, reliable and cost effective data center facilities. Digital Realty's customers include domestic and international companies across multiple industry verticals ranging from information technology and Internet enterprises, to manufacturing and financial services. Digital Realty's 127 properties, including three properties held as investments in unconsolidated joint ventures, comprise approximately 23.7 million square feet as of June 30, 2013, including 2.8 million square feet of space held for development. Digital Realty's portfolio is located in 32 markets throughout North America, Europe, Asia and Australia.
Coresite Realty (NYSE:COR): CoreSite supports more than 750 customers across 14 data centers in nine major U.S. markets. Coresite does business with some of the world's leading carriers and mobile operators, content and cloud providers, media and entertainment companies, and global enterprises to run their performance-sensitive applications and to connect and do business.
DuPont Fabros Technology, Inc (NYSE:DFT): DFT is a leading owner, developer, operator and manager of enterprise-class, carrier neutral, multi-tenant wholesale data centers. The Company's ten data centers are located in four major U.S. markets, which total 2.5 million gross square feet and 218 megawatts of available critical load to power the servers and computing equipment of its customers.
With the players identified and defined, let's take a look at the performance versus the Vanguard ETF since my DLR recommendation:
DLR data by YCharts
Bottom line: I was wrong with my recommendation. The 4.40% dividend yield does not offset the loss on a total return basis. Coresite knocked the ball out of the park and DuPont Fabros was in the game, but the largest player just plain lagged.
So the question is: Kick or keep?
The first part of this answer has to be the general thesis that digital/data storage will only continue to grow, and companies involved in this space (tech, telecom and cable primarily) will rather move in to a designed facility and lease rather than build the facility and own real estate. I firmly believe that the customers of these data storage REITs would rather lease than own for capital efficiency reasons as well as mobility reasons. As the chart below shows, IP growth is expected to continue at a strong pace.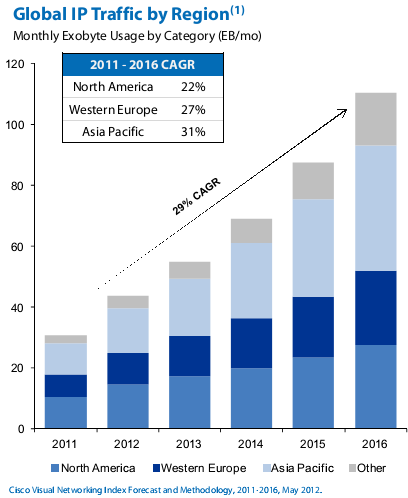 Based on this thesis, the sector is a keeper.
Next let's look at a fundamental comparison between the players:
The table above is relatively intuitive. The REIT with the more conservative financial metrics is afforded the better market multiples. The clear "winner" here is Coresite. Despite its higher metrics, I like the higher growth and lower payout. While the dividend is lower, they have room to increase it due to their payout. A position could also be split between Coresite and Digital realty to blend the growth and yield - a balanced approach to positioning the sector.
Turning our attention to lower in the capital structure, preferred stock, we see the following:
Each of the REITs' preferred stock is attractive in its own right, but I find Dupont Fabros to be the most compelling from a yield standpoint. Digital Realty is the highest rated (Baa3/BB+) compared to Dupont Fabros (Ba2/B-) and Coresite (unrated), and an investor doesn't have to pay up much for the rating (50bps), so if there are ratings constraints, DLR could be the way to go. If you view the sector and the participants as viable, as I do, then buying into a lower rated preferred for a pick-up of 50bps might be somewhat appealing.
Bottom Line: The bottom line is I was wrong. Wish there was a better way to put it, but any other way would be misleading and just plain wrong as well. I continue to like the REIT, but think there are better ways to invest in the space: Coresite in the equity structure (or a combination of Coresite/ Digital realty) and Dupont Fabros in the preferred space.
Disclosure: I have no positions in any stocks mentioned, and no plans to initiate any positions within the next 72 hours. I wrote this article myself, and it expresses my own opinions. I am not receiving compensation for it (other than from Seeking Alpha). I have no business relationship with any company whose stock is mentioned in this article.