"If you've got content, you're in a great position" -- Robert Johnson
These are some prudent words from the media magnate and founder of the television network Black Entertainment Television [BET].
Here we have some nuggets of well-researched information that make the case to buy Time Warner Inc. (NYSE:TWX) and be in it for the long haul. There is going to be a revolution in the $2.2 trillion media and entertainment industry that is going to put traditional carriers like Cablevision Systems Corporation (NYSE:CVC) or DISH Network Corp (NASDAQ:DISH) out to pasture.
Google Fiber, Apple TV and established internet streaming icons like Netflix (NASDAQ:NFLX) are emerging as the major challengers to these traditional carriers.
It is going to be on demand direct distribution to the customer that is going to give Time Warner the upper hand. This is sort of like what we saw with online airplane and hotel bookings when Priceline.com emerged. Content providers will be in the best position and can take advantage of the transformation that we are about to see.
This is a very good time to buy Time Warner shares, as we believe it is about to go on the kind of epic run we only see once every 10 years or so. Television 2.0 is going to take the world by storm and investors should get in on it as soon as possible.
Content King
TV Franchises
Time Warner serves up TNT and TBS along with the premier cable news channel CNN. The NBA is a cornerstone of the TNT lineup. Responding to an analyst's question during Time Warner Inc.'s Q2 earnings call, CEO Jeff Bewkes said that he was confident that the relationship between TNT and the NBA would continue for many years to come.
When TNT's contract with the NBA expires in June 2016, both partners will have been working together for as long as 32 years. Currently, TNT pays $445M a year for its rights package; a figure that is expected to rise as negotiations heat up soon after NBA commissioner David Stern retires on February 1, 2014.
But the NBA only accounts for 3% of TNT programming and consumers value a lot of the other programming as well. TNT is the place to go for drama as symbolized by its logo which recently changed from "We Know Drama" to "Drama, Period.", and it has some highly rated TV shows on offer like the long-running "Bones" and its own productions: the sci-fi drama "Falling Skies" and the continuation of the prime time soap opera "Dallas". As for TNT's sister network, TBS, its most popular show is "Cougar Town" which actually has the right cast and good dialogue despite the critics running it down as a bad show.
In this discussion, we cannot leave out HBO which is the second largest premium channel in the U.S. reaching about 30M pay television subscribers in this country alone. In addition to this fairly large U.S. subscriber base, HBO broadcasts in over 151 countries with a worldwide subscriber base of around 114M.
The success of HBO's "Game of Thrones" has been nothing short of amazing. It has become a figure of speech in the media to describe situations that involve intense conflict and deceit such as the Syrian Civil War and the power struggles in the Chinese government.
However, a big concern has been the increase in piracy of the Game of Thrones. HBO shows are highly inaccessible even though we live in a digital age and it has become quite endearing to illegally stream what has become the world's most pirated television show. But the Chairman and CEO of Time Warner Cable (NYSE:TWC), Glenn Britt, does not want to do anything about it because this piracy actually creates word-of-mouth excitement which leads to increased penetration. As a result, there are more new HBO subscribers than those cutting the cord. So paid advertising can be reduced. This approach by Britt is very much in line with the forward thinking that we have come to see from Time Warner management in recent years.
Time Inc
Time Inc. is a powerhouse in its own right as it hosts its namesake magazine along with the likes of People magazine, Sports Illustrated, Fortune, Entertainment Weekly and Life. However, it is Time Warner Inc.'s worst-performing division recently reporting a 3% YOY drop in sales because of a 7% decline in subscription revenue and a 5% slide in advertising revenue. Nonetheless, reduced expenses increased operating income 26% to $124M.
Time Warner is hoping that Time Inc.'s eventual spin off will change its fortunes. The strategy is in line with the entertainment giant's efforts to go after stronger top and bottom line growth by trimming the business to its best performing subdivisions. Shareholders of TWX are looking forward to it and are excited about the possibility that it could produce similar results as the time when Time Warner separated from AOL, Inc. (NYSE:AOL) and Time Warner Cable back in 2009.
There was also the digital content acquisition for $175M-plus that Turner Broadcasting made in 2012 that must be mentioned here. The purchase of the next-generation sports site Bleacher Report is a big play as it fuses traditional journalism, citizen journalism, technology and social media. Turner needed a site like Bleacher Report to replace the traffic (about 10M viewers) it had lost when it gave up control of Sports Illustrated to Time Inc earlier in 2012.
Movie Franchises
Time Warner has always delivered some of the best films for audiences to enjoy. The last quarter was no different. There was the Man of Steel, The Hangover Part III and the much awaited Leonardo DiCaprio-starrer - The Great Gatsby. The box office success of these movies gave revenue at Time Warner's Inc.'s film and TV entertainment segment a 13% boost to $2.9B. Moreover, there has been a rise in international television syndication and subscription video-on-demand (SVOD) revenues.
The Man of Steel worldwide revenues have topped $647M since its opening on June 14 through August 4. Additionally, the studio declared that recent release The Conjuring will rank among the top five horror films in history at theaters with more than $259M in revenues generated so far.
Digital is an encouraging sign for the future of the home entertainment business. This can be seen by the way the increased licensing of TV shows and SVOD has been driving growth at Time Warner. As a matter of fact, SVOD license revenue from Netflix, Amazon Prime and others surpassed $70M last quarter, and $150M through the first half of 2013. Warner Bros. Home Entertainment Group reported second-quarter (ended June 30) revenue of $665M from theatrical and TV content, compared to $648M in revenues for the same period last year.
Enterprise Value to Free Cash Flow: An encouraging sign
There are many ways to value a company. Price to earnings. Price to cash flow. Even price to promise. Enterprise value over free cash flow (EV/FCF) is the one we are using today. Remember that no single metric will give investors a complete picture. They are all limited and reliant on assumptions.
But the great thing about the EV/FCF is that it is one of the least susceptible to the ambiguities of a firm's financial statements. It's actually one of the most useful metrics out there. The ratio itself takes into account all providers of capital - both shareholders and bondholders.
The enterprise value is market capitalization (stock price times outstanding shares) plus total debt and minority interests, minus cash. Enterprise value offers a more encompassing view. Debt capital is brought into consideration and we see real earnings as it compares to the firm's whole capital structure.
So this is a comprehensive valuation metric. Common stock shareholders know that bondholders have to be taken off before they get a dime. Therefore, focusing only on profits and equity can be deceptive.
Free cash flow is the answer for investors who believe that Wall Street focuses shortsightedly on earnings, while ignoring the cold, hard cash that a firm generates.
Free Cash Flow is calculated as: FCF = Operating Cash Flow - Capital Expenditure
Here is how the Time Warner Inc. FCF for the past 5 years is arrived at.

USD $ in millions
Time Warner's FCF from 2008 to 2011, but then rose slightly from 2011 to 2012.
As the dividend discount model's worth has become gradually more scrutinized, the FCF has gained popularity as a discounted cash flow (DCF) technique.
This alternative method of valuation is frequently used by analysts in an attempt to determine the value of a company.
Time Warner recently reported strong Q2 earnings that beat analyst estimates. The media conglomerate has revamped its TV business and this has paid dividends. TV income accounts for 70% of Time Warner's operating income right now. Earnings were given an additional boost with the company's major film releases doing extremely well at the box office.
Current EV/FCF Ratio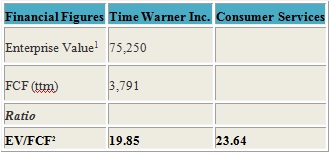 USD $ in millions
1. From YCharts
2. EV/FCF = Enterprise Value ÷ FCF
= 75,250 ÷ 3,791 = 19.85
Time Warner's EV/FCF is lower than the consumer services industry average and so this media stock is relatively undervalued. Value investors love it when great companies see their stock price temporarily plunge as this signifies a good buying opportunity. And this valuation metric confirms it.
EV/FCF Ratios: Past 5 Years

USD $
2. From YCharts
3. EV/FCFF for 2012 = EV ÷ FCFF
= 61,610 ÷ 2,799 = 22.01
It is also extremely useful to compare with the company's past levels of enterprise value to free cash flow in addition to comparing with the average within its industry. Time Warner's 2008 EV/FCF was very attractive. Since then, the entertainment company's EV/FCF ratio has kept increasing until 2012.
Using this metric, Time Warner doesn't look particularly attractive. But it must be stated that we are comparing with the mean for the consumer services industry. Let's see how Time Warner does in comparison to its closest rivals.
A step ahead of the Competition
Time Warner Inc. had strong growth across its television and film segments and it notably surpassed both The Walt Disney Company (NYSE:DIS) and Twenty-First Century Fox Inc (NASDAQ:FOX) last quarter.
Disney's Media Networks segment, which comprises ESPN, A&E, the Disney Channels, and ABC, had lower advertising revenues, program sales declines and higher costs associated with prime time programming during the previous quarter.
But it was Disney's Studio Entertainment segment, that lost some of its spark from the Marvel releases with the disappointment that was the The Lone Ranger, which is projected to cause a loss between $160 - $190M in the fourth quarter.
Not everything was rosy with Fox, either. The global media company boasts international TV networks, which include STAR and Fox Sports Latin America. The TV segment reported a 9% decline in operating income and 7% drop in revenue, as a result of moribund ratings for its worn-out American Idol franchise.
Right now, the company is resting its hopes on Fox Sports 1, its new international premium sports channel, to compete with Disney's ESPN and bolster its worldwide revenue.
As for Fox's Filmed Entertainment division, it seems like there is still some work to be done before it can compete with the likes of Time Warner and Disney.
Let's look at a metric comparison of the three media and entertainment conglomerates.

The proof is in the pudding. The attractive numbers confirm Time Warner's dominance in the years to come.
Conclusion: Time Warner is growing at a very fast rate
Time Warner is no longer the colossal conglomerate that ruled the media and entertainment industry with an iron fist not too long ago. But it still makes for an excellent investment idea as it has reinvented itself by acknowledging that bigger is not always better. Its success offers insights into its efficient management team that is able to change with the times.
Indeed, Time Warner has recognized the age-old saying: people want what they want, when they want it, where they want it, and how they want it!
As long as companies remember this, they will be destined to succeed. This is the reason why Amazon.com, Inc. (NASDAQ:AMZN) was and still is a revolution enabling purchase of books (and just about anything else) online.
Time Warner may lose out to Apple TV and Google Fiber, but it still has the valuable content that these next generation TV providers need. The broadcast rights to NCAA and NBA games will always give Time Warner's TV franchises a competitive edge. Movies and television will continue to be the growth catalysts heading into the future.
Shares still look like a bargain, trading at around 10 times free cash flow. The company is cash-rich and can afford to wait for a payback. Time Warner has shown how smaller can be better; the entertainment company's finances and earning power are better than ever.
All material sourced from Morningstar and Yahoo! Finance.
Disclosure: I am long TWX, DIS.
Business relationship disclosure: This article was written by a research analyst at Investor Aide. Investor Aide is not receiving compensation for it (other than from Seeking Alpha). Investor Aide has no business relationship with any company whose stock is mentioned in this article.