Introduction:
With the stock market at all- time highs, it would seem that finding opportunities for investments in the stock market is becoming more difficult every day. These days, the lament seems to focus on the Dividend Champion companies and how they have reached an "overpriced" status. That troubles many investors, including Dividend Growth Investors, because the traditional stocks that we like to own in our portfolios seem to have priced themselves at a place where we can't comfortably invest more money in those companies.
In a recent article: "Price Is What You Pay, Value Is What You Get (Warren Buffett)," I took the time to discuss some of the new purchases that we've made in our "Portfolio For Do It Yourselfers." We saw the stocks that we selected to be a value and we made purchase of those stocks at their existing price levels when we bought them because we believed they represented a value at this point in time--not because of their current price, but more for their potential future performance.
There are times, when stock in a company represents a buying opportunity and there are times when that same opportunity is just not there. While many investors look at the price of a stock as an indication of value, I look at the core of the business model and not the price of the stock to determine where the value might be.
So, when I run a stock screen at Schwab, what I am attempting to find is a list of potential opportunities where I can make an investment that makes sense. Now while I am a DG investor, that does not preclude me from making an investment in a company that is not one of the Dividend Champions, Contenders or Challengers.
If I am going to be a value investor in a "market of stocks" then I have to find value wherever it might be. Knowing the end-game of purchasing a stock like Questcor Pharmaceuticals (QCOR) that is a company that pays a dividend, but is more of a growth company means that I am not purchasing the stock to fund my retirement years, but to have capital appreciation.
What You Should Know
Now I understand that many investors feel that stock valuation is a subjective thing. One of the comments that I read suggested that since valuation is so subjective, that perhaps it might be better to invest in Index Funds and thereby eliminate the need for making subjective decisions. In my opinion, if an investor chooses to invest in Index Funds, that's fine and dandy.
When I look at a particular company stock, I have to rely on some measure of discovery as to whether the stock is in a position of value or not. In order to do that I have to determine what my metrics for evaluating a stock are going to be and then act on those metrics in order to complete the transaction.
Many investors use fundamental analysis to make investment decisions. Some use technical analysis. To argue that one is better than the other is pointless. As long-term investors (that is someone who has been investing for a long time), we have a tendency based on our own experience, to create a set of criteria for judging value. When we have success with our stock purchases, based on those metrics we continue to use them. If on the other hand, our criteria fails us, we need to make adjustments in that screening process.
What I Know
I've often said that it is easier to talk yourself out of making a purchase of a particular stock than it is to convince yourself that a particular stock represents a buying opportunity. That view is apparent when you see the number of articles that are written about a particular stock and how one group of authors is suggesting a buy and another group is suggesting a sale. While individual investors are looking at the same numbers, they can often come to different conclusions, based on a specific metric that is more important to one investor than another.
Let me give you an example of a company that people love to hate. At the end of 2009, the market had priced General Electric (NYSE:GE) at around $15 a share. The question that an investor could have been asking then was "is GE currently a value and should I consider buying shares in that company?"
Now the company has big losses in its financial unit (GE Capital) and when you considered that financials as a whole were under pressure, (see C, BAC, JPM, WFC), the other components of GE's business were not having the same issues. One might think that factoring out the problems within the financial arm of the business, the company as a whole was sound. Looking at some historical metrics, GE's PE Ratio was 14.7; the Price to Book was 1.4; the Price to Cash Flow 6.5; and Price to Sales 1.0.
Now the mention of GE seems to garner some interesting commentary as to why many investors would not even consider this company. Some have stated that they would not buy GE "because of the CEO." Some suggested that they would not buy GE because "they cut their dividend." Others suggested that since GE was a stock that they had purchased at a much higher price, that they "would never touch GE again, because the stock price tanked."
Those are all reasons to not purchase a stock. But they are not necessarily good reasons to not buy a stock. They are emotionally driven (subjective) as opposed to being based on some metric of fundamental analysis (objective).
When we look at GE at the end of 2009, or early 2010, we see a chart that looks like this: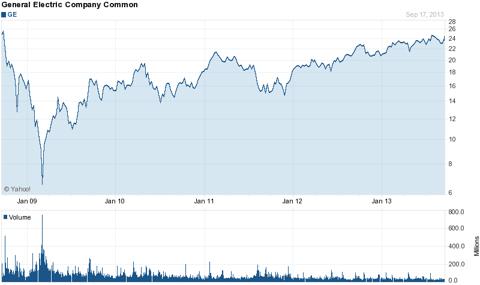 Click to enlarge
Looking At FAST Graphs: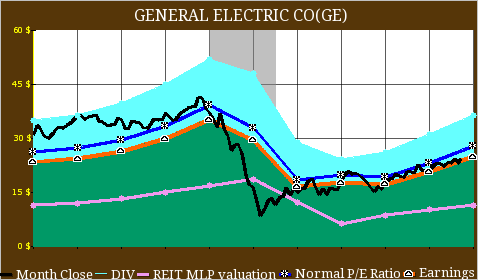 I like to use FAST Graphs to validate my own findings of value. In this example of GE we can see that from 2003-2008 the stock was in a position of being overvalued. The market crash in 2009 affected most companies and GE was no exception. Again, fueled by the impact of the financial arm of the company. The stock dropped below the PE and the earnings lines and reached a status of undervalued. That is played out by the steady improvement of fundamentals for GE and price follows earnings.
Summary and Conclusion
While more risk-oriented investors would have had incredible results with GE had they purchased the stock at the market lows of $7.00 a share in March 2009, I would prefer to see more momentum to the upside before making a commitment. That came in the months following, when GE reached $10.78 on July 6, of 2009.
Meanwhile, the investor who found value in GE at $15 a share has seen the stock price advance to $24 a share, a gain of 60% and that investor has also received dividends from GE over that period of time. Investing $10000 in GE would be worth $17,475 with dividends reinvested, which boosts the total return to 74% and an annual rate of return of 16.3% vs. the SP 500 return of 13.1% during that same time period.
As a value oriented investor, it becomes clear to me that whether stock valuation is subjective or objective, the fact of the matter is that if you are going to purchase individual stocks, sooner or later you are going to have to address the issue of valuation.
There's no escaping it. Sometimes you will get it right and sometimes you may get it wrong. In every investment, there is no such thing as a "sure thing" and that's where active management comes into play.
In our article we discussed the new holdings in the portfolio and we could feel very smug and announce that in the 3 months that we've held these stocks, the portfolio has increased 13% in value. But, not every stock in the portfolio did that. One, QCOR was up 86% and mathematically, carried the load for the whole team. Others were up less than that and still others, HFC for example, had declined in price since our initial purchase.
But that does not change our opinion that each of the stocks in that portfolio represent a value to intrinsic net worth.
Disclosure: I am long QCOR, GE, HFC. I wrote this article myself, and it expresses my own opinions. I am not receiving compensation for it (other than from Seeking Alpha). I have no business relationship with any company whose stock is mentioned in this article.