In his post-FOMC press conference yesterday, Fed Chairman Ben Bernanke made it clear that unemployment has not improved enough to slow stimulus. By keeping the $85 billion bond-buying program unchanged, the Fed opted to wait until there is an "overall improvement in the labor market." A "tapering" of QE was widely expected and judging by the market reaction to the FOMC statement, it's pretty clear that markets were indeed pricing in an announcement of a reduction of bond purchases going forward.
That's somewhat of a role reversal for REIT investors who have been reeling from the previous smoke signs brought on by the Fed Chairman. Since May 21st, equity REIT returns have declined by over 13% (SNL US Equity REIT Index), while the S&P 500 has gained 2.48% and the Russell 2000 has gained 7.23%. The worst of the pain came from the Triple Net REITs - the bond-proxy sector - that returned an average of -18.73% (based upon my peer group sample below).

After the market response yesterday, the same sample of Triple Net REITs rebounded by an average of almost 3%.

Yesterday I wrote an article on Realty Income (NYSE:O), The Monthly Dividend Company®. My conclusion of the article was simply that I consider Realty Income, at a price of around $40.00, to be a "soundly valued" stock and although I don't consider the price a "table pounding" bargain, I believe the dividend yield of 5.4% is an excellent risk-adjusted entry point.
As I argued with a few naysayers, market volatility doesn't mean a loss of principal. Recognizing that some investors (and me) bought Realty Income at $40 or higher, the same market volatility doesn't change my income stream. I get the same 5.0% dividend yield when I purchased my shares at $44.00 and I welcome the opportunity to dollar cost my purchases when shares fall below my target number. After all, I can't control the emotions of Mr. Market but I can get paid while I wait.
So Why Are Triple Net REITs Viewed As More Interest Rate Sensitive, When They Aren't?
As my mother always told me, "everything always turns out for a reason." Now, after a 15% decline (since May 21st) in Triple Net returns (that includes the 3% uptick yesterday), I can honestly say that the Triple Net REITs were over-heated. Driven by a thirst for yield, as well as steady and predictable income, the bond-look-alike REITs became the prettiest girl standing. But today, they look more like the red headed step child. Why?
Remember, analysts and investors confuse long lease duration with interest rate sensitivity. On its own, without escalators, without internal cash flow reinvestment, and without external growth; this would be true. But longer lease durations are not on their own. They serve to protect investors with an absolute rate of return on the downside, with growth delivered mainly by the other three factors on the upside.
All REITs grow their FFO and dividends per share only three ways: (1) Existing portfolio rent increases; (2) Reinvested surplus cash flow; (3) and external growth, which is the ability to raise new equity and make new investments which are accretive to existing investor FFO per share. There is also proportional or real expense reductions, but the operating costs of REITs are generally not that impactful on FFO and dividend growth, especially as REITs gain some size and scale. And there is also debt service changes and interest rate exposure, but such is generally not immediately impactful, though it can be over time.
It's interesting that the average annual lease escalator for Triple Net REITs is around 1.75%. Sounds modest right? But assuming at 50% leverage (this is at cost, not market), you get a 3.5% FFO bump. Then, most REITs pay out about 90% of their free cash flow (which is about 75% of FFO). Reinvesting that 10%... and at 50% leverage… you get another 1% to 1.5% or so. So, around 5% before any lost rents, which can happen.
Let's say that's 1%, so we are at 4%. Not bad…and better than most internal growth that REITs can muster. Now, add in external growth. This is where net lease REITs really shine, because their leases are priced (over time) at a spread to interest rates. Most core real estate cannot claim this tight correlation, which diminishes their ability to realize consistent external growth. Adding external to internal growth will realize total growth that core REITs can generally not achieve. Yet, Mr. Market doesn't see the value of that growth. Remember, he trades on emotion and regardless of the volatility, your income (dividend) doesn't change.
All Triple Net REITs Should Not Be Painted With The Same Brush
It's important to recognize that retail investors have been the predominant owners of Triple Net properties; both private ownership and REIT-based. It's important to also recognize the forces that are driving the Triple Net REIT sector and more specifically the wave of external growth being generated by the non-traded REITs (retail investors).
Some of us have purchased shares in American Realty Capital Properties (ARCP). I have. I think it's important to recognize why we are seeing the M&A activity as well as how the deals are getting done. Many recent large portfolio sales/mergers have often gone off at cap rate discounts to the open market. You would think it should be the opposite, where large deals can be bought at wholesale prices. Why then?
It's because of incentives. Private REIT capital, which has been plentiful and devoted mostly to the Triple Net sector, and which generally has a 6%+ yield upon receipt of the equity, MUST invest quickly in order to minimize paying dividends with principal. If you are American Realty Capital Trust IV (ARCT4), the only way to get the capital deployed quickly is through large portfolio purchases, like GE Capital at a 7% cap rate. Building a company "brick by brick" is not an option with so much cash available and leaking dividends. GE likely could not have sold their assets one-off at a 7% cap rate…ever, but the buyer here needed to make an acquisition. Then, to compound this issue, ARCT4, is selling the same assets to ARCP at a 5.85% yield. This will likely represent NEGATIVE external growth. The winner here is ARCT4 and anyone making fees from ARCT4 investors. Remember, there's also American Realty Capital Trust V (ARCT5).
Keep in mind that ARCP has funded itself with floating lines, the company cannot use the CMBS and ABS markets to fund itself fully and does not yet have an investment-grade rating to issue term debt, which is likely where it needs to go. I would not be surprised if REITs that fall short of the three basics (mentioned above) fall out of bed. Those that have the strongest fundamentals should also have share values that will hold up the best against interest rate moves (be less interest rate sensitive). But, absent a better investor understanding, all Triple Net REITs stand to be painted with the same brush, which will be unfortunate.
Why I'm Overweighting Triple Net REITs
Over the last thirty days, I have begun making strategic allocations in the Triple Net space. Although the fear of rising interest rates has begun its course, I'm not going to make trades based on it. Given the stability and durability of the Triple Net sector, I have begun to implement a tactful approach to build a steady and reliable dividend portfolio. Now's the time!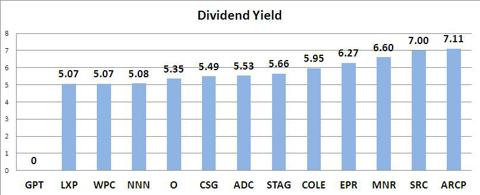 To date, I have purchased (Triple Net) shares in Realty Income, Chambers Street Group (NYSE:CSG), STAG Industrial (NYSE:STAG), Gramercy Property Trust (NYSE:GPT), and American Realty Capital Properties. I have not equally weighted these REITs and I will not own more than 25% in one REIT (within the Triple Net allocation). I recognize that I will likely not see the same juicy returns that the Triple Net REITs enjoyed in 2012; however, I believe the growth potential is compelling and I believe that a 10% return will satisfy my "sleep well at night" objectives.
As noted above, I'm keeping a close eye on ARCP. I believe in the management team (see my interview here with Nick Schorsch last week); however, the growth scares me and I want to see the successful mergers completed (and remember the announced dividend increase). I'm not going to put my foot on the gas until I see where the dust settles. Meanwhile, I will continue to add more if and when a margin of safety widens for the others, including National Retail Properties (NYSE:NNN), W.P. Carey (NYSE:WPC), and EPR Properties (NYSE:EPR) - all on my radar screen.
Although Triple Net REITs will serve to anchor my REIT investment portfolio, I will also diversify in a variety of tactical property sectors that are aimed to (1) protect principal, and (2) provide a hedge against rising interest rates. As some of you know, I like self storage, data storage, campus housing, healthcare (includes life science), shopping centers, outlet centers, and modular housing. I don't plan to own every property sector and I believe that healthcare and self storage are especially strong today.
Bottom line: Investors have multiple Triple Net REIT options. Regardless of the market volatility, your income stream won't change (unless of course there's a dividend cut). Remember not to trade on fear and always invest to protect your principal at all costs. Good luck.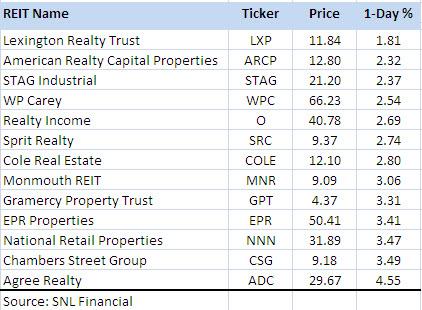 Newsletter: For more information, check out my REIT newsletter HERE. Starting in October, I will provide a full Triple Net REIT Report. There is not a tremendous amount of analyst coverage for this sector and I believe this will be a valuable service for my newsletter subscribers.
REITs mentioned: (NYSE:ADC), (NYSE:LXP), (NYSE:MNR), (NYSE:COLE), and (NYSE:SRC).
Source: SNL Financial.
Disclaimer: This article is intended to provide information to interested parties. As I have no knowledge of individual investor circumstances, goals, and/or portfolio concentration or diversification, readers are expected to complete their own due diligence before purchasing any stocks mentioned or recommended.
Disclosure: I am long O, VTR, ARCP, CSG, STAG, GPT, HTA, DLR, HCP, UMH. I wrote this article myself, and it expresses my own opinions. I am not receiving compensation for it (other than from Seeking Alpha). I have no business relationship with any company whose stock is mentioned in this article.