Devon Energy Corporation (NYSE:DVN) is a US based oil and natural gas E&P company. It operates mostly in the US and Canada, so it is a low risk oil and gas company. It has proved reserves of approximately 3.0B Boe. It had Q2 2013 production of 698 Mboe/d. The production mix was 24% oil, 18% NGLs, and 58% natural gas. It has a significant midstream business that is expected to have a FY2013 operating profit of about $475 million. The chart below shows its major oil and liquids holdings.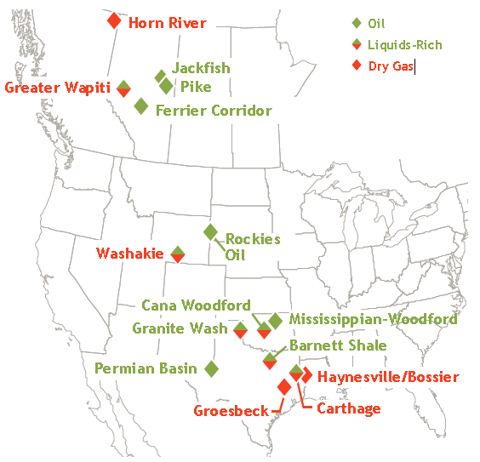 With an enterprise value of only about $30B, stockholders are only paying about $10/Boe for DVN's reserves (3.0B Boe in reserves). This is in fact so much of a bargain that Goldman Sachs (NYSE:GS) put DVN on its list of the 40 most undervalued stocks on August 7, 2013. DVN was #8 on the list. I don't agree with all of GS' choices, but it is hard to manipulate the value of oil and gas reserves very much. Therefore, I do agree that DVN belongs on the list.
Still there have to be growth catalysts to get investors excited about a stock. DVN has these.
First, it is planning a spin-off of its US midstream assets. I haven't seen the registration announcement yet, but it was predicted to come in Q3 2013. One would expect it out shortly. This IPO will raise revenues that DVN can use for its oil and natural gas E & P activities.
Second, DVN is growing oil production quickly for a big company. In Q2 2013 oil production was up 14% over the year-ago quarter, and 4% sequentially. DVN expects liquids production to exceed 45% of total volumes by year-end 2013. That's up from just 30% a few years ago. It already gets more than 50% of its revenues from oil, which is currently just 24% of production. DVN expects oil production to keep growing in the mid-teens in the near term. In the Permian Basin in which DVN has a 1.3 million net acre position, DVN's oil production has increased 32% year over year. It expects its US operations' oil production to increase approximately 40% in FY2013. Oil production from the Permian will soon reach 50,000 bopd. I note that total production from the Permian averaged 76,000 Boepd in Q2 2013. DVN's Canadian thermal oil projects (oil sands) averaged 53,000 bopd in Q2 2013, and it is on track to grow to at least 150,000 bopd by the end of the decade.
Third, DVN's capital budget of $4.9B - $5.3B for FY2013 is 100% allocated toward oil and liquids rich projects. With natural gas prices still low, there is no dry gas development scheduled at all. This prioritization should quickly result in DVN's production shifting to a higher percentage of oil (higher revenues and earnings).
Fourth, DVN has two huge joint ventures -- the Sinopec JV and the Sumitomo JV. The Sinopec JV includes 1.2 million net acres. These are in the Mississippian (240,000), the Rockies (323,000), Michigan (400,000), and the Utica Ohio (235,000). DVN serves as the operator. Sinopec receives 33% of DVN's interest. The Sumitomo JV includes 650,000 net acres in the Cline Shale and the Wolfcamp Shale. Sumitomo receives 30% of DVN's interest. The Cline Shale is a new field that many are forecasting will be as prolific as the Eagle Ford Shale.
Fifth, US Natural Gas domestic demand is expected to grow from about 70 Bcf/d in 2013 to about 79 Bcf/d by the end of 2017. Meanwhile, the US will begin exporting natural gas via LNG (liquefied natural gas) terminals that are now being built. The US total capacity of the currently planned terminals will be about 19.6 - 21.1 Bcf/d within about 5 years. The capacity of the currently planned Canadian LNG terminals will be about 7.5 Bcf/d. It is easy to see that this LNG export capacity will provide a huge lift to natural gas domestic demand in the US. China, Japan, Europe, which all have natural gas prices of double, triple, or quadruple those in the US currently, seem likely to supply more enough demand for the new LNG terminals. Since 58% of DVN's production is currently natural gas, such a circumstance would provide a huge lift to DVN's top and bottom lines. Natural gas prices should go up measurably. It is hard to say exactly how high they will go.
Sixth, DVN moved $2B of foreign cash back to the US at an estimated tax rate of 5%. Plus it moved $500 million back to Canada on a tax-free basis. This has resulted in an incremental $400 million benefit to DVN shareholders (or about $1 per share). Previous guidance toward taxes to repatriate these assets was about 20%. It used this $2B to pay down its debt.
Seventh, DVN has decreased the time (and the expense) of drilling by over 60% in some cases. It has decreased the time and expense by large percentages in virtually all cases year over year. It is now doing more pad drilling. It is also benefiting more from its 3-D seismic; and it is doing more of this.
Eighth, on a fiscal basis, DVN has been excelling. In Q2 2013 it increased cash flow by 31%. It grew earnings to $1.69/share ($1.68/diluted share) from $1.18/share in the year-ago quarter. If you adjust for items many analysts exclude, DVN earned $1.21/diluted share in Q2 2013. This was a whopping 119% increase over the adjusted number from Q2 2012.
Ninth, Canadian oil realizations for oil sands oil have been going up. DVN now expects to realize 65% to 75% of the WTI price in Q3 2013. This is up over 50% from the realizations in Q1 2013.
Tenth, cash balances are up to $4.2B. This provides DVN with a great cushion for its operations. Of this $3.6B resides outside of the US. DVN believes it may be able to repatriate another sizeable amount of this in 2014 with little tax penalty.
All in all DVN has some great assets. Its management team is actively cutting costs through improved techniques and JVs. It is becoming quickly oilier, which means more profitable in the current environment. It is growing quickly for a large company. In fact the Q2 production exceeded the midpoint of the company's guidance by 3%; and it topped the upper end of the forecasted range by 8,000 bpd. It guided higher for the FY2013 by 4 million barrels to a range of 250 million to 254 million Boe. It expanded its margins through growth in light oil, higher price realizations, and strong cost controls. DVN is looking like a winner; and it probably will be for an investor's portfolio.
The two year chart of DVN provides some technical direction for the stock.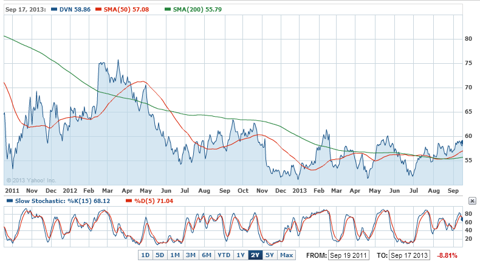 The slow stochastic sub chart shows that DVN is near overbought levels. The main chart shows that it may be at the beginning of an uptrend. The Q2 2013 "beat and guide" higher has to have helped this along. Getting "oilier" has to be helping this along. DVN has an FPE of 11.04. Analysts forecast 27.90% EPS growth this year and 30.00% EPS growth in 2014. It has an average analysts' recommendation of 2.2 (a buy) and a CAPS rating of five stars (a strong buy). It even pays a 1.47% dividend, which it has grown by over 10% in the last year. At that rate it might reach the dividend rates of such oil majors as Exxon Mobil (NYSE:XOM) and Chevron (NYSE:CVX) before too long. It is a buy.
NOTE: Some of the above fundamental financial information is from Yahoo Finance.
Good Luck Trading.
Disclosure: I have no positions in any stocks mentioned, but may initiate a long position in DVN over the next 72 hours. I wrote this article myself, and it expresses my own opinions. I am not receiving compensation for it (other than from Seeking Alpha). I have no business relationship with any company whose stock is mentioned in this article.