This has been a week that many investors in Tessera Technologies (NASDAQ:TSRA) would just as soon forget. The stock has fallen more than 25% since the beginning of the week, with the bulk of those losses coming on Friday following a disappointing outlook from the quarterly earnings report. Tessera reported EPS of $.24 per share which compares favorably to $.21 that analysts had expected. Excluding one time items, the firm actually reported profits of $.37 per share. Furthermore, the company returned to profit in the third quarter after losing 11 cents per share in the quarter a year ago. Revenue grew at 4% which also narrowly exceeded analysts estimates.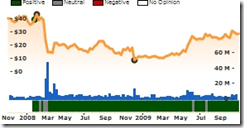 Tessera's outlook for the fourth quarter was far lower than analysts had hoped and this is what is driving shares down nearly 20% on Friday. Guidance was for revenue of $60 to $62 million, while analysts were hoping for somewhere around $70 million. A guide-down as severe as this has spooked investors and inspired a sell-off as growth has cooled.
At Ockham, we continue to have a Undervalued rating on TSRA shares, and the previous quarter was actually quite good. However, the market has ruled the outlook as more important than the prior quarter's performance. The stock is still trading well below its historically established ranges of price-to-sales and price-to-cash earnings. With the significant sell off in Tessera we will likely reaffirm this Undervalued stance as of next week's report.