McDonald's Corporation (NYSE:MCD) has just announced its annual dividend increase. As we mentioned in a couple of recent articles, September continues to be a busy month for dividend investors with lots of dividend related announcements. Here are a few quick highlights from the recent announcement:
The new quarterly dividend per share is 81 cents, up 5.2% from the previous 77 cents a share.
The new dividend will be paid to investors on 12/16/2013, with an ex-dividend date of 12/02/2013.
According to its website, McDonald's has increased its dividends each year since 1976. The dividends have followed the quarterly cycle since 2008, before which it was on yearly pattern.
This article was written when McDonald's announced its dividend increase in 2012. With the recent increase in mind, it is time to take a look at how the numbers stack up now.
New Dividend and Yield: The new annual dividend of $3.24 gives MCD a current yield of about 3.3%. This new dividend will in all likelihood be in effect till September 2014.
Payout Ratio: The current payout ratio is now at 59%, down slightly from the payout ratio at the time of the original article in spite of the dividend increase. This is obviously because of the increase in earnings per share from $5.32 to $5.46 in the 4 quarters since the last writing.
Five Year Dividend Growth Rate: Now, this is where the latest announcement is almost certain to dampen the investors. As the table below shows, this is lowest dividend increase in terms of percentage in the last 5 years (perhaps even longer).
Hence, the 5 year average dividend growth rate [DGR] has dropped to 10% from the 15% at the time of last year's article. And as mentioned in the 2012 article, even the 15% DGR was down from the 17% DGR before the 2012 increase. Though two years of slowing DGR might seem like noise in the long run, perhaps we are beginning to see a pattern here.
One might point out a number of other well known dividend stocks like AT&T (NYSE:T) that also have a slowing DGR but are still viewed favorably by investors. The difference between T and MCD for investors looking to buy now (or reinvest dividends) is obviously the yield. T's yield is already pretty high that even a 3% DGR will look satisfactory but MCD's current yield is still way below 4%.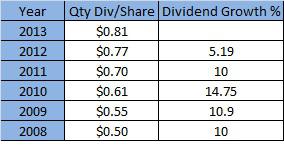 Extrapolation: As always, this article includes an extrapolation on what the future increases might look like with reasonable assumptions. The table below assumes a 7% annual dividend increase and the yield on cost would still grow at reasonable pace. But we are getting just a tad concerned about all the growth related concerns, backed up by the slowing dividend growth over the past 2 years.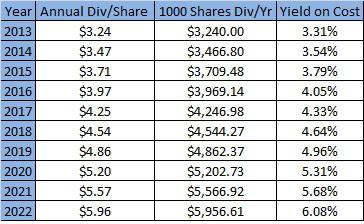 Cash on Hand: As of the most recent quarter, MCD's cash and short term equivalents total around $2.3 billion. While this is not an insignificant amount by any means, it has stayed more or less the same for about 3 years now.
Conclusion: So, what are the takeaways? The obvious positive is that the dividend increase streak is still intact. Investors can almost certainly continue expecting yearly increase from MCD every September. But the slowing dividend growth rate might raise some red flags. With a PE of 18, the stock is trading well above its 5 year average PE of 16. It is not time to hit the panic button yet and this article is not a sell recommendation. But with a slowing DGR and an above average PE, we would think twice before adding any at this price and be monitoring the dividends, payout ratio, and DGR closely.
Disclosure: I am long MCD, T. I wrote this article myself, and it expresses my own opinions. I am not receiving compensation for it (other than from Seeking Alpha). I have no business relationship with any company whose stock is mentioned in this article.