We launched a new series of articles this week with the premise of building a dividend portfolio from scratch by leveraging the collective knowledge and opinions of the Seeking Alpha community. For more details, please see our introduction article.
The first order of business was to collectively select the first stock for the portfolio (i.e., our proverbial portfolio captain). We had suggested four dividend aristocrats to choose from: McDonald's (NYSE:MCD), Kimberly Clark (NYSE:KMB), Wal-Mart (NYSE:WMT), and Coca-Cola (NYSE:KO). We also opened the floor to SA members to submit "write-in" votes based on personal favorites.
Based on reader comments, Wal-Mart and McDonald's received the most votes, followed closely by Coca-Cola. Exxon Mobile (NYSE:XOM) and AT&T (NYSE:T) were the leading "write-in" candidates.
Of course all of these stocks have a great shot at eventually making the team, but we wanted to pick one to get the ball rolling. That said, this exercise highlighted an important topic of discussion that we wanted to address before moving forward...when is the right time to pull the trigger on a stock you like (especially in a rising, Fed-induced market)?
As many of you know, our core investment strategy is centered around buying high-quality stocks at good prices. We use a combination of fundamental and technical analysis to determine which stocks to buy and when to buy them (learn more about our ratings methodology).
We created our ranking system to help us find the best dividend stocks. If you rank all of the stocks in a universe against their peers on a consistent basis, it becomes clear which companies are the strongest and which offer the best investment opportunities going forward.
Establishing a "Buy Zone"
Just because a stock has a high rating in our system, it doesn't necessarily mean that you should run out and purchase it that day. Once we have decided that we want to purchase a particular stock, we look for a low-risk entry point to open the position. We call these entry points our "Buy Zones" and they are points at which long-term dividend investors should feel comfortable starting to build a position in the respective stocks. We focus on four key levels of support when determining a "Buy Zone":
Technical - Support from short and long-term trend lines (i.e., 10-week and 40-week moving average).
Volatility - Target correction levels based on historical volatility and maximum draw down.
Valuation - Support levels based on historical valuation multiple.
Yield - Support levels based on forward dividend yield.
We then average the low end and the high end of these key support levels to determine our target "Buy Zone".
It should be noted that this is how we determine our "Buy Zones", but there are no right or wrong answers here. We encourage investors to think hard about the key levels of support for their own stocks. What is the valuation level that you would feel comfortable buying a certain stock? What yield level makes sense for you? Also, you may want to add different parameters that fit your investment style better. The key takeaway here is that you establish a consistent process for determining a "Buy Zone".
Which Portfolio Captain Candidate Is Closest To The Buy Zone?
The current Fed-induced rally has expanded P/E multiples across the board and most high-quality stocks are priced for perfection. That said, let's take a look at the current charts for MCD, WMT, KO, and XOM and compare where they trade in relation to their respective Buy Zones.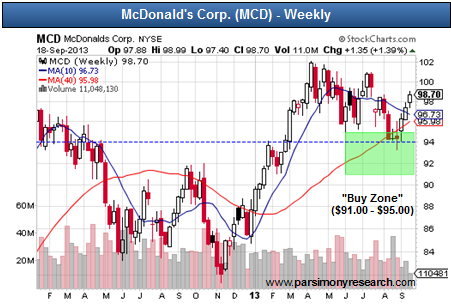 McDonald's currently trades 3.9% above its Buy Zone. Ideally, we would like to purchase the stock under $95.00 (which would equate to a forward P/E ratio under 17.0x and a forward yield close to 3.5%).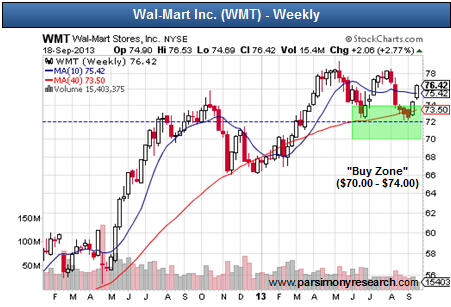 Wal-Mart currently trades 3.3% above its Buy Zone. Ideally, we would like to purchase the stock under $74.00 (which would equate to a forward P/E ratio under 14.0x and a forward yield above 2.5%).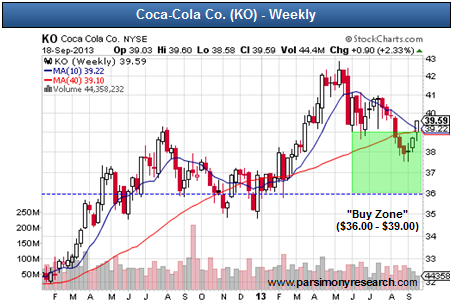 Coca-Cola currently trades 1.5% above its Buy Zone. Ideally, we would like to purchase the stock under $39.00 (which would equate to a forward P/E ratio around 18.0x and a forward yield around 3.0%).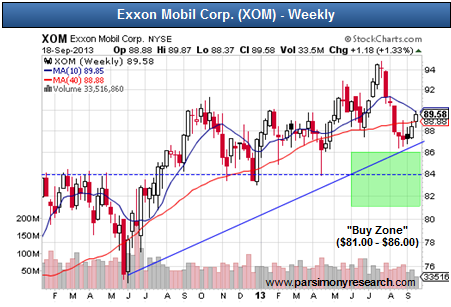 Exxon Mobil currently trades 4.2% above its Buy Zone. Ideally, we would like to purchase the stock under $86.00 (which would equate to a forward P/E ratio around 11.0x and a forward yield around 3.0%).
Buying Strategies For A Rising Market
Chasing stocks higher during a market rally is an easy trap to fall into if you don't establish a long-term buying strategy. There's certainly no harm in taking a few nibbles during a rally since none of us have a crystal ball (and stocks could always go higher). That said, patiently waiting for a low-risk entry point for a given stock will drastically improve your long-term investment results.
Our buying strategy has three key components:
Establish a "Buy Zone" for each stock - As discussed above, our ultimate goal is to buy quality stocks at good prices. Establishing a "Buy Zone" helps us stay disciplined.
Keep a "Watch List" close at hand - We maintain a master Buy Zone Watch List that we use to track all the stocks that we would like to own and at what price. In our opinion, this is the best way to stay on top of potential buying opportunities.
Buy in stages - We prefer to "leg" into our positions and we never buy a full position at once. Since we know we can't time the market, we always like to save some dry powder in case the stock drops further.
Summary
The dilemma that we currently face with picking our portfolio captain will be an on-going dilemma every single day as we build and manage this DIY Dividend Investors Club Portfolio. Identifying good stocks is easy; patiently waiting for the right price is the hard part. That said, our vote is start a small position in Coca-Cola this week to officially kick things off as we believe it is the most fairly priced of the group. However, this is a democracy and we would like to hear from you! All in favor ... say "aye".
Keep in mind that we will reassess all of these stocks again as we comb through each of the major sectors and build out our "watch list" in the coming weeks. Please follow along and participate as much as you can. The first sector on the agenda will be Consumer Staples. Please make sure to "follow" us so that you will be notified when each new article is published.
Disclosure: I am long KO, WMT, MCD. I wrote this article myself, and it expresses my own opinions. I am not receiving compensation for it (other than from Seeking Alpha). I have no business relationship with any company whose stock is mentioned in this article.