(Editors' Note: This article covers a micro-cap stock. Please be aware of the risks associated with these stocks.)
I have initiated a long position in Pershing Gold (NASDAQ:PGLC) because of the company's strong fundamentals, major undervaluation, and near-term catalyst. I just returned from a trip to Pershing's mine, and in my opinion, the company presents a good asymmetrical trade, large upside potential, and limited downside risk.
Any day now Pershing should announce the results of its most recent exploratory drilling program. As I'll outline below, positive drilling results could provide significant share price appreciation for investors.
Why I believe the drilling results could be positive
Number 1: Pershing's CEO, Steve Alfers left his position as chief of US operations at Franco Nevada (NYSE:FNV), a multibillion dollar corporation, to build Pershing into a large mining operation. Pershing currently has defined 564,000 ounces of validated gold in its existing mine but I believe Mr. Alfers has the vision that Pershing's 25,000 acres holds millions of ounces of gold, as did the previous companies he helped to build. Common sense tells us that he did not leave Franco Nevada for 564,000 ounces of gold.
Number 2: After speaking with geologists and seeing Pershing's mine site from the air and on the ground, I believe there is a strong possibility that new gold will be discovered. Pershing's geologists have spent the last year analyzing potential drill sites, and they would not have begun drilling at this particular site unless they were confident that gold was available.
Number 3: The most encouraging evidence comes from a Pershing news release on July 24 of this year:
Some of the Phase I plans include drill holes located near several drill holes that contained significant gold intercepts drilled by Firstgold, the former owner of the Relief Canyon Mine. Pershing Gold recently re-sampled and re-assayed some of the Firstgold holes in the Relief Canyon Mine database to confirm the presence of the gold intercepts. For example, the new assay results for NT08-DO4, a 2008 Firstgold hole, confirm the presence of strong gold and silver mineralization from 387.4 feet to 492.0 feet, or 104.6 feet at a grade of 0.033 opt (1.12 gpt) Au and 1.03 opt (35.37 gpt) Ag. NT08-DO4 is located on a claim that Gold Acquisition Corp. owns and is approximately 725 feet north of the northernmost boundary of the North Pit (See Figure 1).
The drilling results for NT08-D04 were very good, but one hole isn't enough to substantiate a new discovery. Pershing initiated this new drilling program to confirm Relief Canyon's previous owner's, Firstgold's, results.
3 important elements standout in this news release:
In 2008, gold was found in one drill hole at a concentration of .033 ounces per ton: nearly twice the concentration in Pershing's current mine which has a concentration of .017 ounces per ton. Twice the concentration, translates to twice the value.
The depth of the gold discovery was between 387 feet and 492 feet. This is considered shallow, and it is reasonably inexpensive to extract the gold from this depth with open pit mining methods. For example, some mines are beyond 1000 feet.
The drill holes are only 725 feet north of the current mine location. This mineralization might well have continuity with Pershing's open pits to the south. Additionally, this means that if mining begins at this new location, Pershing can use its existing production facility.
All of these elements combined support the argument that there is a reasonable chance gold will be discovered at this new location.
Neighboring mines are productive
Another positive indicator for Pershing's property is the success of the neighboring mines. There are several large operating gold and silver mines and new gold discoveries along the same trend as Pershing's Relief Canyon mine. These neighboring mines and discoveries include:
1) The Rochester Mine, owned by Coeur Mining (NYSE:CDE), which has produced over 100 million ounces of silver and 1 million ounces of gold.
2) The Florida Canyon Mine, which has produced over 2 million ounces of gold.
3) The Standard mine which has produced about 500,000 ounces of gold.
4) Spring Valley, a joint venture between Barrick (NYSE:ABX) and Midway (NYSEMKT:MDW), is a new discovery with at least 1.8 million indicated and inferred ounces of gold discovered to date. From what I've heard, geologists on the ground believe there is closer to 5,000,000 ounces available.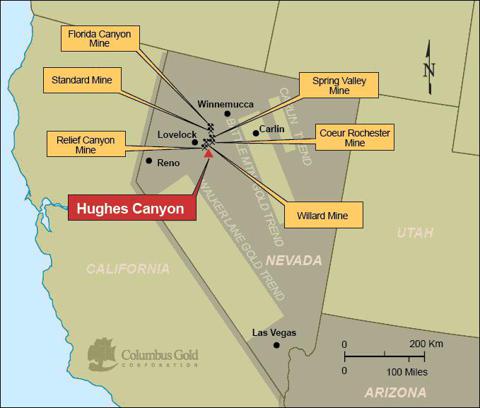 Click to enlarge
Level of gold grades
Pershing's current mine holds .017 ounces of gold per ton. As a comparison, Coeur Mining's neighboring Rochester Mine has average grades of 0.004 ounces of gold per ton, considerably less than Pershing's, and yet the Rochester mine has been producing for almost 30 years.
If Pershing can continue to show even its current grades in the new drill holes, investors could start thinking that perhaps Pershing's land surrounding the existing deposit does have the untapped potential that Alfers envisioned when he came aboard.
Gold deposit thickness
It will also be important to note the thickness of the gold deposits in the current drill campaign. If gold mineralization in a drillable hole is 100 feet thick, this would indicate a considerably larger quantity of gold than if the mineralization was only 10 feet thick, assuming the grades were the same in both cases. Also, a thicker intercept in a drill hole is a positive indicator for the width of the actual deposit. A wider deposit indicates more gold than a narrow deposit. The best scenario would be for Pershing to report a high grade of gold with a level of mineralization that was substantially thick.
Why drilling is so important
Drilling presents a good asymmetrical leverage vehicle. You spend $2 million drilling, and if the results are good, you can add hundreds of millions of dollars of valuation to your company. Gold in the ground has value, as long as it's not too deep. If the results are poor, your only downside is the $2 million invested in the drilling program.
Drilling lets you know approximately how much gold you have in the ground in a given area. Keep in mind that Pershing has over 25,000 acres now, up from just 1,500 acres when the company first acquired Relief Canyon, and the company's drill results to this point are on just 3% of this property.
The market is currently giving Pershing's 25,000 acres of potential gold a valuation of only $100 million, Pershing's market capitalization. Investors are assuming that there is no gold anywhere but in the current mine location. If Pershing discovers gold in a new area with the new drill campaign, investor perception will change because it will be understood that there could be gold on a larger portion of Pershing's 25,000 acres.
With Pershing's recently completed $11 million cash financing, the company can continue this process of drilling and potential discovery. Most of Pershing's peers cannot initiate drilling programs because of cash constraints and heavy debt loads.
Pershing has indicated that the company will continue drilling throughout 2013, and if another 250,000 to 500,000 additional ounces were discovered, Pershing's valuation would increase again. That's why drilling is so attractive, because for a relatively small investment, shareholders can reap the benefits of discovery leverage.
How much gold could Pershing have?
What I like about investing in gold mines is that the investment model is easy to understand. Each company has a given amount of land which holds a finite amount of gold. This is not debatable, gold is either there and retrievable or not.
It takes time to discover just how much gold is available, but the intrinsic valuation of the land is directly tied to the combination of discovered and undiscovered recoverable gold. What I like about Pershing is that it controls a relatively large piece of land, 25,000 contiguous acres, which demonstrates Pershing's growth potential. Compare that to Pershing's neighbor, Coeur Mining,which only has 7000 acres, and yet has a $1.3 billion market capitalization.
At this point we only know that Pershing has 564,000 ounces of gold. What we don't know is whether or not this will ultimately expand into a several million ounce deposit. That's why the drilling results that are about to be reported are so important. They will give us an indication of Pershing's present value and potential future value.
Coeur Mining has invested in Pershing
Last June, Coeur Mining purchased 10,937,500 shares of Pershing common stock. Coeur Mining has been Pershing's neighbor for years and has to have some level of understanding of the gold potential on Pershing's property. Coeur Mining was also probably attracted by Pershing's undervaluation and the strategic value that Pershing's land package could add to enhance its growth at the Rochester mine. Expansion has been a focal point for the company as stated by Coeur's CEO, Mitchell Krebs:
We remain enthusiastic about the expansion opportunities at Rochester, which we believe can make this long-running operation our largest cash flow generator in the next five years.
There were also the following additional factors I believe Coeur saw in Pershing prior to making the toehold investment:
Number 1: Pershing already has a completed processing facility, which could cost $30-$40 million to build.
Number 2: Pershing's existing mine and production facility is substantially permitted. Permits for new mines can take 5 years.
Number 3: Pershing's gold deposits are fairly close to the surface, which keeps production costs substantially lower than deeper gold.
Number 4: Pershing has not released its projected costs of operation, but I expect its costs to be relatively low based on historical production, especially when compared to Coeur Mining's current cost of $1,115 per ounce.
Rarely do you see a junior gold miner that has all these positive elements while trading at a discount, so it's not surprising Coeur Mining established a long position. Many junior miners have huge debt loads, no permits, gold that is too deep to mine profitably, no procesing facility, and no access to capital. Some of these companies are more than 5 years away from production. Coeur Mining's share purchase provides me with some level of validation of my investment thesis.
Pershing is undervalued when compared to peers
The best metric for comparing the valuation of emerging gold mining companies is the adjusted market cap per ounce of recoverable resources. In this market, emerging producers trade between $108 per ounce and $697 per ounce of recoverable resources as is shown on this BMO table. (BMO Capital Markets precious metals and minerals; the gold pages for the week ended September 6, 2013). Franco Nevada, an intermediate producer trades for $1811 per ounce of recoverable resources.
The North American average market cap per ounce is $541. The range can be explained by qualitative risk factors: time to production, permitting status, debt, infrastructure, and capex required to get to production.
The market generally distinguishes companies by those qualitative factors. A company at or very near production should have a market cap per ounce in the high end of the range. A company that has a significant permitting risk, construction risk on infrastructure, high capex and high financing risk, will trade at the low end of that range.
Pershing's market capitalization has been hovering around $100 million. As of January 2013, Pershing's "in pit" gold resource conservatively was estimated at 564,000 ounces by a third-party engineering firm. If Pershing recovers 70% of that total, its recoverable ounces can be estimated at 394,000.
Because the Relief Canyon mine is a "brownfields" project with an existing operational processing facility and with existing open pits ready to be expanded and put into production, its permitting risk, capex and costs of production are relatively low. Pershing has cash in the bank and no debt. It should be trading at the high end of the range of market cap per ounce, or around $697/ounce. Even if Pershing were to trade at the North American average, it would be trading at $541/ounce.
An additional reason I have invested in Pershing is that the company is trading at a market cap per recoverable ounce of $253. That's more than a 50% discount to its peers. Based on this metric alone, Pershing should be trading today at twice its current valuation. Also, I believe Pershing should be trading like a growth stock, based on its land expansion from 1500 acres to 25,000 acres and its reserves being increased from 150,000 ounces to 564,000 ounces.
What's important now is that Pershing is in the midst of its 2013 drilling program, which will determine whether or not more gold will be added to its present reserve of 564,000 ounces. If more gold is discovered, Pershing's undervaluation will become even more exaggerated and the potential for share price appreciation will be further amplified.
NASDAQ or AMEX up listing will be a positive catalyst
Pershing's CEO has stated that the company intends to seek a listing on a major exchange this year. I expect an up listing to occur in the near future after Pershing further updates its resource.
A reverse split will be required first, unless the company begins trading over one dollar. I would like to see a reverse split followed by a major exchange listing because that would open the door for institutional investors who cannot take positions in over-the-counter companies. Also, the more conservative retail investors would be able to come on board. (For those of you who are concerned about reverse splits, every one of my Seeking Alpha investments increased in value immediately following a reverse split.)
Pershing's CEO has experience and knowledge
Afte several conference calls with Pershing's CEO, Steve Alfers, my overall impression is that he has a high level of experience and knowledge in the mining industry, having worked with junior miners in Nevada for the last 20 years. Prior to his position at Franco Nevada, he was president and CEO of NewWest Gold Corporation where he developed a large portfolio of promising Nevada gold properties including Long Canyon and Sandman. In his early career as a mining law expert he has advised the mining industry as well as the United Nations, foreign governments, and Congressional committees.
Given the 17 million shares of Pershing stock that he owns, he is well incentivized to develop Pershing into a successful mining operation. He's not doing this for his $250,000 annual salary.
Nevada is gold miner friendly
Nevada has the second largest gold reserves in the world behind only Witwatersrand, South Africa, but Nevada doesn't carry any of the political risk that Africa does. Over 300 million ounces of gold have been discovered in Nevada.
Most importantly for Pershing, Nevada continues to welcome gold exploration and mining. Nevada was recently ranked as the 2nd most "Mining Friendly Jurisdiction in the World" (The Fraser Institute, Mar 3, 2011, www.fraserinstitute.org).
Four opportunities for share price appreciation
Pershing's business model provides four ways investors can profit:
Number 1: With cash in the bank, Pershing can continue looking for new gold deposits. Each new discovery could potentially add significantly to Pershing's valuation. For example, if 250,000 additional ounces of recoverable gold were added to Pershing's current 394,000 recoverable ounces, and Pershing's market capitalization per recoverable ounce were to remain at $253, Pershing's market capitalization would rise from $100 million to $163 million. But remember, $253 is a low number when compared to peers, so if that metric were to rise, Pershing's market capitalization would be even higher.
Number 2: Pershing is currently classified as an emerging producer, but within the next 18 to 24 months, Pershing should be producing gold and would be reclassified as a producer. The transition from discovery and development to production creates significant value for shareholders. As Pershing gets closer to production, Pershing's share price should rise, based on the increasing proximity to positive cash flow.
Number 3: If the price of gold rises beyond the current $1300-$1400 per ounce level by production time, any increase will be added to Pershing's bottom line because production costs tend to be fixed.
Number 4: With Pershing's 25,000 acres right in the heart of Nevada gold country, Pershing could be acquired at any time. Others have speculated that Coeur Mining may want to buy Pershing. As Pershing continues on the path of growing the resource to over a million ounces, I believe other companies could be interested in Pershing as well. Pershing's unique characteristics (low-cost, no geopolitical risk, built and substantially permitted processing facility) could make it very attractive as a bolt-on acquisition for companies like Barrick, Newmont (NYSE:NEM), Agnico Eagle Mines (NYSE:AEM), Pan American Silver (NASDAQ:PAAS), and New Gold (NYSEMKT:NGD). However, I would not buy shares of Pershing based solely on buyout speculation.
My trip to Pershing's gold mine
Since I have a large position in Pershing, I felt it necessary to meet with the company's geologists and take a first-hand look at the company's mine and production facilities. Last Friday I chartered a plane from San Francisco, flew to the Lovelock Nevada airport, and was met by Pershing's geologists.
After going over area maps with the pilot, we flew to the nearby Humboldt Range. Here we observed dozens of gold and silver mines where millions of ounces of gold and silver had already been discovered and extracted.
Pershing's land is near the southern end of the Humboldt Range, and when I saw the proximity to the other productive mines, it became apparent why Pershing's land holds so much potential. Pershing is right in the middle of gold and silver country. The Humboldt Range encompasses a relatively small area, and we were able to fly around the entire circumference in about one hour.
One of the most interesting mine sites was the Florida Canyon mine, which is owned by a Jipangu, a Japanese conglomerate. By observing this mine from the air, it was easy to envision the entire mining process because the leach pad, holding ponds and production facility were all operational. The same Japanese company owns another large operational mine, the Standard Gold Mine. It was good to see this mine from the air because it is a large operation, and it gave me a clear understanding of the potential scale that Pershing could attain.
We then landed at the airport, and drove over to Pershing's mine site and processing facility. What impressed me most was Pershing's processing plant. It was a huge conglomeration of holding tanks, pumps, filtering systems, routing pipes, and staircases that allowed access to all levels. I immediately understood why this could cost at least $30 million to replace. The equipment all looked new, and very well maintained. I look forward to the day I can see this plant in operation.
We drove over to the drill site where Pershing is exploring for new gold discoveries. This wasn't that interesting, nothing more than a drilling rig, but this is what allows Pershing's geologists to know whether or not gold is located in a given area, and if so how much. It's an important predictive tool.
Computer modeling it's also a good predictive tool, and Pershing's computer room was well-equipped. Since the science of geology is so slow-moving, encompassing hundreds of millions of years, I can understand how computers can be used to assimilate existing geological data to help locate gold and silver deposits.
My overall impression was that Pershing has a high quality piece of land in a prime location, and a state-of-the-art processing facility. Everything is in place to begin production, including enough gold to be profitable for about 7 years. The main purpose of this current drilling project is to add immediate value to Pershing and to extend the life of the mine.
What's the risk?
I believe the current drilling results will be good, but if I am wrong, we could see a retreat in Pershing's share price. That doesn't mean the game is over for Pershing, far from it. They still have 25,000 acres to explore, cash to do so, and enough validated gold to transition to profitability.
In terms of the price of gold, there is no actual short-term risk because Pershing is not producing yet. It makes no difference whether the price of gold is $1000 or $2000 today because Pershing is not currently selling into this market.
But, the current price of gold will affect investor sentiment which in turn can have a positive or negative effect on Pershing's share price. In reality, the junior miners shouldn't be affected at all by current gold price fluctuations, but often they are.
The actual risk is related to the price of gold in 18 to 24 months once Pershing begins production. However, as I stated earlier I believe Pershing will be able to produce gold at a relatively low cost per ounce. This provides investors a degree of downside protection as the price of gold would have to fall significantly before Pershing would be unable to profitably produce gold. This is not the case for quite a few others in the industry where the worldwide average cost of production is $1,200/oz.
It's also important to keep in mind that if gold prices were to drop significantly, and a large number of miners were eliminated, this would limit the gold supply, which in turn should drive the price of gold back up.
What's the trade?
I increased my position because Pershing plans to be drilling for the next several weeks to expand and upgrade its gold resource. I believe there is an excellent chance of success for this drill campaign, and if that happens, this will be a good trade.
If Pershing does not report positive drilling results, I still own shares in a company that is undervalued, and the prospects are still good because Pershing will continue drilling for the rest of this year. In reality it doesn't really matter if gold is discovered now or later on this year, just as long as gold is discovered.
Conclusion
Pershing is in a strong position for a junior gold miner. The company has a state-of-the-art production facility, cash from the $11 million financing, no debt, permits, and an experienced management team. But most importantly, Pershing has already validated a significant gold deposit.
The company is trading at a discount to its peers based on comparable metrics, so even without any new gold discoveries, the share price should rise to a level equal to its peers.
For complete disclaimer and disclosure information please click here.
Disclosure: I am long PGLC. I wrote this article myself, and it expresses my own opinions. I am not receiving compensation for it (other than from Seeking Alpha). I have no business relationship with any company whose stock is mentioned in this article.