Monotype Imaging (TYPE) has a collection of approximately 150,000 font products that include its own as well as third party owned fonts. Additionally, the company provides printer drivers, page description language, interpreters, and color imaging solutions to OEMs.
Monotype Imaging registered a growth of over 75% in the last twelve months. We are bullish on the stock from a long-term perspective because of its strong fundamentals. Monotype Imaging has two segments - OEM and creative professional. The creative professional segment is the fundamental driver of the company's future growth. It has registered a robust revenue growth of 50.75% in the last twelve months due to the large number of fonts it offers and the number of languages it supports.
Bullish on Creative Professional
The growth in the creative professional segment remains the most compelling growth driver for Monotype Imaging. This segment registered a robust revenue growth of 64% year over year in 2012. The growth story continued in the first half of 2013, and the segment has delivered revenue of $29.99 million in the first half of 2013, a year over year growth of 29%.
The creative professional segment of Monotype Imaging has a catalog of approximately 30,000 fonts, which support more than 40 Latin and non-Latin languages. These fonts are licensed to end users for electronic and print applications. About 67% of the business in this segment is generated by e-commerce websites. The growth drivers for this segment are increasing website development, growth in advertising spending, and the desire of corporates to make their websites look great.
Web font business growth
The answer to the reason for continuous growth in the creative professional segment is the utility of web fonts that Monotype Imaging offers. When a consumer buys an electronic device, say, a mobile, laptop, smartphone, or a desktop, the only fonts that the user sees on that device are those that the device manufacturer has licensed. So, if he is looking at content from a source that uses a licensed font that his device manufacturer hasn't licensed, his device will switch to a different font licensed by the manufacturer. The content provider does not want this to happen, so he limits his font choices to the most commonly licensed fonts in order to maintain the original fonts across various platforms.
Through its web fonts, Monotype Imaging provides a solution to this problem. A content provider or web developer, who uses web fonts from Monotype Imaging is free to choose any web font available. Regardless of whether the web font is licensed on the reader's device, he gets to see the original font. This flexibility in using fonts of choice allows the developer to choose fonts according to his choice and creative instincts.
Another reason we are bullish on Monotype Imaging's creative professional segment, is the global web font market. The global web font penetration is only around 13%-15%.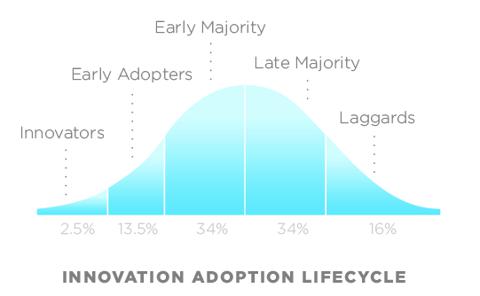 Click to enlarge
(Click to enlarge)
Source: Wikipedia
Adoption Lifecycle (shown above), the web fonts market is still in the Early Adopters stage. As the global penetration reaches 16%, this market will move from the early adopters to early majority stage. This is the stage where the market accelerates according to the innovation adoption theory, and the web font market is very close to reaching the 16% mark. This bodes well for Monotype Imaging's web font business, and it expects web font revenue to double from $5 million in 2012 to $10 million in 2013.
Adobe's Web font business
Technology heavyweight, Adobe Systems (ADBE) also has web fonts of its own. Typekit was a pioneer in web font technology when it launched it in 2009. However, Adobe acquired Typekit in 2011. This acquisition allowed Adobe to have its own Typekit Web Fonts library consisting of 1200 web fonts. This Typekit library has become a vital part of Adobe Creative Cloud. With this acquisition, Adobe could have been a threat for Monotype Imaging. Strangely, Adobe is Monotype Imaging's largest client. Adobe entered a partnership last year with Monotype Imaging that adds over 1,000 Monotype Imaging fonts to Adobe's typekit service. Hence, Adobe Creative Cloud now also offers Monotype Imaging fonts.
Revenue growth
Monotype Imaging has a number of global brands that are customers including Tommy Hilfiger, Ray-Ban, Clorox, Blue Man Group, Starbucks (NASDAQ:SBUX), Nike (NYSE:NKE), and Hilton among others. The recent customers in its portfolio include Disney (NYSE:DIS), DreamWorks (NASDAQ:DWA), Maserati, Mongoose, IOP, and a few others. Monotype Imaging reported revenue of $51.75 million in the creative professional segment in 2012. Looking at the opportunities that exist for the company going forward, we believe that it remains on track to achieve its revenue guidance of $60 million in 2013 from the creative professional segment, having already delivered half of that in the first half of 2013.
What does the future hold?
Monotype Imaging has also made efforts to protect its legacy. The company has trademarks to protect itself from competitors infringing on its patents. Since these trademarks are perpetual, any company that wants to license a font, say Helvetica, must turn to Monotype Imaging today and in the future. Hence, Monotype Imaging has several barriers to entry for competitors to protect its fonts business.
The future of the creative professional segment is in mobile advertising, where Monotype Imaging is still in an infant stage. The growth driver for this business segment will be the business potential from existing web clients like Starbucks, Nike and Hilton. These companies are already incorporating Monotype Imaging's web services offering on their corporate websites. So, they are likely to use these services in their mobile apps too in the future. In the second quarter of 2013, Monotype Imaging expanded its licensing options to include mobile apps and e-books. This will allow Monotype Imaging to reach new customers such as game developers and e-book publishers.
OEM segment
OEM is another segment where Monotype Imaging reports its revenue. This segment achieved a year over year revenue growth of 6% in the second quarter of 2013, growing from $24.95 million to $26.43 million. The print imaging portion of this business segment is a slow-growing business, having achieved the maturity stage, growing by 3%-5% annually. The management also indicated as much in its latest conference call. 85% of Monotype Imaging's revenue is highly recurring and predictable, and the majority of this recurring revenue comes from the OEM segment.
The OEM segment has performed according to the company's expectations in the second quarter of 2013. Amazon.com (AMZN) registered a 22% year over year growth in sales in the second quarter of 2013, due to increasing sales of its kindle and kindle fire HD devices. Amazon began shipping its kindle fire HD tablet to China recently. This product includes Gothic and Song style Chinese fonts from Monotype Imaging. Amazon has thus customized its product according to the needs of its Chinese customers. This has also helped Monotype Imaging to extend its leadership position in the Chinese markets. Amazon has adopted a strategy to expand into the Chinese markets through its kindle sales, and increasing sales will also drive the demand for Monotype Imaging's fonts.
Adobe Postcript and Hewlett-Packard (NYSE:HPQ) Printer Command Language, or PCL, are the leading industry standards for printing. Monotype Imaging has a Universal Font Scaling Technology that makes OEMs printer devices compatible with the leading industry printing standards. Additionally, this technology also allows compatibility with PDF, XHTML, and XPS printing languages. Monotype Imaging also supports standard page description language, or PDL. This technological offering is the differentiating factor, allowing OEMs to license different combinations of PDLs and supported file formats such as PostScript 3, PDF, XPS, and PCL 5 and PCL 6. Having this kind of technology allowed Monotype Imaging to strike a deal with Toshiba TEC in the OEM segment in the previous quarter. Toshiba's e-studio multi-function printers now integrate Monotype Imaging font and technologies. It released these printers in China, Europe, and the Americas, and they include Monotype Imaging's fonts, printer drivers, and PCL 6 PDL.
Monotype Imaging tapped Toshiba TEC while it was working with a system integrator called Teco in Taiwan. Teco offers turnkey solutions to different printer OEMs. Teco is attempting to gain printer accounts in that region. Hence, Monotype Imaging's PDL business in this emerging market will grow as Teco's printer business grows. With Monotype's technological offering in PDL, printer OEMs are likely to award Teco more contracts because of its collaboration with Monotype Imaging.
This month, Monotype Imaging launched the Monotype Baseline Platform, or MBP, which is a cloud-based developer platform that offers access to approximately 30,000 fonts in 40 different languages. This is first-of-its-kind product that is designed to help OEMs, independent software vendors, and developer's program devices and applications to use fonts on a need-based, real time basis. The vendors and OEMs will thus be able to preserve text fidelity in the applications that they design. Enfocus, which provides tools that control the quality of PDF files for print, is the first partner for Monotype to implement the MBP. Missing or corrupted fonts is a perennial problem when printing PDF documents and Enfocus will be able to source these fonts from the cloud using the MBP. As a novel product, MBP is expected to gain traction in the future, particularly as it adds more fonts to the platform over time.
Caveats:
However, we will throw in a word of caution here. A look at the insider transactions tells that over the last three months, insiders have heavily sold this stock.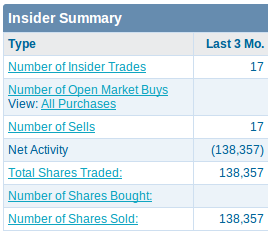 This is usually an indication that the insiders are not expecting any further increase in the stock price and are booking profits.
Conclusion
As already discussed, the long term fundamentals of Monotype Imaging look promising. However, the future growth potential of the company is fairly represented in the stock price, which is trading at around $27 currently.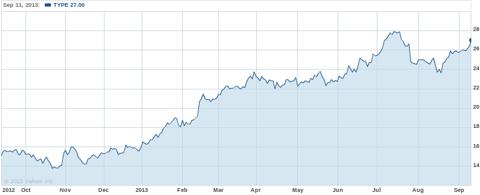 Click to enlarge
(Click to enlarge)
Considering the current P/E multiple of 23.9 and a forward P/E multiple of 21.43, we apply a P/E estimate of 23 to the target price for 2013. At the midpoint of the EPS guidance of $1.09 for the year 2013, we get a target price of $25.07. Since, the stock is already trading above this level; we do not foresee any significant upside in the stock from the present level.
Moreover, it will be prudent to look at the EPS history, and the revenue growth patterns in the Creative Professional and OEM segment over the last twelve months. This will give further insight to the investors regarding this stock.

Click to enlarge
(Click to enlarge)
Source: Yahoo! Finance
Looking at the EPS history of Monotype Imaging over the last four quarters, it is clear that the actual EPS beat the estimate in the first two quarters, whereas it has missed the estimate in the latest quarter.
Revenue Growth in OEM and Creative Professional:
Revenue Growth (% year over year)

Segment

12-Sep

12-Dec

13-Mar

13-Jun

OEM

5.35%

1.73%

8.37%

5.94%

Creative Professional

79.16%

87.40%

57.98%

8.17%
Source: Company Filings
Comparing the EPS Chart with the revenue growth patterns, it is clear that the creative professional segment has driven the EPS for Monotype Imaging Holdings (although not in the same quantum). A dip in revenue growth in the creative professional segment caused an earnings miss in the second quarter of 2013. We are bullish on the global web fonts market. Once it reaches the growth acceleration point, it should drive growth in the creative professional segment, particularly on the strength of its web fonts business. So, investors need to keep digging into the company's filings with this perspective in mind when considering investing in it.
Disclosure: I have no positions in any stocks mentioned, and no plans to initiate any positions within the next 72 hours. I wrote this article myself, and it expresses my own opinions. I am not receiving compensation for it (other than from Seeking Alpha). I have no business relationship with any company whose stock is mentioned in this article. Fusion Research is a team of equity analysts. This article was written by Rohit Gupta, one of our research analysts. We did not receive compensation for this article (other than from Seeking Alpha), and we have no business relationship with any company whose stock is mentioned in this article.