We were not surprised by the Fed's decision yesterday and had stated numerous times that we thought the Fed would not taper. We blatantly stated this in Monday's article (see here) and continued to discuss the idea in this week's morning updates. The talking heads this morning are dismayed, saying the Fed should have lowered their monthly buying program because they had a free pass, etc, etc. The reality of it is that they sound like a bunch of angry old men. They were caught on the wrong side of the trade and we continue to believe that it is because of their piling on that the Fed decided to inflict some pain. The Fed did not lose credibility with this move, in fact they probably gained even more respect and will be able to control markets a little better moving forward.
Chart of the Day:
The Federal Reserve caught many off guard and forced a rebalancing of many people's investment outlook with their delay of tapering. The chart of yesterday's 10 year Treasury shows the huge move we had as the market was surprised, which is a move in size that one does not see very often.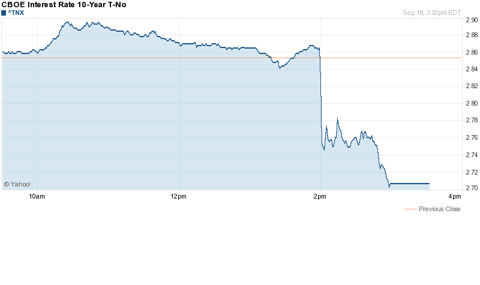 Click to enlarge
(Click to enlarge)
Source: Yahoo Finance
We have economic news today and it is as follows:
Initial Claims (8:30 a.m. ET): Est: 340k Actual: 309k
Continuing Claims (8:30 a.m. ET): Est: 2880k Actual: 2787k
Current Acct Balance (8:30 a.m. ET): Est:-$100B Actual:-$98.9
Existing Home Sales (10:00 a.m. ET): Est: 5.30 Million
Philadelphia Fed (10:00 a.m. ET): Est: 9.0
Leading Indicators (10:00 a.m. ET): Est: 0.6%
Natural Gas Inventories (10:30 a.m. ET): Est: N/A
Asian markets finished higher today:
All Ordinaries -- up 1.11%%
Shanghai Composite -- up 0.29%
Nikkei 225 -- up 1.80%
NZSE 50 -- up 1.05%
Seoul Composite -- CLOSED
In Europe, markets are also higher this morning:
CAC 40 -- up 0.96%
DAX -- up 1.11%
FTSE 100 -- up 1.43%
OSE -- down 0.97%
Financials
Although we were not surprised by the move yesterday we did not take an overly aggressive stance in positioning the portfolio to benefit from the Fed not tapering. We were long, but we did not initiate any trades solely for the purpose to benefit from the announcement. We are more interested in the long-term wealth building of portfolios right now and as such believe that readers should look to our recent winners that had pullbacks yesterday as buying opportunities. Specifically, we like Ameritrade (NASDAQ:AMTD), Charles Schwab (NYSE:SCHW) and MetLife (NYSE:MET) which all saw pullbacks ranging from 2.5% to a bit over 5.5% in yesterday's session. We highlighted the discount brokers as a sector to watch right before the latest takeoff and our belief is that although rates remain unchanged the brokerage business will continue to perform strongly. The next big move up will be as rates rise, but even if one has to wait for this move it will be well worth it for one's portfolio.
We are probably in for some sideways movement in the discount brokers we like, however there is upside down the road as rates rise. Buy on the dips to profit on the rips.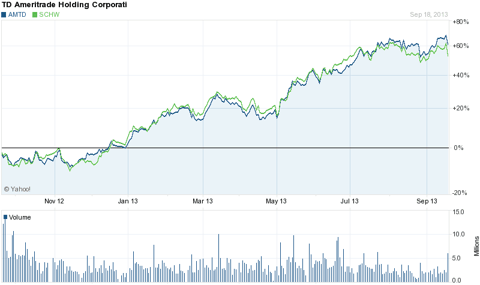 Click to enlarge
(Click to enlarge)
Source: Yahoo Finance
We also think that Regions Financial (NYSE:RF) should be bought on the weakness in their share price right now. The shares trade roughly $1/share below their 52-week high right now but with what we see happening in the financial space over the next few months and few years we think that this name is a deal under $10/share. Like the discount brokers, as the yield curve steepens the company's profits shall increase and with that taking place and the continued improvement in the company's balance sheet we think share buybacks and dividends will be carried out and even raised.
Technology
It has been a great year for internet companies across the board, but the Chinese internet names have fared especially well during this latest run.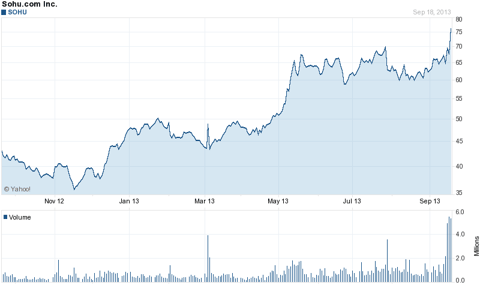 Click to enlarge
(Click to enlarge)
Source: Yahoo Finance
Shares in Sohu.com (NASDAQ:SOHU) continued their rapid rise, hitting yet another fresh 52-week high during the session, as the company announced the special dividend from Sohou yesterday (press release located here). Sohu.com will receive nearly $161.2 million in the transaction which is part of the overall $400 million deal with Tencent (OTCPK:TCEHY) which was announced not too long ago. These are exciting times in the internet space as we move from computers to mobile devices, but China's internet landscape looks like the 'Wild West' right now and we expect to see further deals as companies jockey for position in their respective niches and consolidation begins as the larger players look to step up growth and gain exposure to new business segments.
Disclosure: I have no positions in any stocks mentioned, and no plans to initiate any positions within the next 72 hours. I wrote this article myself, and it expresses my own opinions. I am not receiving compensation for it (other than from Seeking Alpha). I have no business relationship with any company whose stock is mentioned in this article.