Microsoft's (NASDAQ:MSFT) apparently still has a little surprise in it yet. This week Microsoft wowed the market with a 22% increase in its quarterly dividend, from $0.23 per share to $0.28 per share. On an annualized basis that comes out to $1.12, which represents a 3.4% yield based on current prices. With analyst estimates at $2.76, the new dividend represents a 40.6% payout ratio, which is still relatively low. So obviously this leaves a lot of room for future increases, right?
Unfortunately for investors in companies like Microsoft and Apple (NASDAQ:AAPL), which have large cash balances overseas, these companies can only use their U.S. cash to fund dividends and buybacks. The U.S. operations of these companies are the engines that produce the cash to pay dividends and buybacks for the whole company.
The following chart shows Microsoft's U.S. cash balance according to its 10-Ks (data only available from mid-2011, which is when Microsoft began making this disclosure):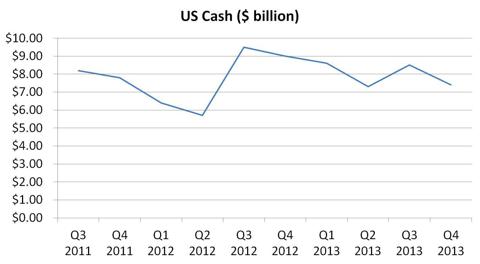 (Source: 10-Ks)
Various U.S. financing transactions helped shore up the U.S. cash balance during this period, including a $2.25 billion bond in February 2011, $2.25 billion bond in November 2011, and $1.95 billion and euro 550 million bonds in April 2013. Notwithstanding these financings, the U.S. cash balance has been treading water for the last couple of years.
Meanwhile, non-U.S. cash continues to increase. The slight dip in foreign cash occurred in October 2011 in connection with the closing of the Skype acquisition. Microsoft will use foreign cash to fund the Nokia acquisition as well so expect a slight dip in one of the next few quarters. Other than those acquisitions, this money is basically trapped overseas until Washington concedes that the current situation is ridiculous and changes the rules.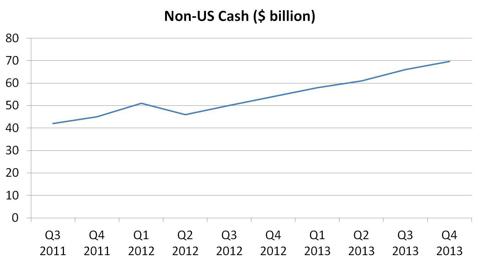 (Source: 10-Ks)
The New Dividend and Share Buy-back
The new dividend of $0.28 per quarter will increase dividends from the current $7.6 billion annual run rate to $9.3 billion, an increase of $1.7 billion. Under the share buyback, the company has been repurchasing around $1 billion of stock per quarter over the last couple of years. All of this will need to be funded from U.S. cash balances.
Can the U.S. operations generate enough to fund this larger dividend and continue to fund the repurchase program? Unfortunately Microsoft organizes its segments around products rather than geographies, and any back-out of U.S. cash flow over the last few years would be incomplete because it would depend on changes in working capital.
What we do know is that the company has needed to incur new debt at various points over the last few years to keep its U.S. cash balance steady at $7-9 billion while funding its previous dividend and share repurchases. Adding $1.7 billion to the dividend will likely require additional debt issuances throughout the year.
More Debt
Microsoft may need to issue a $3-4 billion bond in 2014 to help fund the higher dividend. Frankly that is a drop in the bucket for a company as large and profitable as Microsoft, and of course Microsoft still has a healthy and growing foreign cash balance that can always be repatriated if necessary.
But the need to incur additional debt to fund the capital return is a clear sign that investors should not expect another 22% dividend hike next year. That would put too much pressure on the U.S. cash balance and require over $5 billion per year in new debt. Even for a company Microsoft's size, that would be an uncomfortable position going forward (since we all know Wall Street does not allow companies to lower their dividend).
Next Year
I do not consider Microsoft a buy for the reasons written in this article. The Nokia acquisition and "go it alone" strategy in mobile entails too many risks and costs, in my opinion, and there are better investment opportunities out there for our limited investment dollars.
But if you are a holder, you will no doubt enjoy the much larger dividend this year. Just don't bank on another 22% increase next year... unless, of course, the tax law changes.
Disclosure: I have no positions in any stocks mentioned, and no plans to initiate any positions within the next 72 hours. I wrote this article myself, and it expresses my own opinions. I am not receiving compensation for it (other than from Seeking Alpha). I have no business relationship with any company whose stock is mentioned in this article.