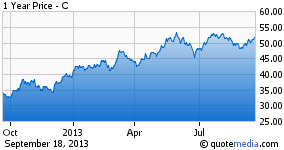 Citigroup (NYSE:C), the third largest U.S. bank by assets has a large emerging market ("EM") presence, which accounts for ~40% of the revenues. Citi has a very strong and attractive EM presence; however, as many of its large emerging markets are facing flagging economic outlooks and interest rate cuts, the bank is likely to face continued headwinds in the near-term. This may result in slowdown in revenue growth and some rise in credit losses; however, it should be offset by continued growth in some other markets, cost cuts, and lower U.S. credit losses. Citi's Global Consumer Banking ("GCB") should benefit longer term from higher historical growth rates in EM, continued investments, and improvement in efficiency. Emerging markets growth concerns may keep the stock under pressure in the near-term as is also reflected in the recent lag in Citi's stock price; however, we are positive on the long term prospects of this globally diversified bank.
Slow loan growth and pressure on spreads in key markets, and provisions rising to reflect seasoning of loan growth in key emerging markets have hurt revenues lately and this is also reflected in GCB earnings which have been weak recently. However, costs cuts have partially sluggish revenue growth. GCB revenues increased 2% Y/Y in 2Q13 while expenses fell 1%. However, due to 20% rise in provisioning net income fell 1% Y/Y. Revenue growth is expected to remain weak in the near-term as a slowdown in emerging markets puts further pressure on net interest margins ("NIM") and loan growth. Citi's focus on higher end customers should partly offset these pressures; however, further cost cuts will be the key driver of earnings growth in the near-term.
Although the growth in emerging markets has slowdown recently, it is still expected to outperform GDP growth in some developed countries. Longer term, loan growth in emerging market could be 2-4x GDP growth compared to 1x GDP growth in developed countries. On the other hand if economic conditions remain weak or worsen, net credit losses are likely to rise in emerging markets. However, this will be partly offset by continued improvement in U.S. credit losses.
4 of Citi's top 6 international markets have been facing pressures recently, which is the reason why loan growth has been soft. The bank has ~66 billion of consumer loans in Mexico, South Korea, and Austria, its top 3 international markets. These 3 markets make up almost 50% of C's international loans and 23% of total consumer bank loans. All these countries have been facing economic pressures and have cut interest rates by25-75bps. Mexico most recently cut its interest rates by 25bps. India which is another key market for Citi (6th largest international market) has seen its currency devalue sharply this year and has cut interest rates by 75bps in 2013. Current slowdown and interest rates cuts are expected to hurt net interest revenues, somewhat offset by lower deposit costs and loan growth in the near term.
The bank has also lagged its peers in growth in key metrics, including deposits and loan growth, and several profitability metrics. Citi expects the Mexican economy to remain soft in 3Q, reflecting a slowdown in government spending and weaker export trends to the US, but to turnaround in 4Q and improve in 2014. The bank expects to continue its Korea franchise, Citi's another key market, though most of 2014. C is restructuring its Korea franchise to focus branch presence in major cities and to target a more affluent consumer base.
Other key markets where C is investing include U.S, Singapore, Hong Kong, Australia, Taiwan, UAE, and Russia. While bank remains positive on Mexico, it also sees attractive growth opportunities in other Latin American countries including Peru, Chile, Columbia, and Panama.
Conclusion
We have a buy rating on Citi. C has an attractive emerging market presence with long term growth opportunities. Citi's emerging markets presence offers another growth avenue that should help mitigate the impact of U.S. financial regulations and sluggish loan growth. Citi has moved toward a more customer-driven model and run down its legacy problem assets which should ultimately reduce its risk and free up capital. The bank has good capital return potential over time as capital gets freed up from Citi Holdings. Capital return is likely to be muted in the near term due to a slowdown in emerging markets; however, longer term Citi offers much value. The shares are trading below tangible book value and it has strong and growing capital levels with potential for return of excess capital to shareholders. The bank also offers long term revenue growth led by its strong emerging markets franchise.
Disclosure: I have no positions in any stocks mentioned, and no plans to initiate any positions within the next 72 hours. I wrote this article myself, and it expresses my own opinions. I am not receiving compensation for it (other than from Seeking Alpha). I have no business relationship with any company whose stock is mentioned in this article.