Now that the initial hoopla over the FDA's approval of Linzess has faded, investors have a chance to evaluate two quarters worth of actual drug sales. Just after FDA approval, Ironwood Pharmaceuticals (NASDAQ:IRWD) peaked at around $19 per share on strong sales hopes. By the time July hit, IRWD had lost nearly 50% of its value and reached a low of $10. What caused the massive dip? Reports of side effects, nerves about a competing IBS product from Synergy Pharmaceuticals (NASDAQ:SGYP) and more shareholder dilution served to spook investors.
However, the bears may have been getting ahead of themselves. The stock has stabilized at a range between $10.50 and $13, and both prescription refill rates and new prescriptions look promising. Synergy's product is at least two years from market, and Ironwood's sales and marketing efforts are still in their infancy.
Market Size and Positioning
First, let's look at a primer on market size and delve into Irritable Bowel Syndrome (IBS) a bit more. About 10-15% of the population is affected by IBS; however, less than 33% of people who are affected ever see a doctor. Most rely on over the counter treatments, usually to no avail. There does not seem to be any indication that IBS is related to nationality, income level, etc., as symptoms are fairly evenly dispersed around the world. Women are affected more than men, and most patients are younger than 45. The condition is chronic, with nearly all treatments designed to relieve symptoms such as constipation and stomach pain. If you don't take the medication, the symptoms will come back.
The pharmacology of Linzess is a bit different than anything that has come out before. It's the first orally delivered peptide which increases fluid secretion to the gut (to relieve constipation) and decreases pain through secretion of cyclic GNP out into the gut. This type of dual symptom relief is what sets the drug apart from anything else on the market right now and has many gastroenterologists writing new prescriptions for the first time.
The chart below shows that while brand growth is still in its infancy, it is tracking nicely along with other GI drugs Zelnorm and Prilosec. (Note that Zelnorm was pulled from market in 2007 due to increased risks of heart attacks and stroke).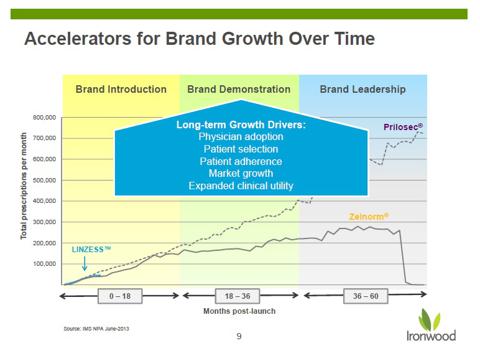 The prescriber mix is also improving, and IRWD now sees a 60/40 split among prescribers between gastroenterologists and primary care physicians (PCPs). There are now over 30,000 prescribers for a drug that was released only nine months ago, and new physicians are being added at a rate of about 1,000 per week. Refill rates are also tracking ahead of Zelnorm at this stage. Because IBS is highly symptomatic and informed patients are motivated to seek treatment, many patients are seeing their PCPs or gastroenterologists and requesting Linzess by name.
The good news is that the marketing of Linzess is still at a very early stage, with only $8.3 million being spent in the second quarter. A robust online campaign and a veritable army of sales reps are soon to be deployed in an effort to get the word out. IRWD has about $300 million of cash in the bank, so it will not be constrained by cash flow in the next 1-2 years.
Global Ambitions
Globally, a partnership with AstraZeneca (NYSE:AZN) will allow for testing of Linzess to ramp up in China as Phase III clinical trials will be underway soon. IRWD is forecasting the first sales in both China and Japan to be made in 2016. In Europe, Ironwood's partner Almirall has launched Constella (Linzess branded for Europe) in the UK, Germany, and Nordic countries. Royalty payments are still small, and amounted to only $2 million in 2Q. Further, because IBS symptoms are prevalent all over the world, Linzess is a good candidate for a global footprint. However, I would not concern myself too much with the Asian market right now. Approval is far off, and a plethora of things can change. As an investor, I would only focus on America and European sales for the time being.
Insurance
Working with insurance companies is also difficult, and this continues to be IRWD's largest challenge. On the positive side, 50% of patients with national commercial insurance have a copay of less than $30 per month, and 80% of patients with insurance have unrestricted access to Linzess. However, the drug may still be prohibitively expensive for a large chunk of their market share - potentially millions of people. The choice between a $5 bottle of Pepto Bismol or Miralax vs. a new prescription that can cost hundreds of dollars is an easy one for anyone on a constrained budget with fairly mild symptoms. Negotiations with payers are still ongoing, and IRWD hopes to have more plans enrolled soon, but cost remains an issue.
Side Effects & Patient Feedback
A cursory glance at the internet message boards of IBS community groups Inspire.com and ibsgroup.org, raises a red flag - this does not seem like a wonder drug that cures all patients. A large amount of people are complaining about diarrhea and have given up on Linzess. While the Rx itself warns that 20-35% of patients may experience diarrhea, initial feedback may not be as rosy as Ironwood claims. While this is only a small sample of patients, and it is more likely that people experiencing problems will post about their experience as opposed to those that don't experience any side effects, the sheer number of posts about the matter is slightly disconcerting. The bottom line is that investors should temper their expectations, which I believe the fall from $19 to $10 already portended.
Cash Flow
I'm projecting about $125 million worth of Linzess sales for the year, as Q2 sales were $28.8 million. Operating expenses were $55 million and IRWD continues losing money. Note that sales are not cleanly broken out on the income statement - investors must look at the collaboration expense line item in more detail to find both Linzess sales and commercial costs and expenses (see below). Also note that due to the distribution arrangement with Forest Laboratories (NYSE:FRX), Ironwood does not pocket the gross sales. Cash burn continues to be high, and investors must factor in another capital raise in 2015. By then, Synergy's product may be launching, and while Linzess will have some more competition, its network of doctors and sales reps will be very robust.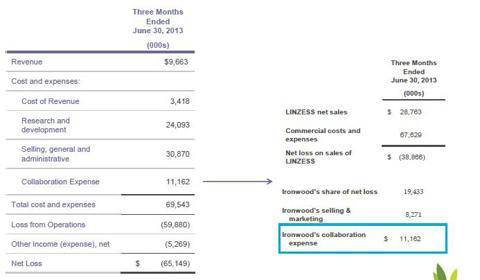 But 2015 is a long ways away, and I would not advocate a multi-year buy and hold strategy here. In the meantime, as Ironwood continues to ramp up marketing efforts, Linzess should continue to see sales growth. Any surprise on the upside should bode well for the stock, as it could be poised for a breakout above its 200 day moving average, especially with analyst expectations continually getting revised down. I believe that we've seen the short term floor on IRWD, and if investors can get in between $11-12, selling between $15-16 would be a prudent move for a short term profit as we approach the end of the year. Just don't expect the next Prilosec.
Disclosure: I have no positions in any stocks mentioned, and no plans to initiate any positions within the next 72 hours. I wrote this article myself, and it expresses my own opinions. I am not receiving compensation for it (other than from Seeking Alpha). I have no business relationship with any company whose stock is mentioned in this article.