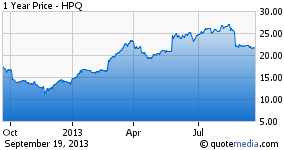 I have been as down on Hewlett-Packard (NYSE:HPQ) as anyone. As recently as February I was writing negative stories about them here.
But it may be time to re-evaluate. The company has made some recent moves which indicate they are getting over the "not invented here" syndrome that was holding them back.
Hiring Bill Hilf from Microsoft (NASDAQ:MSFT), where he was running its Azure cloud, brings an open source advocate into the center of where the company has to grow.
Embedding Leap Motion's system into its Envy laptop doesn't solve the problems of the space, but it does show the company is no longer just waiting for change to happen, but making it happen.
Then there's the plain fact of numbers. At its current price of under $22, HP is selling at barely one-third its sales. For a technology company this is a ridiculous figure. Oracle (NASDAQ:ORCL), which I would argue has far more existential problems at this point, being committed to a dying client-server architecture, is selling at about four times its sales.
So how far can an investment in HP move, and how fast? A move needs a catalyst. HP doesn't report earnings again for another two months - last time it missed the analyst estimate of 87 cents/share in earnings by just a penny. Analyst views on the company right now are decidedly mixed, as they're seeing no upside momentum yet on either sales or earnings.
But HP doesn't have to turn into Amazon for investors to profit here. This company is still creating over $10 billion in free cash flow each year, and that has been going up under CEO Meg Whitman. The balance sheet shows that debt growth is now in line with asset growth, keeping that ratio at 25%, pretty low for what is basically a manufacturing company.
There are other catalysts, deal catalysts, that could come into play. A spin-off of the printer division, even the printer and PC division, could be that catalyst. The Personal Systems group represents 35% of revenue, but its decline is holding the rest of the company back. A spin-off could leave the rest of the company selling at a fat premium to sales, and give growth-oriented shareholders something they could dump for cash.
There remains much to be done. Someone has to deliver a cloud server that offers similar price-performance to the industry's current do-it-yourself solutions. HP needs to build a compelling cloud stack, but with Hilf it can do that. Most of the big write-offs at failed units like Autonomy and EDS are done - what's left are mainly businesses that can stand, if not prosper.
Put it this way. If HP can make enough moves to bring its sales in line with its market cap, the price of the stock triples. Right now this company is selling for barely its break-up value, so you have very minimal downside. The global economy is growing, and thus so is demand for computing and services. The nonsense that characterized HP's boardroom is over, as Whitman has now surrounded herself with loyalists. We know who the boss is.
That's not a great company, but you don't need HP to become a great company in order to make money on it. Just a company with its head pointed in the right direction. That is what seems to be happening, at last.
Disclosure: I have no positions in any stocks mentioned, and no plans to initiate any positions within the next 72 hours. I wrote this article myself, and it expresses my own opinions. I am not receiving compensation for it (other than from Seeking Alpha). I have no business relationship with any company whose stock is mentioned in this article.