In recent quarters, McDonald's (NYSE:MCD) has been facing some margin pressures and lackluster revenue growth. These recent struggles have caused the stock to drift sideways while the broader market has surged. However, McDonald's does have a method to reward its long-term shareholders, namely dividend-growth. On Wednesday, McDonald's announced a 5.2% increase to its quarterly dividend to $0.81 per share from the prior dividend of $0.77 per share. This would mark McDonald's 37th consecutive year of annual dividend increases. This dividend increase is much smaller than the 10% increase in 2012, but still a dividend hike nonetheless. At current prices McDonald's now yields about 3.28%.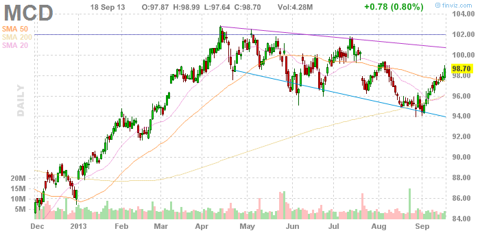 Dividend increase was lower than previous increases
McDonald's dividend increase was lower than in prior years. Back in 2012, the company raised its dividend 10% to $0.77 per share. However, that year's increase may have been more generous due to changes in the tax code going into effect in 2013. This year's dividend hike is also by far the weakest increase since McDonald's shifted to quarterly dividend payments back in 2008. From 2008 to 2012, McDonald's annual dividend increases averaged about 15.50% per year, basically doubling the dividend in 5 years.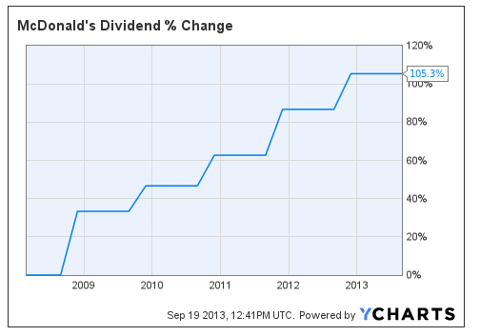 McDonald's adjusted EPS growth is a good leading indicator for future dividend hikes
When looking at McDonald's previous dividend increases, we can see that they have generally been in line with increases in EPS. As McDonald's 2013 EPS growth rate has lagged, so has its level of dividend growth. For Q2 2013 the company posted net income growth of 4% and adjusted EPS growth of around 5%.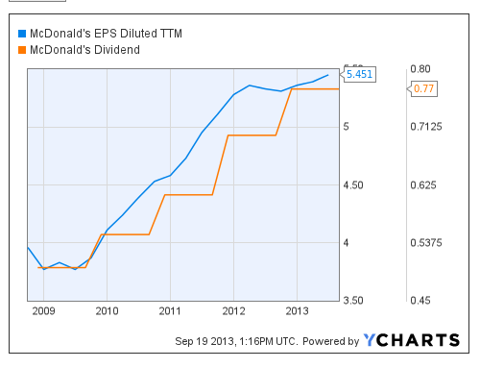 Buybacks remain strong for McDonald's
Like many large-cap stocks, McDonald's has been aggressively buying back its stock. During Q2 2013, the company returned about $1.2B in capital to its shareholders via share buybacks and dividend payments. As shown below, McDonald's free cash flow, or FCF, covers these expenses. Do note however that these buybacks have not resulted in a large decrease in McDonald's float. YTD, McDonald's share count has decreased by less than 1%. This is mostly due to stock based compensation.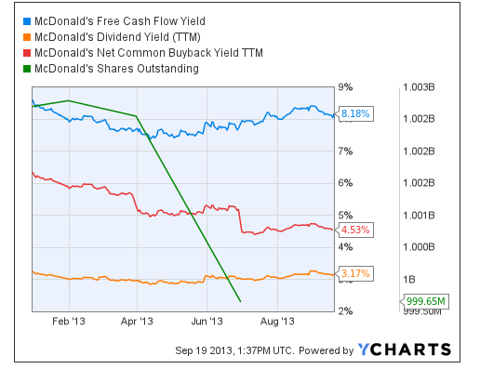 Outlook for Q3 2013
McDonald's North American revenues have been lagging this year. However, recent quarters have shown improved results. McDonald's has been trying to revamp its menu for most of the year. In addition, McDonald's has faced criticism for its overly complex menu, leading to higher wait times.
This quarter, McDonald's plans to launch several new menu items, most notably "Mighty Wings" and an egg white based breakfast sandwich. In addition, McDonald's has plans to revamp its dollar menu to include items selling for as much as $5. While this may hurt volumes and drive away some price conscious consumers, it is a long-term positive for the company as it will drive sales into higher margin products.
Conclusion
McDonald's has always been one of the more consistent stocks in my portfolio. The stock offers a compelling yield and a solid "moat" around its core business.
However, this year's dividend increase is much lower than what I had been expecting. Yes, the increase was in line with EPS growth. However, it wouldn't hurt to boost the payout ratio short-term to reward patient shareholders since McDonald's has lagged the broader market YTD.
If I were looking to start a position, I would wait for a pullback in the share price as the stock is somewhat pricey. However, the same could be said for the overall market. As I noted in my previous article, McDonald's remains a long-term hold. I do not see much reason to sell the stock nor any reason to buy more.
Disclaimer: The opinions in this article are for informational purposes only and should not be construed as a recommendation to buy or sell the stocks mentioned. Please do your own due diligence before making any investment decision.
Disclosure: I am long MCD. I wrote this article myself, and it expresses my own opinions. I am not receiving compensation for it (other than from Seeking Alpha). I have no business relationship with any company whose stock is mentioned in this article.