Shortly after he rose to his current position as CEO of MasterCard (NYSE:MA), Ajay Banga gave his "war on cash" talk where he mentioned an alluring fact: 85 percent of the world's transactions are still in currency format. That leaves a lot of room for growth with his company, in addition to two other main players in this market I'm fond of, Visa (NYSE:V) and American Express (NYSE:AXP). While these companies do compete with each other, they can also successfully coexist - as they in fact do in many people's wallets and purses.
While all three companies fit into the general purpose, payment card industry classification, there are two specific variables which I think are particularly important to look at when differentiating them:
1. Involvement in Debit vs. Credit
In recent years both abroad and domestic, debit cards have been seeing growth much greater than what is seen with credit cards. Cardholders are appearing more cautious and conservative with their use of plastic, which makes debit the choice. This is not so much a permanent paradigm shift in the usage of these products as it is they're acting as products of their recent economic environment. While debit is not going to supplant all use of credit I do, however, expect some residual increase in debit card usage despite the improving economy. And as the worldwide recovery hopefully continues, credit usage will not be as stagnant as in prior years.
From 2005 through 2012, worldwide credit purchase volumes have increased as follows for the 3 companies:
Visa: 206%
Mastercard: 192%
American Express: 184%
| | | | |
| --- | --- | --- | --- |
| Company | Visa | Mastercard | American Express |
| 2010 | 14.16% | 10.34% | 15.19% |
| 2011 | 16.09% | 12.56% | 15.29 |
| 2012 | 10.34% | 9.94% | 8.03% |
For worldwide debit purchase volumes for the same 2005-2012 time period, this becomes:
Visa: 240%
Mastercard: 373%
American Express: N/A
| | | | |
| --- | --- | --- | --- |
| Company | Visa | Mastercard | American Express |
| 2010 | 22.35% | 23.49% | N/A |
| 2011 | 13.39% | 21.99% | N/A |
| 2012 | 0.09% | 13.16% | N/A |
Note that there is a very important reason for MasterCard taking over debit market share, which is the worries and eventually rulings in the recent U.S. lawsuits regarding non-exclusivity provisions. As there needs to be two networks for issuers offering debit signature service, and Visa has 2/3 of the market to MasterCard's 1/3, you can expect that number to drop closer down to 50/50.
Some have voiced negative opinions on American Express, stating that MasterCard and Visa are simply far superior because they are so much more universally accepted. However, as you can see with the above statistics, American Express was certainly putting up comparable numbers in percentage format for credit. Despite being less accepted, American Express has benefits in areas such as better insurance protection and perks for using its cards, which trump the others.
When especially focusing in on the post-2009 time period, American Express bests MasterCard, and is about even with Visa. Having such a high percentage of transaction volume in areas like U.S. small business (it's been near 50% in recent years) makes its post-recession hike understandable.
2. Debt and Credit Risk
Both Visa and Mastercard showed no debt in their most recent 10-K. Visa and MasterCard are payment solution companies, without the credit risk of American Express. The credit risks lie with the issuing banks. Being involved with the management of payment circuits they rely on fee-based income.
American Express on the other hand has quite a bit of debt, and also credit risk. It mitigates credit risk by having low exposure to cardholders with low credit scores. It is somewhat of a niche company, catering to more wealthy individuals, and corporate clientele. As you can see with this chart, the company is not letting its debt spiral out of control. Which is a good sign.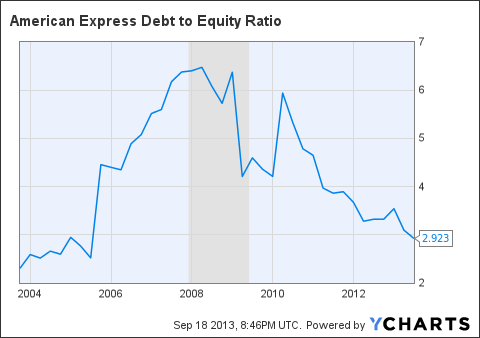 AXP Debt to Equity Ratio data by YCharts
The reason for this lies in it different business structure, one in which American Express generates the credit risk by issuing its own credit cards. But also one in which it is able to implement what it considers a main competitive advantage, its closed-loop network, allowing much superior data flow and receiving the benefits inherent to it.
As stated earlier, just as there is room in the wallets and purses of individuals for more than one brand of plastic, there could also be room in your portfolio for it. Owning Visa and MasterCard might be a little redundant, as they are far more similar to each other than with American Express. Both have great brand name recognition. Both have started to raise dividends recently, but payouts remain low for both. The main reason I would favor MasterCard is its rising share of the debit market, which Visa will have a hard time fighting. But Visa remains an excellent company.
American Express is far more cyclical. Taking a look at its performance during the crisis shows it lost more than 80% in share price, meanwhile during that same time MasterCard was actually positive (Visa didn't have its IPO until the 2nd quarter of 2008, and performed roughly in line with MasterCard ). It was an overreaction, but it was because of its business setup and perceived risks that investors acted as they did.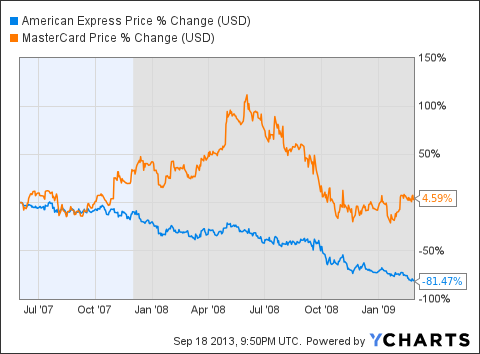 AXP data by YCharts
High beta stocks such as American Express might give some investors anxiety, but can be rewarding for long-term investors, especially with dividends reinvested. And I think American Express is worth it. After all, it has a tremendous vote of confidence by being one of Warren Buffett's "big 4" investments, which he frequently speaks about. However, if these price movements appear to be too much for your tastes, you should look elsewhere.
That's not to say the other two are immune from a precipitous fall in share price, as there is always the danger of negative outcomes from regulatory actions in particular. But in response to the slowing economic environment of what was the worst crisis since the great depression according to many economists, they held up spectacularly, which bodes well for them in any more future hiccups in global economic growth.
Disclosure: I am long AXP, MA. I wrote this article myself, and it expresses my own opinions. I am not receiving compensation for it (other than from Seeking Alpha). I have no business relationship with any company whose stock is mentioned in this article.