On Wednesday September 18th, Enterprise Product Partners (NYSE:EPD) announced that the seventh natural gas liquids fractionator at is Mont Belvieu, Texas, complex has now been brought online and is fully operational. By bringing this particular fractionator online Enterprise Product Partners has increased its capacity to a an estimated 570K bbt/day, but the proverbial fun doesn't stop there as plans to bring the partnership's eighth fractionation unit online by the end of the year could increase capacity to an even more impressive 655K bbl/day. In the wake of today's news I wanted to take a closer look at Enterprise Product Partners and highlight a number of fundamental catalysts behind my decision to remain long on this particular MLP.
Performance and Trend Status
On Wednesday, shares of Enterprise Product Partners, which currently possess a market cap of $55.28 billion, a forward P/E ratio of 20.12 and a forward yield of 4.51% ($2.72), settled at $60.37. Based on Wednesday's closing price, shares of EPD are trading 2.29% above their 20-day simple moving average, 0.69% below their 50-day simple moving average and 5.30% above their 200-day simple moving average. These numbers indicate a near-term and long-term uptrend for the stock, and a mid-term downtrend for the stock, which generally translates into a buying mode for most near-term and long-term traders and a holding pattern for some of the mid-to-medium term investors.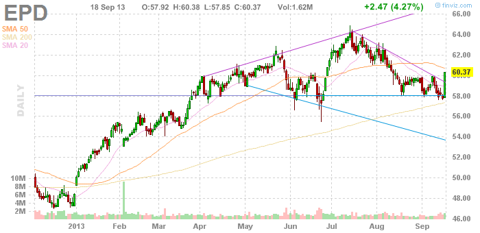 Attractive Dividend Behavior
Since October 27, 2011, the company has increased its quarterly distribution seven times over the last 7 payable months (including the company's most recent payout which took place on July 29). From an income perspective, the company's forward yield of 4.51% ($2.72) coupled with its 24-month dividend behavior certainly make this particular MLP a very viable income option for long-term investors in search of a higher-yielding play in the energy sector.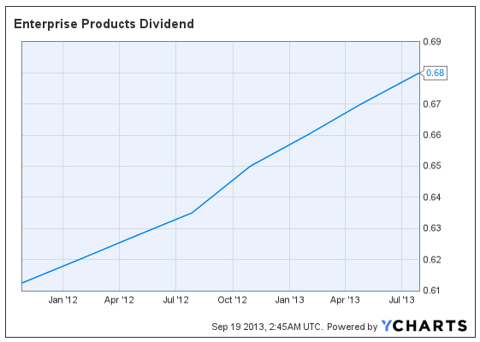 According to my fellow SA colleague, Clayton Rulli, "EPD's distributions since 1999 have averaged a 7.5% CAGR, and are backed by a 1.4x coverage ratio, which implies the payout could increase by 40% and still be covered by today's existing cash flows." If the company's CAGR can be sustained over the next five-to-seven years I see no reason why the company's annual distribution can't increase by at least that much, if not more given how well the company's CAGR has been maintained over the last 14 years.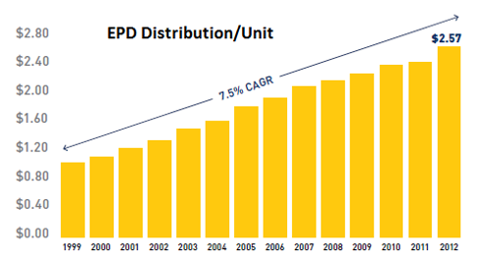 (Source: Clayton Rulli)
Recapping Q2 Earnings
Although Enterprise Product Partners missed on both Q2 earnings and revenue estimates, volumes transported by its natural gas liquids, crude oil, refined products and petrochemical pipelines increased by a pretty impressive 813K bbl/day, or 20%, to a record 4.9M bbl/day. At that pace it won't be long before investors begin to see Enterprise transporting a minimum of at least 5.05M bbl/day.
The partnership's crude oil pipelines transported a record 1.5M bbl/day, up 44% Y/Y, and its NGL pipelines moved a record 2.7M bbl/day, up 12%, which was primarily driven by Eagle Ford production growth, expansion of its gas export terminal and completion of the Seaway pipeline reversal. One of the things long-term investors need to remember is that transportation volumes are going to play a key role over the next 24-48 months, and, if by chance, volumes fail to increase at a reasonable rate, investors could be in for a fairly bumpy ride.
From an earnings perspective it should also be noted that both gross operating margin and adjusted EBITDA demonstrated marginal gains throughout the second quarter. Gross operating margin for the second quarter of 2013 was $1.1 billion compared to $1.0 billion for the second quarter of 2012 and the company's adjusted EBITDA was $1.1 billion for the second quarter of 2013 compared to $1.0 billion for the second quarter of 2012.
Enhancing Its Liquidity for Future Activity
During the second quarter Enterprise also refinanced its bank credit facilities, which extended the maturity of its $3.5 billion multi-year revolving credit facility through June 2018 and increased the liquidity by $1.0 billion when it added a 364-day credit facility.
Based on the company's 364-day revolving credit agreement, "The proceeds of the loans will be used only a) for payment of transaction expenses related to the Transactions, b) as a backstop for commercial paper, and c) for working capital, capital expenditures, acquisitions and other company purposes. No part of the proceeds of any loan will be used, whether directly or indirectly, for any purpose that entails a violation of any of the Regulations of the Board, including Regulations U and X."
In my opinion, the credit facility allows Enterprise to seriously consider any number of possibilities, which include but are not limited to the possibility of an asset-based acquisition or the continued enhancement of its fractionation complex located in Belvieu, Texas.
Conclusion
When it comes to those who may be looking to establish a position in Enterprise Product Partners, I'd continue to keep a watchful eye on not only the company's earnings and dividend behavior over the next 12-24 months but also any enhanced production that may come as the direct result of the partnerships recently completed seventh and soon-to-be completed eighth NGL fractionators.
Disclosure: I am long EPD. I wrote this article myself, and it expresses my own opinions. I am not receiving compensation for it (other than from Seeking Alpha). I have no business relationship with any company whose stock is mentioned in this article.