The U.S. coal industry has been going through difficult times, as the demand and prices of coal stay weak. In such difficult industry conditions, U.S. coal exports have offered some support to the weak U.S. coal industry. However, as off late it seems that U.S. export markets are slowing down as demand for coal in international markets is also dropping. Also, U.S. coal companies have cut back on their export goals for the year.
Due to cheap natural gas prices, slow global economic activity and tough environmental regulations, the U.S. coal industry has lost a significant amount of market value. The graph below shows the YTD stock price performances of Peabody Energy (BTU), Arch Coal (ACI), Alpha Natural Resources (ANR), James River Coal Company (JRCC) and Walter Energy (NYSE:WLT).



Source: Google finance
U.S. coal exports stayed strong in 2011 and 2012, which to some extent helped offset the impact of the declining coal market in the U.S. In 2012, U.S. exports reached a record level as they totaled 125 million tons.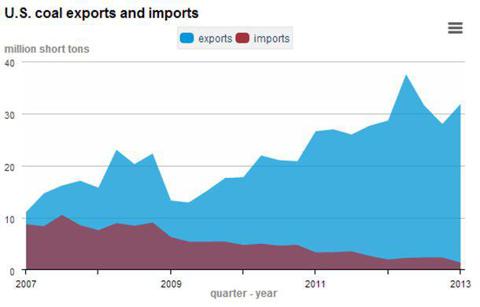 Source: EIA.gov/coal
However, the ongoing economic weakness in Asia and Europe (the biggest U.S. coal importer) does not augur well for the U.S. coal industry. Also, increasing coal supply from other coal exporting countries and lower coal prices are expected to squeeze U.S. coal exports in the future. In the first half of 2013, according to EIA estimates, U.S. coal exports totaled 61.3 MMst, representing a decline of 7.6% as compared to the corresponding period last year. It is expected that exports in the second half of 2013 will continue to decline, and will total 54 MMst, down 6 MMst in comparison to the second half of last year. According to EIA projections, the U.S. is expected to register total coal exports of 109 MMst in 2014, down 13% from 2012.
Despite the fact that coal prices have notably decreased in the last 18 months, coal supply and exports from other countries have stayed strong. One of the major coal exporters is Australia, which has registered solid coal exports so far in the year 2013. The Australian Dollar has depreciated by more than 10% YTD against the U.S. Dollar, which has forced Australian coal producers to supply more coal, despite low coal prices. In the first half of 2013, Australian coal exports increased by 6 MMst or 13% YoY. As coal exports from Australia and other important coal exporting countries keep on increasing, coal prices will remain weak and U.S. coal exports will be adversely impacted.
Responsible for 50% of global coal consumption, China remains the world's largest coal consumer. However, in the recent past, China has taken several measures that are likely to slow down Chinese coal consumption and imports. China has been working to make its coal-fired electricity power plants more efficient, modernizing its domestic coal mines and shifting towards renewable energy resources. These efforts will mean that in the long run, global coal demand will decrease, also creating a hurdle to a recovery in coal prices. Commenting on these recent developments in China, an analyst said, "For global markets, this is a significant bearish signal for coal."
Final Words
The U.S. coal industry has been passing through difficult times and the fading U.S. coal exports do not augur well for the industry. Increased coal supply and exports from countries like Australia and Russia are likely to keep global coal market over supplied and remain a hurdle in a possible coal price recovery in the near term. Coupled with the recent actions taken by the Chinese government to lower coal imports and consumption, a near term outlook for the U.S. coal industry looks weak.
Disclosure: I have no positions in any stocks mentioned, and no plans to initiate any positions within the next 72 hours. I wrote this article myself, and it expresses my own opinions. I am not receiving compensation for it (other than from Seeking Alpha). I have no business relationship with any company whose stock is mentioned in this article.