Xoom Corporation (XOOM) stock has declined by 10% in last few weeks partly due to the market concerns around the company's secondary offering. Last week, the company priced its secondary offering of 4.4 million shares at $30.50, almost 6% premium to the previous day closing price.
The stock weakness related to the secondary offering is an opportunity for investors to enter this high quality digital payment transaction name, which is leading the long-term secular shift towards the digitization of fund remittance industry with the right infrastructure. I wrote about Qiwi (NASDAQ:QIWI), a few weeks ago (link), and its unique position in digital payment transaction space; the stock has been up 30% since. Xoom offers a similar opportunity with significant company specific catalysts.
Revenues grew at more than 50% compounded over the last many years and the company should be able to achieve full-year EBITDA profitability in 2013 with 18% EBITDA margins in the current quarter. Xoom's all-digital model and expanding service offerings position it well for the growth especially with the cost of making a mobile deposit being 13+ times lower than one made at a branch.
A differentiated business model
Xoom Corp. is a digital consumer-to-consumer international money transfer service and offers services in 30+ countries, but revenues and growth are skewed heavily towards India and Mexico.
The company generates revenue from both transaction fees charged to the customers and the foreign exchange spread on the international transactions. Customers can make a transfer using their bank account, credit card or debit card, which is a big differentiator since some of its competitors are weighted heavily towards branch based transfers. Revenue from repeat customers is over 90% of the total revenues.
Transaction service fees start from approximately $2.99 and move up for the different currency and funding sources. Foreign exchange spreads ranging from approximately 1% to 3% of a transaction's principal send amount. As per calculation below, an average transaction amount is $625 and the average fee per customer is approximately $13. Both the metrics are showing substantial improvement.
| | | | | |
| --- | --- | --- | --- | --- |
| | Q2 2013 | Q1 2013 | Q4 2012 | Q3 2012 |
| Avg. Fee Per Customer | $13 | $12 | $11 | $12 |
| Avg. Amount Transfer | $622 | $518 | $486 | $463 |
Calculated using data from SEC filings
Revenues for the company have increased from $14.1 million in 2008 to $80.0 million by 2012, representing a 54% CAGR (Compounded Average Growth Rate). Amount transferred using Xoom's platform has shown a similar growth trend (as shown by the chart below) with $9.3 billion transferred since 2008 and out of that $2.7 billion is in last 2 quarters alone.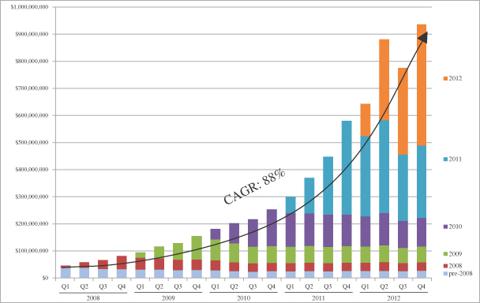 Source: XOOM SEC filings
Xoom's growth has held significance since as per World Bank's Migration and Development Briefs, the worldwide remittance market grew at just 11% CAGR from 2004 to 2012.
Customer level profitability backs the fund raising
Xoom's customer level profitability is not being compromised by the fast growth of the last few years. If we calculate the customer level profitability as per the worksheet below, using the most recent quarterly results, we can argue for the increased spending for the business, which calls for the fund raising.
| | |
| --- | --- |
| Customer Level Profit Metrics | |
| Current cost per acquisition per customer is | $44 |
| If Revenue per customer stays just the same (Annualized) | $146 |
| And EBITDA margins stays flat from the current quarter | 18% |
| EBITDA per customer (Annualized) should be | $27 |
Calculated using data from SEC filings
As per the calculation, the company's cash returns (EBITDA) can "pay back" its customer level investment in almost 20 months.
Some of this improved profitability is due to the Cost Per Acquisition (CPA) declining, even when the revenues are growing at an accelerated pace. Over the last 4 quarters, CPA has declined by 12% while revenues grew at 68% during the same time.
| | | | | |
| --- | --- | --- | --- | --- |
| | Q2 2013 | Q1 2013 | Q4 2012 | Q3 2012 |
| Cost per acquisition | $44 | $40 | $41 | $50 |
| CPA Growth | 10% | -2% | -18% | 11% |
Data source SEC filings
The sustainability of this topline growth holds promise, even if we take a more granular look at the fundamentals of the company. As the numbers below explain, new customers are growing faster than the customers and the customer engagement, one of the biggest drivers of the business, is growing along.
Customer Level Growth Metrics

Q2 2013

Q1 2013

Q4 2012

Q3 2012

Active customer

9%

8%

8%

9%

New Customers

23%

7%

9%

-19%

Average Amount Per Transaction


20%

7%

5%

-14%
Calculated using data from SEC filings
Reasons behind the fast growth
The company has specially gained from the business of funds remitted to Mexico and India. The company has taken the lead from the competitors during the major market shifts and some well-researched market focused initiatives. Some initiatives that have worked well in recent times are
StatusTrak: a tracking center providing ability to track payments by the customer at all stages of the transfer via SMS, Email and 24-hour customer support.
Pay Only When Received (POWR): The Company will withdraw the money only when their recipients receive it.
4-hour deposit to India: The company will transfer money to any Rupee denominated bank account in India within 4 hours.
All these initiatives respond well to the markets served by the company. Besides the service level initiatives, some important shifts that have been well exploited by the company are the growth of mobile and friendly legal changes in India.
At the forefront of mobile shift
The company has no official sales network or branches and has fully exploited the digital opportunity with the apps and online presence. The company launched its mobile strategy in late 2011 and was very well received by the market. By the first quarter of 2013 transactions via mobile devices were 28% compared to 15% in the first quarter of 2012. Gross sending volume sent from the mobile devices is up over 200% compared to the last year. As a comparison, mobile transactions for the Bank of America (NYSE:BAC) were up 4% in Q2. This has also helped the company on margins front.
Indian legal changes offer a great opportunity
Early 2013, the Reserve Bank of India extended its rupee drawing arrangement (RDA) to money transmitters based in the United States. This arrangement can help the company compete directly with the banks for the bulk of the Indian funds transfer business as the company is no longer subject to the $2500 transaction limit and is also able to process transactions to bank accounts held by the non-resident Indians. Before the RDA, the company was operating through a subsidiary and was subject to various limitations. Annual fund remittances from the U.S. to India are close to $70 billion, which company can now fully participate in.
Upside to the estimates
Xoom Corp. has been consistently raising its guidance numbers for the last 2 quarters and the current street expectations for 2014 are for 25% revenue growth and 17 cents EPS, both seem to be significantly conservative. With the recent RDA changes in India and the improved cash position, company can easily maintain its existing revenue growth rates (50%+). Even if the company maintains its current rate of operating margins (14%), the company can deliver much better numbers.
EPS using IF scenario analysis


2014 Revenue Growth

2014 Operating Margins

25%

35%

45%

55%

14%

$0.46

$0.50

$0.54

$0.58

18%

$0.60

$0.65

$0.70

$0.75

21%

$0.71

$0.77

$0.83

$0.88
As a reference, we should note that the current quarter EBITDA (annualized) is around $24 million so some of these estimates may prove conservative.
| | | | | |
| --- | --- | --- | --- | --- |
| EBITDA ($M) using IF scenario | | | | |
| | 2014 Revenue Growth | | | |
| 2014 Operating Margins | 25% | 35% | 45% | 55% |
| 14% | $24 | $25 | $28 | $29 |
| 18% | $30 | $32 | $34 | $36 |
| 21% | $35 | $37 | $39 | $42 |
Relative valuation
The company primarily competes with Western Union (NYSE:WU) and MoneyGram (NYSE:MGI) in the global funds remittance business and the worksheet clearly shows, which way the market is moving.
| | | | |
| --- | --- | --- | --- |
| | Rev. growth 2013 | Rev. growth 2014 | P/B |
| XOOM | 45% | 25% | 7.1 |
| WU | -2% | 3% | 11.2 |
| MGI | 9% | 8% | Negative |
Xoom's success against its competitors is due to lower pricing and ease of use for the customers who are clearly more technologically savvy than decades ago and Xoom has adopted these facts in its business model.
As for future opportunities, MoneyGram has 300,000 and Western Union has 520,000 agent locations, while Xoom has no offline sales network. Xoom Corp. offers one-way transfers to 30 countries whereas its competitors offer two-way transfers to 200+ countries. Clearly Xoom Corp. has ample room to grow.
Conclusion
The company is the leader in all-digital fund remittance space after disrupting the existing business model of the industry and the temporary overhang on the stock is gone. Target is $45.
Disclosure: I have no positions in any stocks mentioned, and no plans to initiate any positions within the next 72 hours. I wrote this article myself, and it expresses my own opinions. I am not receiving compensation for it (other than from Seeking Alpha). I have no business relationship with any company whose stock is mentioned in this article.