Executive Summary
Hecla Mining Company is in the process of a significant transformation. The company recently completed its acquisition of Aurizon Mines which significantly increases the company's exposure to gold. With 100% of its assets in North America, this gold and silver producer remains one of the few precious metals companies with politically-safe mines. With significant growth coming online over the next five years, Hecla continues to develop as a long-term leader in precious metals.
Company Background
When it comes to mining companies, investors know they should focus on disciplined companies looking to mitigate their risks. Mining companies are typically viewed as volatile investments. After all, there are many factors that contribute to this. There are heavy capital costs associated with establishing new operations. Commodity market prices can also fluctuate at the whim of external influences. Above all, the most lucrative mining regions have increasingly been found in politically unstable regions of the world.
It is for reasons like these that established companies with proven histories should be held in high regard. Such companies have been tested in their ability to regenerate mineral reserves, effectively manage mining operations, and execute upon their long-term plans. This is why I want to focus on Hecla Mining Company (HL), a 120-year old veteran in the industry who is now looking to significantly grow its operations.
Hecla Mining Company is the largest primary silver producer in the United States. The company is also one of the lowest-cost producers. With its latest acquisition of Aurizon Mines Ltd., Hecla is also a growing producer of low-cost gold. The company was established in 1891 and is headquartered in Coeur d'Alene, Idaho. It presently operates out of three primary mines named Greens Creek, Lucky Friday, and Casa Berardi.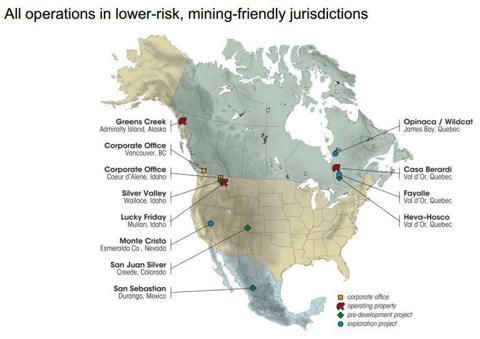 Click to enlarge
The Power Of Diversity
The diversity of the company's portfolio remains one of the most underrated attributes of Hecla. Despite its reputation as being a silver miner, Hecla now carries a leading presence in gold, lead, and zinc as well. Though often overlooked, Hecla's base metal production plays an important part in securing cash flows.
Hecla actually stands as the second largest zinc producer in the United States according to CEO Phillips Baker in a conference found here. With roughly 60,000 tons of zinc production, Hecla's zinc operations is about half of what Lundin Mining Corporation (LUNMF.PK) produces and about 75% of what HudBay Minerals, Inc. (HBM) produces. With 60% of the company's zinc production hedged, Hecla has effectively locked in $300 million worth of revenue. With this revenue, the company roughly covers a whole year's costs for operating its three primary mines.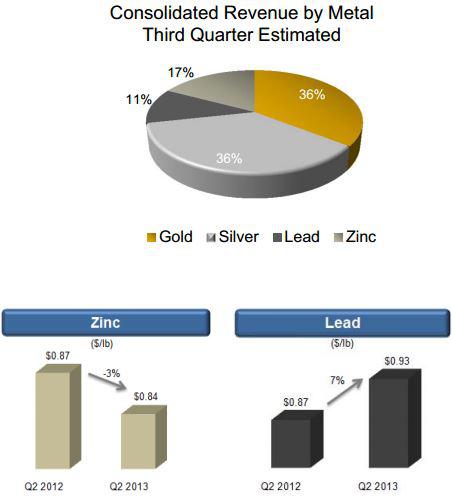 As seen above, the company remains well diversified between base metals and precious metals production. The advantage of this large base metals production is that it provides an effective source of reoccurring revenue. By securing these revenues, the company remains free to invest into its future and implement its long-term expansion plan. Over the next five years, Hecla expects to see silver production increase almost 130% as it ramps up from 6.5 million ounces to 15 million ounces. Likewise, the company expects to see a rapid development in gold production over the next 2 years. It expects to increase annual production by 250% as it increases from 50,000 ounces to 175,000 ounces of gold.
Past Performance Remains Deceptive
At its present price of $3.24, Hecla Mining now carries a market capitalization of $1.1 billion. The company trades with a low price-to-book ratio of 0.81 and a seemingly high price-to-sales ratio of 3.31. Hecla's revenues significantly shrunk from 2012 to 2013 as seen in the chart below. The company's share price followed the trend accordingly.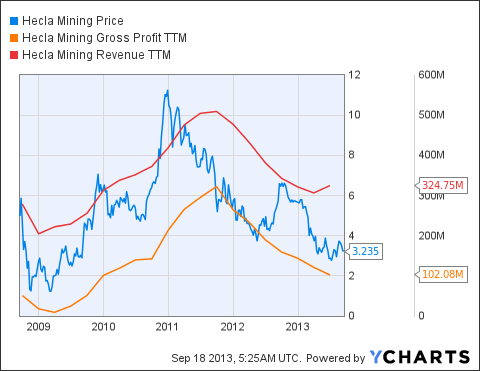 However, part of this decline in revenue will remain deceptive for investors unwilling to investigate further. In January 2012, Hecla voluntarily closed its Lucky Friday silver mine to clean its main shaft as required by federal regulators. The move put one of the company's largest mines out of commission for over a year. Now as the company begins to ramp up production at the restarted Lucky Friday mine, the future looks prosperous. Seen in the chart below, investors can expect the cost of production to significantly fall and for the production of silver to significantly increase.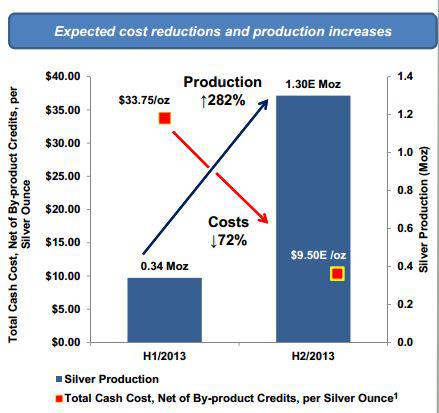 Securing The Future
Over the last decade, Hecla has spent a significant amount of capital aimed at increasing the company's reserves. From 2003 to 2012, the company increased its silver reserves from 45 million ounces to 150 million ounces. Over the same time period, it increased its gold reserves from 0.8 million ounces to 2.2 million ounces. This was largely accomplished through acquisitions.
One of the most important aspects of these reserves comes down to geography. With 100% of the company's gold and silver production occurring in the United States and Canada, Hecla significantly distinguishes itself from its peers. In an industry notorious for having to pay bribes to foreign governments and facing uncertain political risk in nations abroad, Hecla's assets remain safe investments in mining-friendly jurisdictions.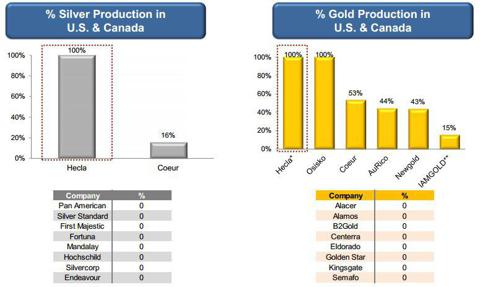 Click to enlarge
A Look At The Financial Picture
Despite its ongoing expansion efforts, the company remains in a very strong capital position. By the end of Q2 2013, Hecla carried $396 million in cash liquidity. When comparing the company to its industry peers, Hecla supports the second largest cash balance in the group with $296 million.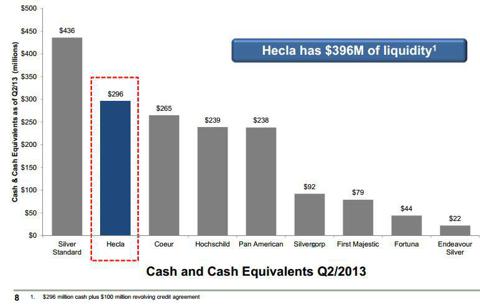 Click to enlarge
With only $2.27 billion in total assets, Hecla's $938 million in total liabilities may seem uncomfortable at first. However, the picture brightens when investors dig deeper. Hecla carries zero debt obligations until 2021. The majority of the company's long-term debt was accumulated in a $500 million senior notes offering as the company pursued the acquisition of Aurizon Mines. This gives the company a lengthy 8 years to establish itself and position the company as a continual issuer within the bond market.
Insider Buying
One additional factor appears to bode well for shareholders. Seen largely as a sign of confidence, the insider buying at Hecla continues to underscore management's confidence in the company. Leading the way, CEO Phillips Baker has purchased a significant amount of shares in the company over the last two years. In August 2011, Baker purchased 33,000 shares at $7.36 in a transaction valued at $242,880. In May 2013, Baker purchased an additional 150,000 shares at $3.19 in a transaction valued at $478,260. According to the Form 4 found here, the officer held 931,432 shares upon completion of the latest purchase.
Conclusion
Overall, there are several factors that continue to stand out about Hecla. The company is very rapidly increasing its annual production figures as it integrates the Casa Berardi mine and brings the Lucky Friday mine back into full production. Likewise, the company has strategically positioned its assets in a safe production region found entirely in North America. Last of all, the company's margins are expected to increase as the cost of production falls with heavier volume output.
For investors, Hecla's diversified portfolio continues to look more attractive as it develops. The company's gold production now rivals that of its silver production. Hecla's base metals also secure cash flows capable of supporting the company's primary mines. Investors seeking to add mining exposure should consider looking further into Hecla. The mining company now trades below book value while offering both growth and safety in an industry well known for its volatility.
Disclosure: I am long HL. I wrote this article myself, and it expresses my own opinions. I am not receiving compensation for it (other than from Seeking Alpha). I have no business relationship with any company whose stock is mentioned in this article.