Yup, It's that time again. We are more than halfway through the year and what do we as investors have to show for it? Hopefully plenty of profits.
Last April, I started a portfolio consisting of ten technology stocks that I strongly believed would outperform the market over the next year or so. My conviction was right as my portfolio has grown to over 72% in just a five month span.
Whether you have a portfolio already set up or are looking to set one up, these ten technology stocks are definitely worth your time looking over. The chart below shows my portfolio's progress against the S&P 500 as well as the Nasdaq-100.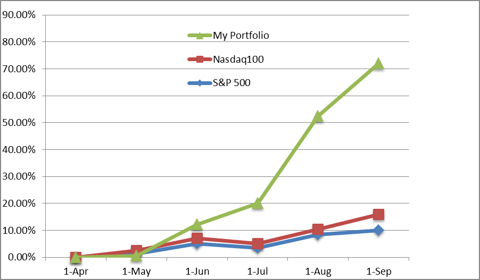 As you can see, my portfolio has been growing rapidly lately thanks in large part to the bull market that we have been experiencing over the last couple of months. So what does my portfolio include you might ask? Well without further ado, here they are again.
My Performance
| | | | | | |
| --- | --- | --- | --- | --- | --- |
| Name | Current Price | Gain/Loss | My Original Target | My Revised Target | Revised Target Upside Potential |
| NQ Mobile (NQ) | $22.65 | +161.85% | $18.00 | $35.00 | +55% |
| Dangdang (DANG) | $9.47 | +128.74% | $10.00 | $13.00 | +37% |
| Vipshop (VIPS) | $57.01 | + 90.99% | $40.00 | $62.00 | +9% |
| Pandora (P) | $25.64 | + 87.56% | $21.00 | $27.00 | +5% |
| Youku Tudou (NYSE:YOKU) | $28.45 | + 74.01% | $28.00 | $33.00 | +16% |
| Baidu (BIDU) | $145.70 | + 67.38% | $125.00 | $160.00 | +10% |
| Yandex (YNDX) | $36.22 | + 58.44% | $35.00 | $40.00 | +10% |
| Priceline (PCLN) | $995.09 | + 43.02% | $950.00 | $1,075 | +8% |
| Apple (AAPL) | $464.68 | + 8.34% | $600.00 | ---N/A--- | +30% |
| Vringo (VRNG) | $3.12 | - 1.58% | $8.00 | ---N/A--- | +256% |
| My Portfolio Total: | | +72.15% | | | |
* Prices reflect Wednesday's closing prices
I expected these technology stocks would outperform the market however, I honestly didn't expect to see them do it so easily, and so fast. Because of this, I revised and upped most of my price targets on these stocks.
It seems like every month I am revising my price targets thanks in large part to the stocks making new 52-week highs. However, while the revised target upside may not be as high as some investors would like on a return, knowing that most of these stocks have been blowing the roof off of my targets might help you when thinking them over.
The bottom line is that some of these companies are some of the biggest in the world, while others are some of the smallest. Some of them are known throughout the world while others are barely known. So why am I investing in these companies? Here are the reasons why again.
Apple
Investors were not impressed with Apple's recent media event, as shares have fallen by more than 10% since then. It was the first time in Apple's history that two new iPhones (5C,5S) were introduced at the same time to the market.
Apple's 5C iPhone will be priced around $730, while the 5S will be priced around $864 in China. In the United States the 5C will be priced at $99 with a contract, and $549 without. The 5S will be priced at $199 with a contract and $649 without. So why were investors unimpressed, and was the selloff really warranted?
Mark Luschini, chief investment strategist at Janney Montgomery Scott said, "...Apple's price point didn't go low enough to attract a new market. It doesn't have the same range in price that Apple's competitors have. There was nothing transformational announced. It has the fingerprint scan and new colors, but bigger features, like different screen sizes, don't seem to be at the ready. This was less than expected from a company that has a reputation for surprising with a killer product or strategy."
Credit Suisse analyst Kulbinder Garcha said, "Rather than offer attractive pricing for consumers, and move the iPhone 5C into a new and growing price segment, Apple retained a premium pricing strategy in targeting the $400-800 smartphone segment. This segment is not forecast to see meaningful growth long term. This decision, at the margin, is good for profitability but not growth."
However, not all analysts were disappointed as they welcomed Apple's new innovations. Timothy Arcuri an analyst at Cowen and Co noted that Apple's new relationship with Japan's NTT DoCoMo Inc plus the expected tie-up with China Mobile supported the view that Wall Street's estimates for Apple earnings in 2014 looked too low.
Raymond James and Associates maintained its "strong buy" recommendation and even raised its price target to $675 from $600. Why did they do this? Because of the expected demand for the lower-end iPhone, coupled with the NTT DoCoMo relationship and the preservation of gross margins.
As we can see, Apple is concentrating more on it's image, profits and margins, and less on market share. Is this the way to go? Frankly nobody knows at this stage of the game, but so far investors have been giving Apple little love. Even though a deal with China mobile was not announced analysts still feel that it will be soon.
Apple currently has more than 280 carriers in more than 100 countries. Nevertheless, China Mobile is the biggest carrier in the world with over 700 million subscribers. Now you can see why an announcement of this type will be big for Apple. I like Apple which has a forward P/E of just 10 and have a Buy rating with a price target of $600.00.
Baidu
Baidu, often called the Google of China, is one of China's biggest companies. Baidu currently dominates the Chinese search engine field with a market share of close to 70%.
Over the last couple of months Baidu has made great strides in strengthening its business. Baidu acquired 91 Wireless which is expected to close and contribute revenues in the fourth quarter of this year. This will help Baidu generate profits from the surge in mobile gaming in China.
What also popped Baidu's stock was that it posted better than expected earnings results. For the upcoming quarter Baidu see's revenue of $1.42 billion to $1.46 billion this upcoming quarter, easily surpassing the $1.35 billion expected by Wall Street.
Baidu currently has a forward P/E ratio of 30 which signals that the company is not undervalued but not overvalued. Just looking at the earnings history of Baidu only increases my feelings that Baidu will continue to post strong revenues. I have a Buy rating on Baidu with a revised price target of $160.00.
Dangdang
Dangdang is often times called the Amazon of China because of its marketplace program similar to that of Amazon.com (NASDAQ:AMZN). Even though Dangdang has similarities of Amazon, it is not a true representation of it.
Just looking at the charts we can see that Dangdang has made big moves this year, but will it continue? I think so. It seems that shares of Dangdang have been consolidating for awhile. I expect a move into the double digits soon as investors recognize the huge growth that is ahead of this company.
Last month, Dangdang delivered a great earnings report when it beat expectations on both the bottom and top lines. Guidance came in better than expected as Dangdang expects revenue of around $258 million now. Dangdang's marketplace platform continues to thrive with the help of its flash sales program. The strong growth in the marketplace program boosted the company's overall margins. If Dangdang can continue the pace, then investors can expect a return to profitability sooner than most expect.
I still find Dangdang to be a very attractive stock. The growth in China, as well as Dangdang's new shopping mall and flash sales, show exceptional promise. I have still have a Buy rating on Dangdang with a revised price target of $13.00.
Pandora
What a difference a year can make. After seeing its stock price fall into the single digits Pandora has made a remarkable comeback.
The news just keeps getting better for Pandora. Listening hours jumped 16% in August quieting the critics who didn't think they could keep it up. Pandora also won a huge courtroom battle this week against the music industry over royalties when a judge ruled that the American Society of Composers, Authors and Publishers, cannot prevent Pandora from licensing all the songs in its catalog.
To top it all off Pandora announced that Brian McAndrews will become the new CEO, replacing Joe Kennedy who lead the company since 2004.
However, not everything is fine and rosy for Pandora. iTunes Radio is expected to come out soon and nobody knows how big of an impact that will be for Pandora. But a threat is still a threat.
While iTunes Radio could be a big hit, I honestly don't think Pandora will feel the heat right away from the challenger. I have a Buy rating on Pandora with a revised price target of $27.00 as Pandora continues to show better control of its content costs.
Priceline
Priceline continues its impressive performance as shares have climbed well over 600% the last couple of years. Just when some people think that Priceline's magnificent run is over, it keeps climbing higher.
Priceline showed why it's the leader in the travel industry as it posted blow-out numbers. Analysts were easily impressed and jumped on board revising price targets well over $1,000.
At least 17 analysts raised their targets to above $1,000. The average target price of those analysts is $1,133. If Priceline breaks the magical $1,000 mark it will become the S&P 500's first $1,000 stock. Once Priceline can break that magical mark it's stock will be off to the races. Will anybody be able to catch it?
As Priceline heads toward this remarkable feat, it does so with a reasonable valuation when compared to other high growth companies. With a forward P/E ratio of just 20, I feel that Priceline is still undervalued for the type of growth that it has given investors. I still have a Buy rating on Priceline with a revised price target of $1,075.00.
NQ Mobile
NQ Mobile, has been one of Wall Street's hottest stocks this year as shares have risen by more than 400%. Everything keeps going according to plan for NQ Mobile as everything that could go right has gone right. One of the reasons why I like NQ Mobile is because of the services they provide. Mobile security is growing by leaps and bounds as the world shifts to the mobile world. NQ Mobile has positioned itself nicely and is not just limited to China, but is a worldwide company.
Last quarter NQ Mobile crushed earning estimates and easily beat Wall Street's expectations as it beat both the top and bottom lines with revenue of 41.4 million and EPS of 26 cents.
The company expects third quarter revenue of $50 million to $51 million, and raised its full-year revenue outlook to $185 million - $188 million, up from $179 million - $184 million.
The world is run by technology with computers, tablets and cell phones and that is why people are going to need security to protect themselves. Don't forget that NQ is growing revenues 100% year over year. With a forward P/E ratio of just 17, I feel that NQ Mobile is very undervalued for the type of growth that it has given investors. That is why I have a Buy rating on the company with a revised price target of $35.00 (which doubles my original target set 5 months ago).
Vipshop
I like to think of Vipshop as my Priceline Jr stock. Why? Look no further than its gains. Over the last year, shares of Vipshop are up over 900% and climbing. So why are investors so eager to put their money on Vipshop?
Vipshop is China's leading online discount retailer. One of the reasons why Vipshop has done so well is because of the lack of competition they face. Not only is China a big market but Vipshop has no real competition. They are now what Baidu was back in the early 2000's.
Vipshop continues to crush estimates every quarter. Last quarter they beats estimates on both the top and bottom lines as revenue soared 160% to $351 million. For the upcoming quarter, Vipshop expects to see revenues between US$365 million and US$370 million, representing a year-over-year growth rate of approximately 134% to 137%. How many companies do you know right now are growing revenues that high quarter over quarter? Probably not very many which is why this stock should be on your list.
With a forward P/E ratio of around 31, I feel that Vipshop is still slightly undervalued for the type of growth that it has given investors. That is why I have a Buy rating on the company with a revised price target of $62.00.
Vringo
Vringo is a smaller company that most people have never heard of before. But don't let that fool you because Vringo has been putting some nice pieces together as I've previously reported here and here.
Vringo along with its subsidiaries, engages in the innovation, development, monetization of its mobile and intellectual property. Most investors know Vringo because of its lawsuit against Google (NASDAQ:GOOG), and or its settlement with Microsoft (NASDAQ:MSFT). Investors should also remember that hearing on infringement is scheduled for October 15, 2013 in Germany.
On November 6, 2012, a jury unanimously returned a verdict award for Vringo in respect to past damages. It was also confirmed that Vringo would also be compensated by Google, with a running royalty rate of 3.5% through 2016. Estimates have royalties in the range of $635 million that Vringo would be receiving.
Vringo and Google are both awaiting Judge Jackson's post trial ruling as Vringo has asked the judge to award an enhanced royalty rate between 5-7% because of Google's ongoing infringement. If such an award is indeed granted, Vringo would stand to receive over a billion in royalties. Not bad for a small company that Wall Street currently values at just $259 million.
Over the last couple of months, a number of positive developments have taken place for Vringo. First, it was able to come to a licensing and settlement agreement with Microsoft , as well as being added to the Russell indexes. It doesn't hurt either that insiders are buying shares, signaling their belief in the company.
Also last month, The District Court ruled on a number of filings. The Court ruled in favor of Vringo as it noted that it will apply the 20.9% royalty base that Vringo argued for to determine the proper ongoing royalty rate. The Court noted as well that Vringo is entitled to supplemental damages and pre-/post-judgment interest related to last Novembers infringement verdict.
I still like Vringo and believe it has enormous potential. I believe Vringo is currently undervalued and will provide investors with a great return in the near future. I have a Buy rating on Vringo with a price target still set at $8.00.
Yandex
Yandex is commonly known by many as the Baidu and Google of Russia. However, unlike some of its peers, Yandex not only serves the local people of Russia, but internationally as well. Yandex has a market share of around 62% in Russia, and continues to fight off Google which has a market share of around 26% in the search engine field. Shares of Yandex have been on a roll this year as they are up over 58% year to date.
Last February, Yandex took a huge step forward when it overtook Microsoft's Bing as the world's fourth most popular search engine. The top three were Google, Baidu and Yahoo, according to comScore, a U.S. analytics company. This achievement along with solid earnings has helped propel Yandex to a new 52-week high.
Last earnings report Yandex delivered great results as it beat expectations on both the top and bottom lines. Yandex has continued to reward shareholders when it announced that it's increasing its full-year forecast after strong second-quarter results. Yandex expects revenue will grow 34%-38% this year up from 30%-35% it previously projected.
With a forward P/E ratio of around 21, I feel that Yandex is still undervalued for the type of growth it has to give investors. I still have a Buy rating on Yandex with a revised price target of $40.00.
Youku Tudou
Youku Tudou is often known by many as the YouTube of China. Youku is actually China's leading Internet television company with hundreds of millions of users.
A couple of months ago, Chinese web giants, Youku Tudou and Sina (SINA) got together and teamed up forming a strategic content-sharing alliance benefiting both parties. The alliance between the two will also draw even bigger gains in mobile traffic as both companies have hundreds of millions of users. The alliance will strengthen both companies as we head into earnings season next month.
According to a report published yesterday in Barron's, Morgan Stanley analysts Philip Wan, Gillian Chung and Timothy Chan went on a China Internet trip last week and here is what caught their eye.
The Morgan Stanley analyst's identified five companies (one of them which was Youku) that are well-positioned to capitalize on the growing demand in the mobile space. They concluded that these companies are making progress and investors should expect to see them making more money in the coming quarters. Here is what they said about Youku Tudou:
"Youku has started promoting its mobile ad services to ad agencies and customers more aggressively since 2Q. It expects more material sales contribution from its mobile platform (~40% of total traffic) by 4Q13 or 1Q14 with higher margins."
Margins have been the problem for Youku Tudou as rising costs have kept this company in the red. However, as margins improve and with the merger completed last year, Youku Tudou looks to be turning the corner.
Last month was the one year anniversary celebrating the merger between Youku and Tudou. While the merger was expensive, it has helped Youku generate more revenue while decreasing some of its costs, thus growing its margins. Analysts expect revenue to surge nearly 50% next year. I have a Buy rating on Youku with a price target still at $33.00.
Conclusion
Since starting my portfolio on April 1, 2013, it has grown over 72%. Not bad for a five month span. So what technology stocks do you like for 2013-2014? Do you have a top 10 list? If so, I would love to hear what your technology portfolio would look like and to see which one's you're thinking about dropping and which one's you're thinking about adding.
Investors are always reminded that before making any investment, you should do your own proper diligence on any stock mentioned in this article and to make sure you are comfortable with your investment strategy. Have a great day and as always, I look forward to hearing your thoughts or questions that you might have.
Disclosure: I am long VRNG and may initiate a long position in NQ over the next 72 hours. I wrote this article myself, and it expresses my own opinions. I am not receiving compensation for it (other than from Seeking Alpha). I have no business relationship with any company whose stock is mentioned in this article.