Two weeks ago, when I first looked into Foot Locker (NYSE:FL), I was able to list a number of reasons (rather quite easily I might add) as to why I liked the stock. Looking at a small sample size, i.e. the last 12 months of data, what I saw was yet another company whose price has remained stagnant as its earnings have continued to grow at an admirable pace in a post-recession economy. I viewed the stock as a definitive value play, a "diamond in the rough" if you will, and one that not too many independent investors would typically be aware of, given its mid-sized capitalization and very high institutional ownership (90%). The results of these initial findings are pictured in the chart below.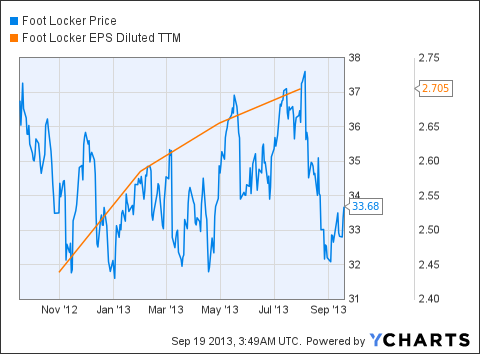 In addition to the LTM price stagnation and earnings growth which are clearly exhibited above, there were strong fundamental reasons that supported my bullish case on Foot Locker:
1. Its P/E and Price/Book are 12.4 and 2.0, respectively. These valuation metrics are low, relative to its peers in the retail sector, and incredibly low in comparison to the stock universe at large.
2. In 2009, Foot Locker's net income was in the red. Four years later, its bottom line has grown rambunctiously to $414M. Since its dog days, the company has yet to experience a quarter in which it failed to produce YOY earnings growth, thus expanding its TTM EPS on a quarterly basis.
3. As the future of interest rates remains very much up in the air, Foot Locker has managed to keep its debt burden extremely low. And its strong current ratio (3.3) fails to tell the whole story about the company's financial stability. Not only does its cash pile exceed its current liabilities, but also its net working capital ($1.66 B) represents over $11/share. This bodes well for the future financial flexibility of Foot Locker, regardless of where interest rates end up down the road.
4. With a dividend yield of 2.4%, Foot Locker has rewarded shareholders with an increasing payout in each of the last three years.
As I began to dig deeper into the numbers, I came across a trend that completely altered my analysis. That isn't to say that my previous findings aren't significant, but what this "new" trend did was limit the near-term upside that I had previously envisioned for the stock. However, it also offers investors a much sought-after level of future price predictability. Those who typically hold onto a stock for less than a year would be wise to pay close attention to my next point.
Correlation of price and earnings
Of course, every legitimate publicly traded company exhibits a high correlation between its stock price and EPS. It only makes sense. As a company generates more money, its market value increases. However, in Foot Locker's case, the correlation between price and EPS is extremely high, almost unusually so. The chart below displays the phenomena that I've just described.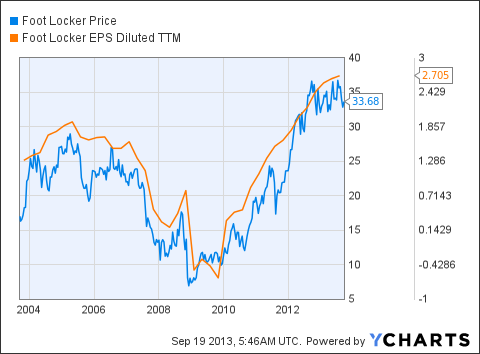 The result of this correlation has been a highly stable P/E for Foot Locker, save for the recessionary period up until its EPS recovered to normal levels (2008-2011). The chart below displays the stability of Foot Locker's P/E - that is, if we look outside the aforementioned period of economic crisis, low-to-negative earnings, and a resulting unstable P/E.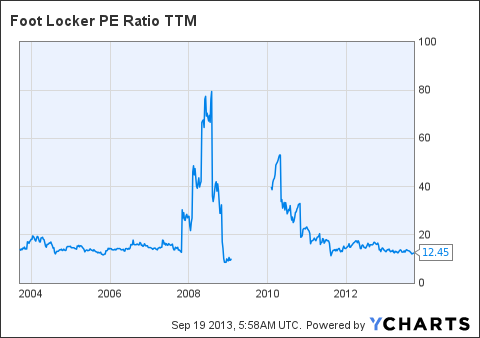 FL PE Ratio TTM data by YCharts
How can we use this information?
As I said earlier, Foot Locker's high correlation of price and EPS offers us investors a means of predicting the future price of the stock. Therefore, our expected return all comes down to the earnings forecasts. With the current full-year estimate at $2.78 per share, I would assume that Foot Locker's stock price would increase by roughly 2%, which is equivalent to the percentage that its TTM EPS is expected to expand in the following two quarters. This is contingent on the company meeting its estimates; however, it doesn't account for the "surprise" factor of excess returns in the event that FL beats on estimates.
Of course, a 2% return over the course of six months is nothing to write home about. However, I consider it a "safe" 2%, given the performance predictability that I believe is very much existent. Furthermore, considering that analysts are forecasting EPS growth to be almost 11% in the following fiscal year (FY'15), Foot Locker seems like it should be a very nice pickup in the future.
I would advise not to buy the stock today, due to the sluggish earnings growth that's forecasted for these next two quarters. Sure, a 2% gain is a profit nonetheless, but as investors, we should be pooling our money into stocks with the greatest opportunity for excess returns. Regardless, I would certainly keep an eye on Foot Locker, due to what looks to be a promising FY'15 for the company. Those who are interested in the stock need to pay close attention to how the company's actuals compare to its estimates, and how the analysts (and more importantly, the company itself) adjust Foot Locker's earnings forecasts. Following the next two quarters, if all else is equal, I would certainly recommend initiating a position in FL.
Disclosure: I have no positions in any stocks mentioned, and no plans to initiate any positions within the next 72 hours. I wrote this article myself, and it expresses my own opinions. I am not receiving compensation for it (other than from Seeking Alpha). I have no business relationship with any company whose stock is mentioned in this article.