This year was proving to be quite the bull market in Real Estate Investment Trusts (REITs), until May 22, 2013 when the FOMC announced the possibility of tapering bond purchases within months. Such a give-back, or what has been termed a sort of "great rotation," may present a short-term buying opportunity that can stack a portfolio up with yield, which has proven to be a scarce commodity to income investors looking to boost the near-zero return on cash.
What Are REITs?
REITs are specialty-investment vehicles that generally own and operate underlying real assets (real estate) while legally avoiding U.S. corporate taxes (if based in the U.S.). REITs maintain a required payout protocol of distributing 90% or more of their income to shareholders.
Investors Owning REITs vs. Owning Real Estate
While many investors purchase real estate in the open market as personal investments, the REIT investor is able to save the hassle and buy premium, diversified property portfolios simply at the cost of the underlying security share price. The REITs either manage their properties themselves, pay an outside firm or do a combination. REIT investors are able to purchase ownership in medical property companies, giant malls, multiplex apartment buildings, office buildings or other types of property depending on the company purchased.
$5,000, for example, can buy you a stake in Simon Properties (NYSE:SPG), a global operator of regional malls with a market capitalization of over $47 billion. With a yield of approximately 3%, the $5,000 investment will generate around $150/year for the investment portfolio, plus a strong likelihood of an upward trending stock price during economic expansions. It would take the individual investor a considerable amount of capital, as well as a high-level of investment, operational knowledge, risk, time and commitment to purchase just one regional mall, making an investment only possible through the purchase of stock, or in this case, a REIT.
The U.S. REIT Market
The U.S. Dow Jones Real Estate Index is the most widely accepted measurement of the performance of the U.S. real estate equity market. This index is represented by the ETF iShares U.S. Real Estate ETF (NYSEARCA:IYR). The IYR security mimics what actual return one would receive while actively investing in the index, including dividend payments and a small expense ratio (0.46%).
Based on the 9-18-13 closing price of $66.93/share, the IYR 12-month trailing annual dividend is $2.503, which equates to a yield of 3.74%. Also to note, Vanguard offers a similar fund to IYR called Vanguard REIT Index ETF (NYSEARCA:VNQ), which may be favored by many due to a lower expense ratio and a larger asset base.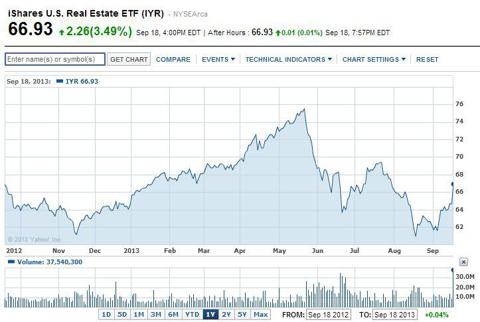 Over the past 52 weeks, the IYR remains near where it started. As the above chart illustrates, on May 21 the stock peaked, which was one day before the release of the Federal Open Market Committee (FOMC) April 30/May 1 meeting minutes release date. As we now know, those minutes stipulated a policy shift leaning toward a near-term decrease in Fed's monthly open-market bond purchases. This in turn would effectively lower aggregate demand in the general bond market, thus lowering price and increasing yields.
"The Great Rotation"
As bonds are considered to have a higher margin of safety versus stocks, the yield on stocks or total return must be higher to offset such risks. With a general market consensus that bond yields were to increase, other asset classes oriented toward income investors dropped as the market performed surgery to relieve share prices, thus increasing the yield spread between bonds and income-producing stocks.
As the story is now told, the U.S. REIT market took a summer swan dive. In news-speak, this is part of what journalists and investment-advisors are terming "The Great Rotation," a prophesied event where investors as a whole are to sell bonds and income-investments and invest the proceeds into equities.
Mohamad A. El-Erian, CEO and co-CIO of the bond-giant PIMCO, notes in his September 2013 newsletter that the shift in asset-flows note that "REIT... investors have been [net] sellers of interest-rate-sensitive securities as [bond] yields rose." As noted in the chart below, the IYR dropped 20.19% from the May 21 high of $76.21 to a low of $60.92 on August 19, 2013.
Also, the 20-day simple moving average [SMA], which measures the four-week average price of the underlying security, is a current indicator that showcases monthly confidence in the underlying security. In this case, it can be said that the IYR retested the June low, hit a double-bottom in August and now showcases a net monthly increase in aggregate investor demand.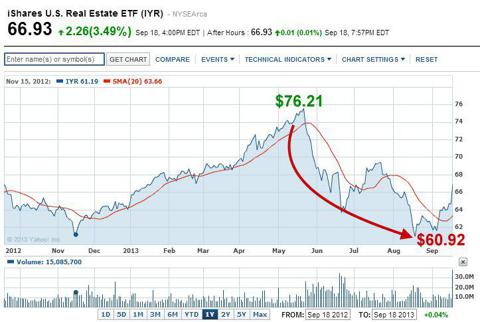 As "the great rotation" fear-based market lead the summertime swoon out of REITs in general, one may note that the market as a whole actually rose. This can be seen in the 52-week performance of IYR versus SPY, the $135 billion ETF that mimics the S&P 500.
As illustrated by the chart below, the market in general only corrected for one month after the May 22, 2013 FOMC minutes release, yet it took three months for the IYR to recover. At the end of June, the SPY fund trended higher while the IYR faced a lack of momentum and eventually broke resistance. As noted in the chart below, the SPY is up 22.7% while the IYR is up only 5.4% on a year-to-date measurement.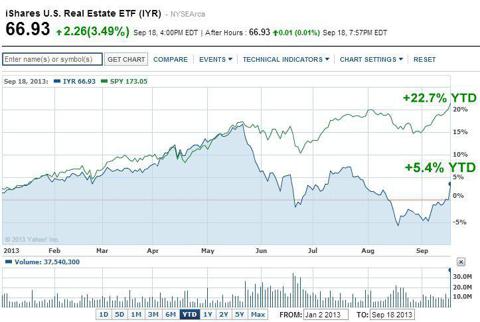 This displays overall aggregate demand for U.S. stocks trending higher after May 21, 2013. Was the sell-off in REITs, as part of a rotation marked by a new bond equilibrium and equity premium, overdone? Does the current market price of REITs in general offer a discount to true value?
Other than "Fed-speak," domestic market fundamentals have continued to improve, the U.S. remains a favored investment base versus emerging markets and whether investors like to admit it or not, the U.S. market has been on a tear since the S&P 500 low in March 2009. Although there are market uncertainties, such as political turbulence, the possibility of war in Syria and struggling emerging markets, market insight from the top professionals rationalize a strong case for U.S. equity investments.
Liz Ann Sonders, senior investment strategist at Charles Schwab, notes that the U.S. economy has positive growth. With the Eurozone recovery underway, her nod is that industrial leaders such as the U.S. are the prime place for inventors to park their cash for returns versus emerging markets.
Richard Bernstein, CEO of Richard Bernstein Advisors, notes that investors have to look at the market as an investor, not an economist or politician. When doing so, he too advocates that the U.S. is a "better" place to put money to work. In this video, Bernstein notes "Economists look at the absolute good or bad, where as the market, as an investor, you have to look at better or worse. If you look over the U.S. economy over the last three or four years... the stock market is up so much... virtually every economic statistic has improved. It's been a very broad-based improvement. Find me another country, anywhere in the world, that can make this statement over the last three of four years. You can't... it's that simple... we're about the only country that has improved so demonstratively."
David Malpass, president of Encima Global, notes several of these positive economic indicators while reflecting the current state of the U.S. economy in this July 2013 article published in The Wall Street Journal. One major macro-trend he points out, regarding the record high level of industrial and commercial bank lending in the U.S., is that "the growth in federal debt is slowing while private credit growth is accelerating." As any junior economics student could state, a decelerating rate of new government debt obligations, coupled with higher aggregate levels of private credit growth is a giant boon to the economy.
Howard Marks, the chairman of Oaktree Capital, notes that in the 1970s he learned that there are three stages of a bull market. These stages, as he recalls in a March 2013 memo to investors, are "first, when a few forward-looking people begin to believe things will get better, second, when most investors realize improvement is actually underway, and third, when everyone's sure things will get better forever." As far as early 2013 state of the economy, "we're somewhere in the first half of stage two (of the recovery). Pessimists no longer control market prices but certainly neither have carefree optimists taken over."
What is interesting to note is how Marks called the great rotation from fixed-income into stocks. He did see this dip coming, two months before the FOMC meeting minutes release on May 22, 2013 became the catalyst. His best definition of the equity premium, he argues, is "The margin by which equity returns will exceed the risk-free rate of return." So as the risk-free rate of return increases, one must define the margin of the risk-asset rate of return.
When it comes to real estate investment trusts, the risk of each security is largely tied into the market capitalization of the company, rather than the sector or management. With two giant recessions in recent history, overall the U.S. REIT managers have learned what leverage is and how to use it without risking bankruptcy or heavy loss of capital.
There were several overleveraged REIT companies in 2006-2007 when lending was over-robust that either went belly-up or lost most of their market value during the last recession. One example is Maguire Properties, now MPG Office Trust (NYSE:MPG-OLD) that purchased office property from Blackstone Group (NYSE:BX) for nearly $3 billion in 2007. The frothy cost of the transaction, along with the arrival of the great recession, left MPG with a stock that fell from over $44 in 2007 to just over $3 at the time of this writing. The market is quick to learn, however, and larger-sized REITs, with history on their side, are now leveraged at levels consistent with both conservative growth and mortality in mind.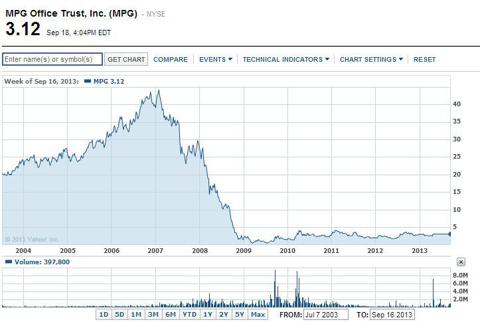 Selecting The REITs For Your Income Portfolio
When selecting REITs for income, one common method of purchasing is to ask "What is the cost of yield?" My recommendation is to measure each REIT into the total REIT portfolio as an asset class of its own. In this regard, if an investor purchases the IYR, the yield at 3.74% must be factored into the income portfolio as portfolio weight [P] times yield [Y] plus PY2, PY3, etc... until the entire portfolio is measured.
In this sample portfolio below, five select REITs, HCP, Inc. (HCP, American Realty Capital Properties Inc. ARCP, Digital Realty Trust, Inc. DLR, Whitestone REIT WSR and American Residential Properties ARPI), are measured up to take less than 20% of the aggregate investor's portfolio and 25% of the aggregate equity holdings. This is about as aggressive as a stance as one would get, as it is wise to have no more than 20% of any investment class in one's portfolio (my sample target is 19% in this portfolio). The total yield of this REIT book equates to 5.45%, which alongside other asset classes would theoretically provide a nice yearly income stream.

The cost of yield is directly related to the market valuation of a REIT. The bigger the britches, the smaller the yield, except for new issues which may have yet to declare distributions, such as ARPI in this portfolio.
According to traditional market capitalization rankings, this chart bodes well with investors:
Mega-cap: Over $200 billion
Large-cap: Over $10 billion
Mid-cap: $2 billion-$10 billion
Small-cap: $250 million-$2 billion
Micro-cap: Below $250 million
Nano-cap: Below $50 million
In the REIT world, the largest company by market capitalization is Simon Property Group at $48 billion. A mega-cap definition of REITs at $200 billion does not properly define the category. As there is no "official" definition of cap sizes in the REIT industry, this proprietary chart for my research is as follows:
Mega-cap: Over $40 billion
Large-cap: Over $20 billion
Mid-cap: $10 billion-$20 billion
Small-cap: $2 billion-$10 billion
Micro-cap: $250 million-$2 billion
Under-capitalized: Below $250 million
The General Cost of Yield
Although the cost of yield has many factors, such as geographical diversity, industry, competition and financial health, I find this chart to be a basic yield/cost analysis sheet that functions as a valuation measure for REIT investments. Also to note, the basis of this chart is 3%, which is just over where the 10-Year U.S. Treasury sits. If or when the 10-Year rate changes, the equity risk premium for bonds and income-oriented assets could move accordingly.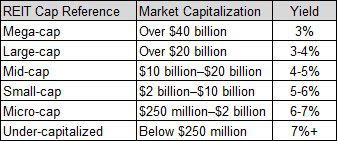 The Other REIT Questions to Ask
In doing REIT research, other questions investors must ask include the following:
What is the history of the dividend? Is it stable or is it risky? To answer this, look at the historical prices on YAHOO! Finance, under "HISTORICAL PRICES," then click "Dividends Only."
In this example, the history of Digital Realty Trust showcases a stable dividend history, as well as consistent yearly increases since inception. Any REIT with ten years or more of stable and increasing dividends equates to a very good history.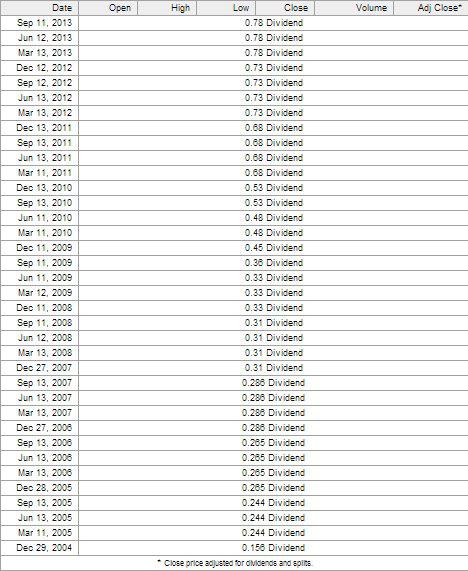 Alongside the dividend history, investors must ask if the dividend is covered. In a recent article by Seeking Alpha contributor Brad Thomas, ARCP may have financial threats against their dividend, which may account for the above 7% yield when their company valuation of $2.3 billion dictates a 5-6% yield in this environment.
Further questions, such as management history, financial valuations, peer analysis and the margin of safety can also be taken on a case-by-case basis. What helps me sleep at night, in addition to the U.S. bull market in general, is that REITs are basically flat on the year while the S&P has been charging ahead and recording new highs. This divergence cannot continue forever, and with the Fed taper on hold, it may just be the catalyst needed for the REIT bull to once again charge forward.
Conclusion
After the September 18, 2013 release of the most recent FOMC meeting minutes, the market reacted with wild enthusiasm. Investors were back from their Labor Day and summer vacations and traders were trading stocks up due to the "no taper quite yet" memo.
In this regard, the following has changed over the last year: The S&P 500 is up over 22%, the U.S. economic fundamentals have continued to improve, the U.S. remains favored over emerging markets, the U.S. is four-years strong into a bull market and the market has both retested and passed the 2000 and 2007 S&P 500 Index market highs.
With the Fed-speak adding more fuel to the economic fire that is subsequentially driving profitability to unseen levels, corporate leaders, politicians, investors and thus worker/consumers and job-seekers will be subjected to the highest amount of utility since the great recession. While bond prices have abated, the no-taper yet announcement will surely put frost on the hot knife that has been slicing bond valuations of late.
With the equity premium of income-stock investments, such as REITs, no longer under an immediate threat, it just may be the time to buy. Cash still offers a negative rate of return versus inflation and dividends, as of the last time I checked, still make the income-investor's world go round.
For more in-depth REIT selections, please read 7 Secular Growth REITs to Generate Income Now, published June 14, 2013, regarding secular-growth REITs that generate excellent income as well as premium long-term growth prospects.
Disclosure: The author has no positions in any stocks mentioned, and no plans to initiate any positions within the next 72 hours. The author wrote this article themselves, and it expresses their own opinions. The author is not receiving compensation for it (other than from Seeking Alpha). The author has no business relationship with any company whose stock is mentioned in this article.