Avantair, Inc (OTCPK:AAIR) is the low cost leader in the fractional jet ownership industry. Avantair is gaining market share even in this worrisome economy as the wealthy business traveler is starting to seek "value" in the fractional jet space.
When compared to NetJets, CitationShares, FlexJet, and others, Avaintair has the lowest fuel burn, lowest fuel surcharge, a larger cabin, etc when looking at competing light jets. Avantair was recently named the 2009 Best of the Best Winner by Robb Report in two categories--Fractional Programs and Fractional-Card Programs.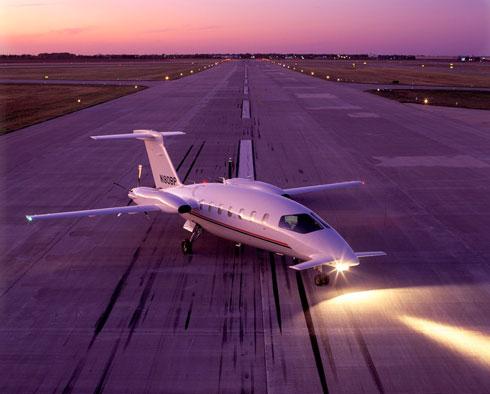 One of the keys to Avantair's success is their usage of the Piaggio Avanti P-180 Turboprop aircraft in North America (exclusive to Avantair). The Piaggio Avanti is not a jet per se as it's a twin prop plane, but the Piaggio is still considered a "light jet" because of its speed ~450mph. The Piaggio is the roomiest, quietest, safest, and most fuel efficient aircraft, with the lowest operating cost in the light jet category.
On average the Piaggio Avanti is ~40% cheaper to operate then the competitions light jet aircraft when combining its fuel efficiency and lower maintenance cost. The company is also considered to be an eco-friendly "green" operation since the Piaggio Avanti emits 35 percent less carbon emissions then other light jets.
Some other Distinguishing Features of the Piaggio Avanti P-180 when compared to competing light jets:
Stand-up cabin

– A stand-up cabin and a private lavatory, which is unique in its category.

Flying capacity

– Ability to fly 1,300 nautical miles with five passengers, luggage and a full fuel load.

Speed

– Fastest turboprop manufactured, with jet-like speed of 458 mph.

Runway capability

– Ability to land on shorter runways allowing access to a greater number of airports.

Comfortable ride

– Sound dampening interior and rear mounted props, which help deliver a quiet ride.

Safety

– Since its introduction in 1989, there has not been a fatal accident involving a Piaggio Avanti P-180. In addition, the Avanti's wing design reduces the effects of turbulence and its de-icing system reduces the impact of inclement weather on aircraft operation.
The fractional jet industry has extremely high barriers to entry as there are large input costs to get started and imminent losses until the operation reaches scale. Even when the model is fully mature such as the market leader NetJets, economic downturns can take their toll. NetJets posted pretax losses of $96 million in the first quarter and $253 million in the second quarter in 2009.
Recessions are a great time to invest since old market leaders lose share to new innovative companies, and when the economy turns these new market leaders reap huge returns. I believe Avantair is in the right spot at the right time. The flight to value momentum in fractional jet ownership is going to build, and Avantair will likely continue to add record numbers of new enrollments. Avantair will likely reach critical mass this quarter or next quarter (ie: profitability). Each jet added contributes ~$1 million in gross margin annually, thus an increase in gross margin % can be expected while the model scales.
The company currently manages 55 Piaggio Avanti aircraft, with 53 more scheduled for delivery through 2013. Full Year June 30, 2009, revenues grew 18.3% to $136.8 million. One of the most interesting components of this growth is that 70% of new sales are from existing customer referrals. FY 2009 EBITDA was $5.3 million compared to a $12 million EBITDA Loss in 2008. FY 2009 Net Loss was $5.9 million compared to a FY 2008 loss of $19.8 million.
In October 2009 the company closed a $10 million financing with a Special Situations Fund at $0.95/share straight equity to pay down debt, buy three more aircraft, and give the company working capital. The timing of this placement couldn't have been any better, as I believe it could be paving the way for a breakeven or slightly profitable Q1 quarter (September 30th) which will be reported the second week of November. Avantair recently issued a press release showing record gains in flight cards sold and flight hours flown through September 30th (below).
Flight time cards sold for the three months ended September 30,

2009 increased 69% to 86 compared to 51 flight time cards sold

during the fiscal fourth quarter ended June 30, 2009, and 219%

from 27 for the fiscal first quarter ended September 30, 2008.

Revenue-generating flight hours flown reached a new quarterly

record, increasing 13% quarter-over-quarter to 9,356 hours

compared to 8,277 hours for the fiscal fourth quarter ended

June 30, 2009, and increasing 11% year-over-year compared to

8,393 for the fiscal first quarter ended September 30, 2008.
The $64,000 question or maybe it's the $300 million question remains: How is Avantair going to purchase the remaining jets through 2013? I think Avantair can be a very profitable operation, but they won't be earning $300 million between now and 2013.
This question is probably why the stock is still trading at a $1.25 and not $3-5 per share. There are a few ways for a company to make such a purchase, and I believe we will find out soon enough how it will be done. Since Avantair has an exclusive agreement here in North America, the company can simply just resell their jets that they have on order. I have heard from pilots that the Piaggio Avanti P-180 is a highly coveted aircraft, so I don't really quite know what the risk is even with the perceived debt/obligations on the balance sheet.
How do you value Avantair? They are gaining market share, turning profitable and have huge barriers to entry. I'm not an airline industry analyst so I will take the simpleton approach which is something I do best. How much would it cost to replicate Avantair (jets, geographic foot print, time, etc)? My guess is $200 million+. This is why Avantair is an interesting speculation at a $35 million market cap.
Disclosure: No position