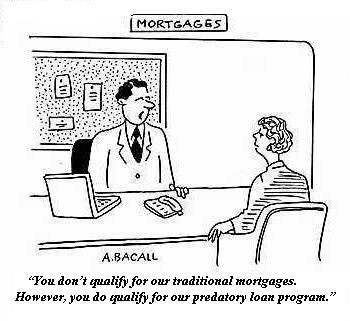 CEF Weekly Review: The 13 closed end fund (CEF) types on average were down 3.5% for the week ending 10/30/09. On an aggregate, unweighted basis, the weekly average price change for 493 CEFs was down 3.1%.
The weighted 49 CEFs comprising the Claymore CEF Index registered an average decline of 5.6% for the week; First Trust CEF Composite Index was down 4.2%. The S&P 500, as measured by the SPDR S&P 500 ETF (NYSEARCA:SPY), registered a decline of 4.2%. Not a pretty picture.
(Click here for YTD CEF performance. The table is based on a 270 CEF sample size as all the data fields are not available for the CEF universe.)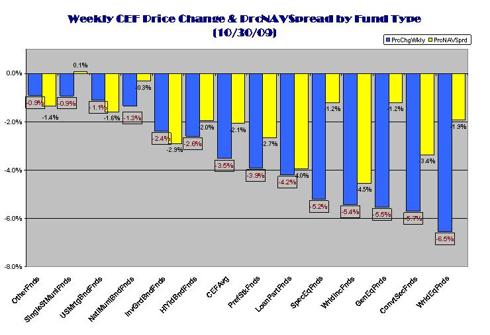 The Eqcome CEF Fear Index jumped with prices declining twice as much as NAVs (-3.1% versus -1.4%, respectively). The CBOE Volatility Index (VIX), which typically moves inversely with the stock market, surged during the week. The VIX advanced 37.8% to over 30 after a long period of quiescence. The 4.2% decline in the S&P this week more than wiped out previous month-to-date gains with the S&P 500 off 1.9% for the month of October.
CEF Weekly Fund Type Performance: In times of equity markets stress, investors head for the comfort of fixed-income securities and other conservative investments. However, with the "risk trade button" turned to "off", even the WrldIncFnds fund type was not spared.
While all fund type categories registered a decline, OtherFnds declined the least. This category has a high proportion of "buy/write" option CEFs funds. Investors gravitate towards such investments as the option premium income cushions stock price declines. While a reasonable investment strategy in a less volatile market, it does not protect investors in sustained market declines.
CEF Spread Changes: Changes in PrcNAVSprds generally follow the trend of price movement. This is typically the case when markets generate meaningful price changes. All fund types experienced price declines greater than NAVs—save for SingleStMuniFnds which was essentially a push.
CEF Winners and Losers: CEFs that demonstrated positive PrcNAVSprds was in the MLP energy area. Cushing MLP Total Return Fund (NYSE:SRV) generated a PrcNAVSprd of 7.6% through a combination of a 1.5% increase in price and a 6.1% decline in NAV.
Kayne Anderson MLP (NYSE:KYN) generated a positive spread of 6.2% on a 3.6% increase in price and a 2.6% decline in NAV. (A positive PrcNAVSprd can be viewed as a negative, subject to other metrics, as it would indicate the stock price has increased greater than the NAV. In theory, CEF prices and NAVs should move in a more tandem fashion.)
One of the poorer performing CEFs during the week was First Trust Active Div Income (NYSE:FAV). It was the second week in a row that it held this status. Its PrcNAVSprd was a negative 9.1%. The stock's downdraft was more than likely caused by an astute CEF trader pointing out that you can make more money in FAV by buying the stock some time after the ex-dividend date when the shares decline; then riding the price increase forward and selling it prior to it going ex-dividend. It is sort of a reverse "dividend capture".
Market Perspective: Being a contrarian has historically carried the hazard of being a curmudgeon. So, during the recent stock market swoon it is out of character for most contrarians to see the "silver lining". (Did you think you'd get out of October unscathed?)
The chart below is an illustration of the continuing claims for unemployment (inverted) versus the monthly percentage change in the S&P 500 against the backdrop of economic cycles since 1966. There is a high correlation between the change in continuing unemployment and the S&P 500.
It makes sense: 70% of our economy runs on consumption and jobs are central for the purpose. What is noteworthy is that once there is a turn in continuous unemployment claims it seldom retraces. Yes, the decline has been breathtaking; however, the recovery could be surprising.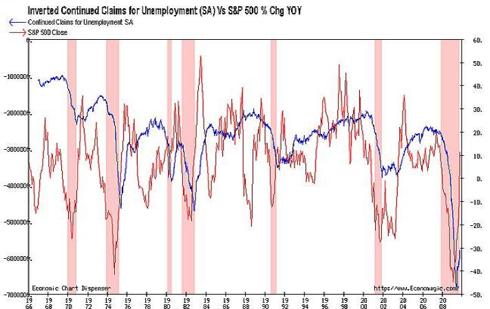 A constructive equity investment thesis has been based upon: 1) no double dip recession; 2) close to the end—if not the end—of an economic contraction. That has typically been good for investors looking out from this vantage point.
Revenge of the Humans: The "machines" are currently in charge of the stock market swings with small pricing anomalies being magnified as they build on themselves. That's doesn't qualify as investing.
As the Warren Buffett reminds us, when others are fearful, investors should be greedy, and visa versa. If you don't have your toe in the water you should consider getting wet.
(Click here for next week's economic calendar; click here for earnings announcements and estimates.)
ETFs: (Click here for ETF YTD sector performance.)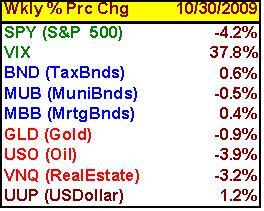 Insider Trading: There was only one significant accumulation of insider buying during the last week of October. Lola Brown Trust 1B accumulated an additional $224,161 of shareholder value of Denali Fund, Inc (DNY). The 16,724 shares were accumulated at an average cost of $13.39 per share. This brings the total shares owned by the trust to 3,082,560 shares.
Based on DNY's common shares outstanding of 4,157,117, insiders' own approximately 74% of the fund. Lola Brown Trust 1B is an owner of the advisors to DNY. The manager of the advisor, Steward R. Horejsi, through an irrevocable trust, is a trustee to the Lola Brown Trust No. 1.
The Horejsi "Group" initially acquired a substantial position (2,476,020 shares) in late 2007 in what was then the Neuberger Berman Real Estate Income Fund (NRL). Its average cost was $24.49 per share. In February of 2008 the stockholders approved the change in advisors to Horejsi controlled advisors and subsequently suspended its distribution policy.
An "on the fly analysis" indicates that DNY has performed relatively better than the Claymore CEF index since the Horejsi group took over management (2/22/08). Its share price is down 12.7% versus down 28.7%, respectively. However, Horejsi Group's original investment in September '07 is down 44.7%; this assumes that it held its original position. If there is any consolation prize, it is the 1.25% advisory fees that generate approximately $1 million in fees a year.
The Horejsi Group is also a major shareholder and advisor to other CEFs that include: Boulder Growth & Income Fund (NYSE:BIF), Boulder Total Return Fund (BTR) and major shareholders of DWS RREEF Real Estate Fund II (SRO) and DWS RREEF Real Estate Fund (SRQ).
There was some scattered insider buying. BofA appeared to exercise and sell 1,015 shares of Blackrock Muni 2018 Term Trust (NYSE:BPK) for a value of $15,834. BofA was also small buyers and sellers of other CEFs this week. Lawrence H. Cohn, a director of MFS Multimarket Income Trust (NYSE:MMT), purchased an initial position of 2,000 shares at $6.19 per share. (Click here for the weekly insider table.)
CEF Distribution Announcements This Week: The following is a link to a table of CEF distribution announcements this week. Included in this week's chart is a calculation of distribution to UNII. The list is not intended to be inclusive. While reasonable care was taken in its construction, please confirm its accuracy independently prior to making an investment decision based on this table. (Click here for weekly CEF distribution announcements.)
CEF Focus for the Week: To quote Yogi Berra, "The future ain't what it used to be." It's more likely that investors will see a bounce back of equities next week after this week's drubbing. I'd look at Adams Express (NYSE:ADX). It's a big cap CEF with exposure to energy through its ownership of Petroleum & Resources (NYSE:PEO), a sister CEF. It's trading at a 16.2% discount and will likely declare its year-end distribution this month.
Consider it food for discussion.
Disclosures: SPY & GLD and a diverse CEF portfolio including ADX.