Improvement in the U.S. economy has created a positive investment environment in the country, and banks have performed outstandingly well in these improving conditions. Banking stocks in the last few quarters have given handsome returns and their profits are soaring with this progress. Among the big banking names, it seems that Bank of America (NYSE:BAC), which gave a return of around 60% in the past one year, still has an upside potential of around 5%-10% this year. On the other hand, Morgan Stanley (NYSE:MS) and Goldman Sachs (NYSE:GS) also gave returns of around 50% on average during the same duration. In this article, I'm analyzing these banks in-order to pick the best investment option from this banking basket.
Bank of America held around a 20% stake in China Construction Bank, or CCB, during global economic crisis back in 2008. This holding was a part of its long-term investment strategy to ensure its growth in the developing economy. Bank of America has diluted its stake in CCB, which has provided handsome returns, which gets added to its balance sheet. In September 2013, Bank of America decided to dilute its final fifth stake, which will fetch cash of around $1.47 billion in the third quarter of 2013. Earlier this year, Goldman Sachs also diluted its stake in Industrial and Commercial Bank of China, which helped it raise cash of around $1.1 billion. The frequent regulatory changes and the weak development scenario in China seem to be the main reason behind the stake sale. Bank of America's stake in CCB was profitable as it enriched its portfolio by securing gross profit of around $14.3 billion from this deal in the last five years. With this final stake sale, EPS of the bank is expected to increase in the third quarter of 2013, which will drive the overall profitability higher. Moreover, this will also enhance stockholder's confidence in the stock, which was on the ground during the crisis and after that.
Additionally, it looks like Bank of America will post higher revenue in its global wealth and investment management segment as well, which contributed 18.5% in the overall revenue last year. Let us analyze the factors which will further give upside to the revenue of Bank of America in its global wealth and investment management segment.
Percentage of fees from assets under management, or AUM

Operating earnings

Total assets managed by the bank under this segment
With the improving investment environment in the U.S. and other crisis-affected markets, percentage of fees for AUM is expected to rise in this fiscal year. One cannot neglect the performance and dominance of Bank of America when the economy is improving by leaps and bounds. The bank was managing investment of around $2,167 billion in the last year, which will further rise to sub $2,300 billion levels because of strong performance of equity markets in the previous year and continued performance this year. Additionally, Bank of America delivered standout performance in emerging markets due to increased inflows in the equity markets. While in the U.S., low interest rates are creating positive investment conditions. I assume fees for AUM will increase from 0.49% last year to around 0.51% in the current fiscal year. Moreover, EBT margin will also experience upside of around 5.1% in this fiscal due to lower expenses and lower than expected provisions. Considering these factors, my estimate is that revenue for Bank of America's global wealth and investment segment can improve by around 8% this year.
Performance of peers
Charges against JPMorgan for manipulating energy prices in the U.S. will halt the trading desks of other banks in the country. The Fed is expected to release new guidelines this month for trading physical commodities in the wake of these developments in order to decrease the risks associated with such trading activities. These guidelines will draw a line for the banks which are associated with the trading in such commodities. Big banks in the country pocketed around $6 billion by trading commodities in the last year. However, it is only 50% of the revenue generated by the banks from such activities in 2008. Goldman Sachs and Morgan Stanley will suffer the most due to the size of their portfolio. These new guidelines may halt the growth of these banks, which generated around $13.7 billion combined last year by trading bonds, commodities and currencies. In the short run, effects of these guidelines and market expectations may pull the stock price down. Instead of these stocks, I think Bank of America is more appropriate for investors looking to initiate a long given the strong fundamentals discussed above, attractive valuations and historically better stock performance.
Valuations:

Source: Finviz
If investors want to invest in financial companies, I think Bank of America is way ahead of its peers considering its valuations. By analyzing PEG ratio, one can compare and estimate the growth perspective of companies functioning in the same domain. PEG ratio of Bank of America stands at 1.82, which is above the desirable level of 1, but it's in line with Goldman Sachs and way below Morgan Stanley. Companies should borrow capital for their future growth in a controlled manner, and when I look at the Debt to Equity ratio of these three companies, I see that Morgan Stanley and Goldman Sachs are highly levered. This can bring about growth, but also creates hefty risk. However, Bank of America has a sound Debt to Equity ratio of 1.21 currently, which is lower by around 129% and 396% than that of Morgan Stanley and Goldman Sachs, respectively.
EPS of the company indicates the strong earnings capacity of the company, and it is estimated that Bank of America will experience EPS growth of around 264% in the current fiscal year. Goldman Sachs has higher estimated EPS growth of around 213%, while Morgan Stanley will see negative EPS growth in this current fiscal year. Investors often see the long-term EPS growth of the company, and considering this, I have analyzed EPS growth of these banks over the next five years as well. Bank of America is expected to have EPS growth of approximately 18.25% in the next five years, while Morgan Stanley and Goldman Sachs have expected EPS growth of 10.6% and 5.54%, respectively, in the same duration. Last but not the least, operating margin is one of the key aspect to watch for, as it is associated with the profitability of the company. Once again, Bank of America leads the list with operating margin of 41.7%, which is again much higher than the other two companies.
When I analyze a company, I try to stress on the valuations part as companies with attractive valuations tend to move up quicker than its peers in the same industry. In my previous articles, I have done the same, and due to these reasons, stocks are trading higher than their previous levels. To support my views on Bank of America, I have considered past performance of stocks of these companies to dig deeper into the technicals.
Past performance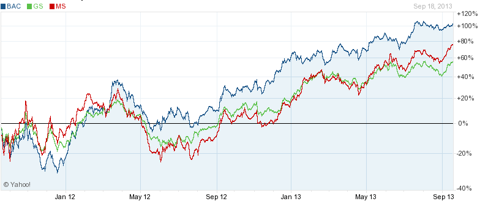 Source: Yahoo Finance
In the last two years, the stock of Bank of America has delivered outstanding returns for investors and at the same time it has outperformed its peers. Bank of America's stock price has appreciated more than 100% in the last two years, and in the same duration Goldman Sachs and Morgan Stanley have lagged behind, delivering returns of around 57% and 78%, respectively. One cannot drive the car, looking at the rear glass, and hence sustainability comes into my mind. Bank of America's strong performance can drive up the stock by another 5%-10% in the current year. Morgan Stanley and Goldman Sachs are trading above their target price of around $29.14 and $164, respectively. This prompts me to say Bank of America has long-term as well as short-term opportunities, which are brighter than the other two companies analyzed in this article.
Moving Averages
Source: YCharts
To further substantiate my view on Bank of America, I used the exponential moving average to get a clear idea whether the stock is anywhere near its decline. I took a 50-day and 200-day exponential moving average Crossover strategy. This strategy is used to get price reversal or potential upside when the 50-day EMA breaches the 200 day EMA of a stock to go down. Looking at the above chart, I can say that there is no price reversal to happen in the short term, while fundamentals are strong enough to initiate a long position to get good returns. Considering this, I assume there is no way back for a big price reversal for this stock in the short term.
Concluding lines:
Bank of America's investment in China proved highly profitable and its global wealth and investment management segment is set to grow in the current fiscal year. Moreover, it has standout valuations, which differentiate it from Morgan Stanley and Goldman Sachs. The best way to make money from this stock is to accumulate it on every decline and hold it for upside, which is certain. Those investors who prefer both a long and short strategy can initiate a long on Bank of America and go short on either of the other two companies discussed. Both strategies will prove worthy for investors looking to invest in financial stocks. Hence, I recommend a "buy" on the stock of Bank of America from the current price levels.
Disclosure: I have no positions in any stocks mentioned, and no plans to initiate any positions within the next 72 hours. I wrote this article myself, and it expresses my own opinions. I am not receiving compensation for it (other than from Seeking Alpha). I have no business relationship with any company whose stock is mentioned in this article.