Articles in the mainstream financial press focusing on the municipal bond market often create major moves in this highly illiquid, retail-dominated capital market. Less timely and complete disclosure than SEC register issuers provide can exacerbate price moves as a shortage of information increases panic. Despite the drama that often surrounds the very public entities that issue municipal bonds, they very rarely default.
The rating agencies' assessments of these credits are not comparable to the ratings on other fixed income securities, so they do not provide a reliable benchmark of municipal bond credit risk compared to other sectors. The graph below demonstrates how much lower default experience is for Aaa rated municipal bonds than for Aaa rated corporate bonds.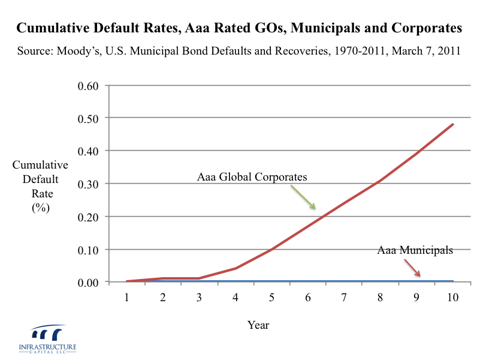 Indeed, as the graph below demonstrates, Baa-rated municipals are about as likely to default as a Aaa rated corporate bond, and Baa rated general obligation bonds (those bonds backed by a government's taxing power) have miniscule default rates compared to Aaa corporates.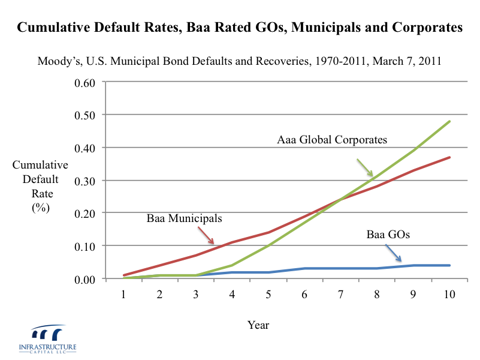 The graph below demonstrates that non-investment-grade ratings of municipal and corporate bonds are also not comparable.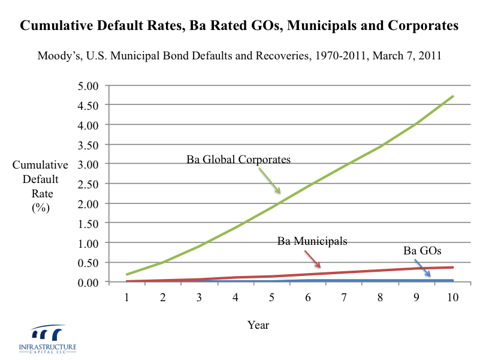 The City of Detroit's filing for protection under Chapter 9 of the bankruptcy code caught many municipal market participants by surprise. Lack of familiarity with the ramifications of Chapter 9 left even some very experienced professional investors unprepared for how severe the losses from this action could eventually be. The pain and confusion in the wake of Detroit's filing, has set the stage for a series of panics in this market.
An article in Barron's, followed by an article in Forbes comparing Puerto Rico to Detroit sparked a significant rout in anything with Puerto Rico in the name.
Like most panics, this has created an important opportunity for the discriminating investor in municipal bonds. Longer term Puerto Rico bonds, which are exempt from Federal, state and local income taxes anywhere in the US, are currently yielding between 7% and 10%, depending on the maturity, the specific credit and whether or not the bond is insured. Although, all of the bond insurers, except Assured Guaranty, are rated below investment grade, the market generally treats all of them, except Radian, as being likely to pay claims. As a result, the yields on insured bonds are generally quite low, and there is little value left in this sector. The real value, in my view, is in uninsured bonds of the Commonwealth and certain of its agencies.
In comparing Puerto Rico to other jurisdictions in the US, a casual observer may overlook the fact that Puerto Rico residents do not pay US Federal income taxes and that there is no appreciable local debt. Puerto Rico's government debt, using the highest number quoted in the Barron's article plus the unfunded pension liability is approximately 100% of the Territory's GDP. Below is a table showing Federal, State and Local debt as a percentage of GDP for the most indebted States by this measure.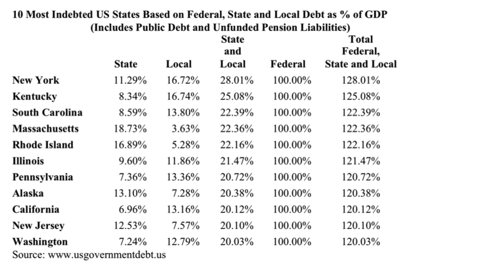 The real issue with the Commonwealth's credits has been the government's tendency to avoid hard decisions and to rely on new debt to avoid correcting structural budget imbalances. Puerto Rico is not alone in this, of course, but it has distinguished itself as a particularly egregious offender over the past 10 years.
The question now for investors is whether the Commonwealth is likely to take a path like Detroit's and impose real loses on its bondholders or begin addressing the structural budget deficit's in its general fund and in various agencies. Detroit's Chapter 9 filing is showing municipal investors just how toxic the Federal bankruptcy code can be to holders of a municipality's bonds. Chapter 9 gives the Federal bankruptcy court just enough power to harm general obligation bondholders (for example, by permitting a "cram-down"), but few of the powers afforded under Chapter 11 designed to protect the creditors. The reason for this is that Chapter 9 had to satisfy the Supreme Court's concerns that it did not encroach on states' rights under the Constitution. The result is that a municipality can use Chapter 9 to set aside state constitutional provisions designed to protect its creditors, but the bankruptcy judge has fewer powers than a judge in a Chapter 11 proceeding to force the municipality to treat creditors fairly.
Detroit's governor-appointed, Emergency Manager, an experienced bankruptcy lawyer, has introduced serious pain and confusion in the municipal bond market as he demonstrates just how effective a tool Chapter 9 can be for an municipality. His actions were an important catalyst to the current panic over Puerto Rico.
However, an interesting difference between Detroit and the Commonwealth of Puerto Rico is that the Commonwealth is not eligible to file for Chapter 9 protection. This protection is afforded only to a "municipality", defined in the bankruptcy code as a "political subdivision or public agency or instrumentality of a State", which the Commonwealth of Puerto Rico certainly is not. The code further defines "State" as including "the District of Columbia and Puerto Rico, except for the purpose of defining who may be a debtor under chapter 9 of this title." [emphasis added] This provision has been interpreted by at least one bankruptcy lawyer as explicitly excluding subdivisions of Puerto Rico from availing themselves of Chapter 9.
It is possible, though unlikely, that a "liquidity" event in which the Commonwealth is unable to raise new capital could cause it to default on its obligations. This can and does happen to general obligation credits from time to time (New York City, Cleveland, for example). However, for general obligation municipal bonds, full recovery of principal and interest after a default has been the norm, in the absence of a Chapter 9 filing and in some cases, even after a Chapter 9 filing (Orange County, for example). The Commonwealth's general obligation bonds benefit further from a constitutional provision known as the "clawback" that requires many forms of the Territories revenue to be applied first to general obligation bonds regardless of whether it has been pledged to other purposes.
The new administration in Puerto Rico is showing signs that it will use the crisis imposed on it by the bond markets to seriously address the Territory's fiscal issues. I believe holders of the Commonwealth's general obligation bonds will ultimately be paid every penny owed to them, but how quickly prices recover depends on how aggressively the new administration acts.
One of the most under-rated Puerto Rico credits is an agency that has already demonstrated its ability and willingness to make tough decisions. The Puerto Rico Aqueduct and Sewer Authority (PRASA) came to market on its own credit in 2012 for the first time in many years. It received investment grade ratings at the time, but has since been downgraded to below investment grade. Like several other agencies of the Commonwealth, PRASA had been receiving a subsidy from the general fund that allowed it to undercharge for its services. In July of this year, PRASA raised rates by more than 60% to eliminate the need for this subsidy. This kind of difficult, decisive action is exactly what is needed to put these credits back on track.
Conversely, I believe the most overrated credit in the Territory to be the Puerto Rico Sales Tax Financing Corporation, whose senior bonds are rated AA- by both S&P and Fitch. A great deal is made of the fact that these bonds are exempt from the constitutional "clawback" discussed above. However, an important vulnerability is that the revenue stream is a fixed percentage of retail sales, and the credit ratings are based on the assumption that this revenue stream will grow over time. While the Commonwealth or PRASA can raises taxes or user fees, the Sales Tax Financing Corporation cannot raise the sales tax in response to declining collections. Those who believe an extended period of flat or declining sales tax collections to be impossible should look at retail sales data in the following paper published in October 1942, which detailed consumer expenditures on various goods and services from 1929 to 1941. Following is the data series for "Meals and beverages":
| | | |
| --- | --- | --- |
| Year | Total Expenditure | % Change |
| 1929 | $3,584,500,000 | |
| 1930 | 3,402,600,000 | -5.1% |
| 1931 | 3,066,700,000 | -9.9 |
| 1932 | 2,529,100,000 | -17.5 |
| 1933 | 2,208,700,000 | -12.7 |
Conclusion: There are significant buying opportunities in Puerto Rico bonds, but investors need to look beyond ratings and read the disclosure for any bond they are considering. Disclosure and trading histories for individual bonds are provided on the Municipal Securities Rulemaking Board's website.
Disclosure: I am long Puerto Rico General Obligation bonds and Puerto Rico Aqueduct and Sewer Authority (PRASA) bonds. I wrote this article myself, and it expresses my own opinions. I am not receiving compensation for it (other than from Seeking Alpha). I have no business relationship with any company whose stock is mentioned in this article.