Exelon (NYSE:EXC) is the most controversial name in the electric utility sector. Its crushing price decline since 2007 and a dividend cut of monstrous proportions has many income investors seeing red at just the mention of the name. However, an investment thesis could be made for offering EXC as a "Buy," but not for the normal reasons usually associated with investing in utilities.
Shareholders of utilities are usually conservative, stable income seeking investors. EXC is neither conservative nor has a history of stability in its dividend payout. For that reason, EXC should not be lumped together with Southern Company (NYSE:SO), Wisconsin Energy (NYSE:WEC), or American Power (NYSE:AEP). These companies have large exposures to regulated electricity generation and distribution where state PUCs regulate the amount of profit they can produce in a historic tradeoff with restricting competition.
EXC, on the other hand, has a large exposure to the unregulated merchant power market. EXC operates the largest portfolio of nuclear power plants in the U.S., and nuclear is the lowest cost fuel source for generating electricity.
There are major differences between EXC merchant power profile and those of other utilities, such as SO. EXC operates in mainly the Northeast, Mid-Atlantic and Midwest geographies. Electricity generated in these areas is controlled by PJM. From its website:
PJM Interconnection is a regional transmission organization (RTO) that coordinates the movement of wholesale electricity in all or parts of Delaware, Illinois, Indiana, Kentucky, Maryland, Michigan, New Jersey, North Carolina, Ohio, Pennsylvania, Tennessee, Virginia, West Virginia and the District of Columbia. Acting as a neutral, independent party, PJM operates a competitive wholesale electricity market and manages the high-voltage electricity grid to ensure reliability for more than 60 million people. PJM's long-term regional planning process provides a broad, interstate perspective that identifies the most effective and cost-efficient improvements to the grid to ensure reliability and economic benefits on a system wide basis.
PJM uses a rolling 3-year auction mechanism to set pricing for electricity in its jurisdiction. EXC's merchant pricing for electricity is controlled by this auction process. The vast majority of its merchant power utilizes PJM short-term pricing models.
However, in other parts of the country, merchant power is usually contracted for substantially longer timeframes. For example, Southern Power, the merchant power operating segment of SO, contracts for long-term Power Purchase Agreements with non-affiliates. The majority of power generated is sold under PPAs usually 25 years in duration.
As the chart below demonstrates, the auction price EXC receives for its power peaked in 2008 and collapsed with the financial crisis of 2008/2009. As demand for power has not fully recovered to pre-2009 levels, pricing has lagged as well. In addition, competitive pricing pressures have come from subsidized renewable sources, such as wind. Depressed natural gas pricing is also reflected in lower power prices. Below are pricing charts for electricity in the Mid-Atlantic PJM region from 2001 to 2013 and the ISO-New England Region from 2005 to 2013, as reported by sriverconsulting.com here (pdf) and here (pdf):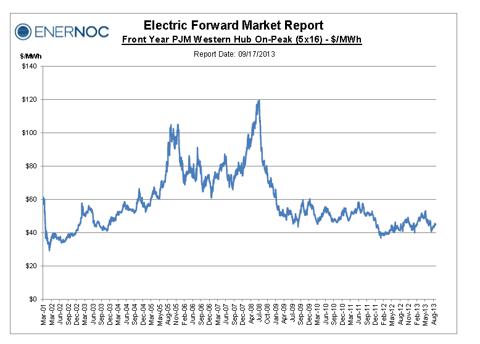 Source: S River Consulting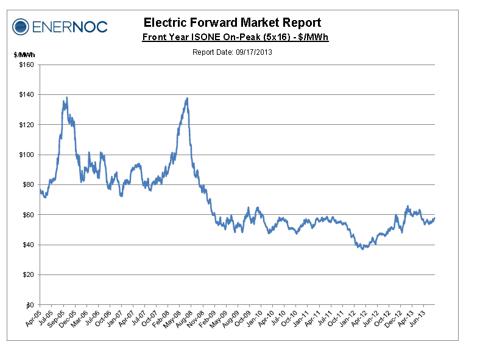 Source: S River Consulting
What becomes obvious is the collapse in electricity pricing from 2008 to 2013 in the areas services by EXC merchant power auctions.
There is also a correlation between natural gas pricing and the competitive pressure it puts on the power markets. Below are two graphs outlining the correlation between gas pricing and power pricing between 2001 and 2012. Avalon Energy Services, LLC on its blog offers these graphs: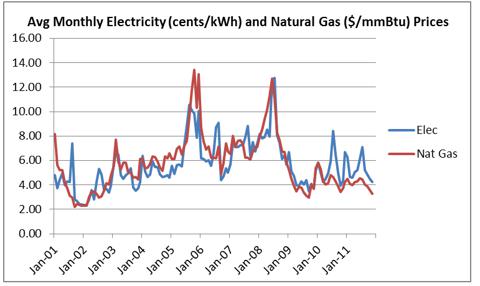 Source: avalonenergy.us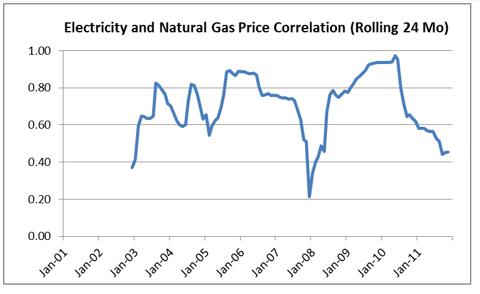 Source: avalonenergy.us
Reviewing the four graphs above, it becomes obvious that electricity pricing in the areas serviced by EXC is directly impacted and correlated to the price of natural gas. A turnaround in fortunes for EXC will be based on higher natural gas pricing.
The two graphs below are estimates of the future of PJM pricing models from 2010 to 2030, as reported by Versar.com in its study titled "Long-Term Electricity Report" (pdf). The estimates are for a slow and steady climb in JPM pricing over the next two decades.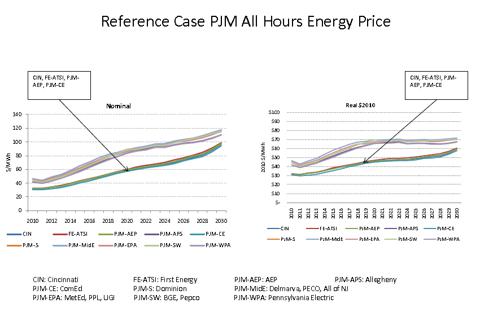 Source: esm.versar.com
In addition to the steady climb in PJM pricing will be a steady climb in generating capacity that will be retired in the PJM service area. Below is a graph also offered by Avalon Energy Services that outlines the anticipated annual and cumulative retirement of power generating capacity from 2010 to 2029. While alternative fuels are taking up some of the slack, wind and solar are not base-load comparable to coal, which is the largest fuel source being retired.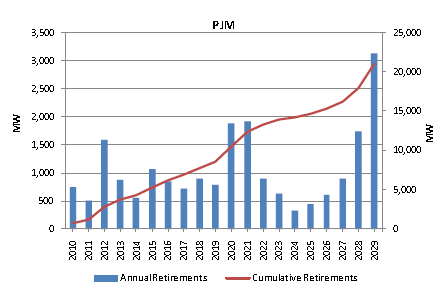 Source: avalonenergy.us
Exelon has taken it on the chin in recent years with lower profits derived from lower demand and lower pricing. Exelon will also be the beneficiary of higher profits from higher demand and higher pricing.
Concerning the disastrous dividend cut of 41% instituted several quarters ago, it was a good move based on both supporting the balance sheet and the threats from credit agencies. No one likes or wants a dividend cut - that is a given. However, the reduced market economics of the business demanded the cut. In addition, when thugs come to take their pound of flesh and threaten to burn your business to the ground, one usually pays up. With the threat of losing the investment credit rating unless the dividend was reduced, management had no other choice. Investors should expect a resumption of dividend growth as profitability allows.
Historically, EXC has generated returns on invested capital above its peers. While a bit choppy on an annual basis, the chart below from fastgraphs.com outlines the historic ROIC generated by management. In 11 of the previous 16 years, EXC has generated ROIC in excess of 5.0%, which is a benchmark for most utility investors. This historical review of ROIC should also demonstrate the ability of management to generate returns for shareholders under more normal pricing conditions. The second grouping of charts below outlines capital expenditures per share, free cash flow per share and operating cash flow per share.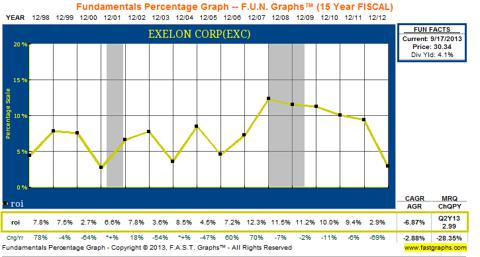 Source: fastgraphs.com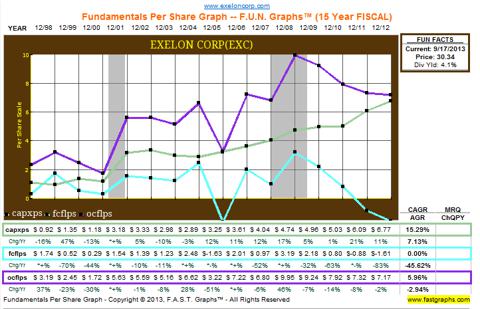 Source: fastgraphs.com
Exelon operates the largest portfolio of nuclear power plants and is the nation's largest wholesale generator and retail supplier of electricity. Its ultra-low cost nuclear power footprint will benefit from rising coal and natural gas pricing and stricter environmental regulations on fossil fuel plants. Even after the expansion of its regulated asset base with the recent acquisitions, EXC still generates about 50% of earnings from merchant power, at today's current depressed levels.
Below is a table outlining the cost of fuel for SO in cents per net KWh, taken from pg II-17 of its 2012 annual report 10-K. As shown, nuclear power is by far the cheapest conventional fuel source and this advantage should benefit EXC as electricity prices rise due to increases in competitive natural gas pricing.
| | | | |
| --- | --- | --- | --- |
| Cost of Fuel | 2012 | 2011 | 2010 |
| Coal | 3.96 | 4.02 | 3.93 |
| Natural Gas | 2.86 | 3.89 | 4.27 |
| Nuclear | 0.83 | 0.72 | 0.63 |
Source: Southern Company 2012 10-k
The regulatory environment is not as supportive in EXC service areas, but seems to be improving a bit. In 2011, Illinois passed a formula regulation that annually adjusts for as much as $2.6 billion in capital investments. The automatic adjustment in ComEd's rate-based assets will improve the utility's return on invested capital.
One area of concern is the disruptive impact of an oversupply of power due to the vagaries and intermittent nature of wind power in the Midwest and the proposed large off-shore wind farms along the eastern seaboard. Currently, two EXC nuclear power plants in Illinois, operate 15% of the time at a negative pricing model due to oversupply of power on the grid. As more wind power becomes available and forced onto the grid, negative pricing and negative profitability will become a bigger issue. Negative pricing issues should be on any electric utility investor's radar.
The latest investor's presentation at the Barclays CEP Energy Conference can be found here.
While it is easy to dislike Exelon and to blame management for its current woes, a turn in natural gas pricing over the next few years will do wonders for the bottom line. Unconventional utility investors looking for the possibility of a substantial 30% gain in share price over the next few years as natural gas pricing climbs to upwards of $5.00 should take another look at Exelon. Under this scenario, EXC could be well worth the current $30 a share and its 4.1% current yield.
Author's Note: Please review important disclaimer in author's profile.
Disclosure: I am long EXC, SO, AEP. I wrote this article myself, and it expresses my own opinions. I am not receiving compensation for it (other than from Seeking Alpha). I have no business relationship with any company whose stock is mentioned in this article.