Royal Dutch Shell (NYSE:RDS.A)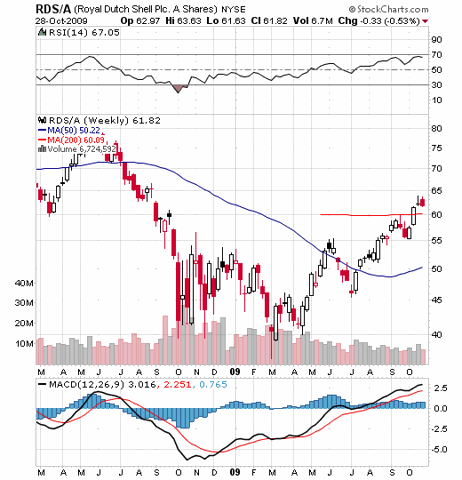 Chart Source: StockCharts
Royal Dutch Shell remains behind the curve in its reorganization efforts, relative to British Petroleum (NYSE:BP). The energy producer's management have acknowledged more work is required and is to cut a further 5,000 jobs globally in an effort to re-align the business to better meet the operational challenges into the global economic recovery.
Royal Dutch Shell's third quarter 2009 earnings, on a current cost of supplies (CCS) basis, were $2.99 billion compared to $10.9bn a year ago. Basic CCS eps (earnings per share) decreased by 72% versus the same quarter a year ago. Cash flow from operating activities also slumped 42% in Q3 2009 relative to Q3 2008, from $12.6bn to $7.35bn.
Upstream earnings were particularly weak at $1.54bn (Q3/09) compared to $8.65bn (Q3/08), reflecting lower oil and gas prices. Q3/09 production was 2,926 thousand boe/d (barrels of oil equivalent a day) compared to 2,931 thousand boe/d a year ago. Crude oil production was down 2% and natural gas production increased by 3% compared to the third quarter of 2008.
Shell's Chief Executive Officer Peter Voser commented, "Our third quarter results were affected by the weak global economy. Upstream and Downstream profitability has been sharply reduced compared to year-ago levels. We see some indications that energy demand and pricing are improving, but the outlook remains very uncertain, and we are not expecting a quick recovery. Despite Shell's good operating performance in this difficult environment, we have embarked on an ambitious programme of stringent measures to further improve our performance."
Despite the challenges ahead, Shell remains committed to distributing a good proportion of its profits to shareholders and total dividends paid during the third quarter 2009 were $2.7 billion.
British Petroleum (BP)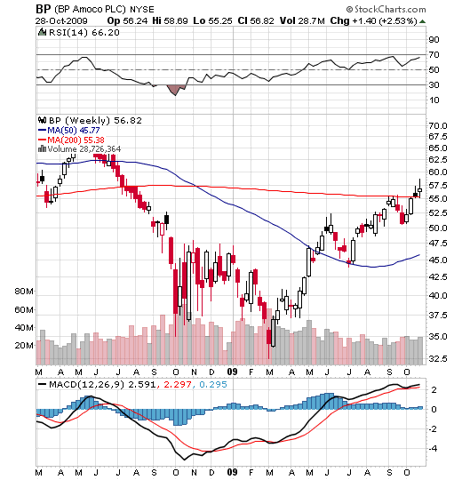 Chart Source: StockCharts
Despite the sharp fall in Q3 earnings, investors were greatly encouraged by BP's quarterly report and shares in the energy group rallied strongly after the latest data was released. One of the most eye catching elements of the report was the progress made in cost-cutting with expenditure $3.0bn lower than a year ago. BP has now increased its cost cutting target to $4bn annualized. The firm reduced headcount by 3,000 last year and is set to cut another 5,000 jobs by the end of 2009.
Profits fell to $4.98bn for the July-September period compared to $10.03bn a year earlier, using the industry standard replacement cost profit calculation. Analysts has expected an even larger decline in profitability.
Net cash provided by operating activities for the quarter and nine months were $8.1 billion and $20.4 billion compared with $14.9 billion and $32.5 billion respectively a year ago.
When excluding non-operating items and accounting costs, BP's overall underlying profits of $4.67bn noticeably bettered the City's consensus for a figure of around $3.2bn. The quarterly dividend was also held at 14 cents a share.
During the quarter, BP announced a giant discovery at the Tiber prospect in the deepwater US Gulf of Mexico. BP is the operator and also holds a 62% interest in the find. Also, on 1 October, Sonangol and BP announced the Tebe oil discovery in the ultra-deepwater Block 31, offshore Angola, (BP 26.67% and operator). This is the nineteenth discovery made by BP in the area.
BP, like all producers, has suffered from oil price volatility with last year's bubble peak in prices of $147 per barrel distorting like for like comparisons.
BP shares remain favored relative to Shell for most buy and hold investors requiring exposure to the sector, and the firm's relative progress in 2009 should maintain that trend. For day traders, neither stock particularly excites, as crude oil futures naturally offer a purer exposure to the sector and oil price, without the added hassle of company specific analysis.
Disclosure: No interest.