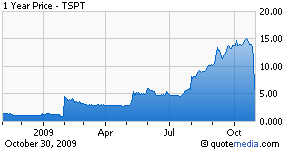 What should have been a dream approval for Transcept Pharmaceuticals (TSPT) has turned into a nightmare for the Californian company, which now faces a significant delay to the launch of its middle of the night waking insomnia drug Intermezzo. Wednesday, the FDA issued the group with a complete response letter, not because of doubts over Intermezzo's efficacy, but because of concerns over a safe dosing strategy that would avoid users taking the drug with less than four hours of bedtime remaining, or inadvertently taking a double dose in one night.
Transcept now faces the expense and headache of conducting at least one or more additional safety studies, including next day driving tests, to show if there are any residual after-effects. The news, which has caused Transcept's shares to fall 55% since Tuesday, could also cause a few sleepless nights for Somaxon Pharmaceuticals (NASDAQ:SOMX), NovaDel Pharma (NVD) and Alexza Pharmaceuticals (NASDAQ:ALXA), who are also developing drugs in this niche indication.
Sharing the pain
Wednesday, shares in Somaxan Pharmaceuticals dropped by 7%. The group has the next most advanced product in development, Silenor, with a PDUFA date of December 4. While Silenor has a different mode of action to Intermezzo, which is a sublingual reformulation of Sanofi-Aventis' (NYSE:SNY) best seller Ambien (zolpidem), given that the company also does not have safety data regarding the time the drug is taken or accidental repeat dosing, approval this time round in this niche setting is looking unlikely.
If the FDA does knock back Silenor, it would be the second disappointment in a year for the drug, which got a complete response letter in February after it chose not to file QT safety data (Somaxon reeling from Silenor rejection, February 27, 2009).
The news will almost certainly be a big blow to NovaDel, which has a low dose oral spray formulation of zolpidem in phase II trials for middle of the night waking. The group would have been feeling confident about a smooth regulatory ride for ZolpiMist in this indication after getting approval for the drug in sleep onset last December.
Partnering problems
With it almost certainly facing the prospect of carrying out its own safety trials, the cost of these and the fact that the group has failed to secure a partner to help commercialize ZolpiMist in the last 10 months will add to the financing pressure on NovaDel, which only had $500,000 in cash on the balance sheet as of June 30.
A partner is now unlikely to want to strike a deal with the group over the middle of the night waking indication for ZolpiMist due to the regulatory risk, leaving cash-strapped NovaDel with limited options if it wants to push this indication through to approval.
Being in early stage studies, Alexza's AZ-007 could potentially build residual waking effect tests, including the driving test, into its next set of trials, but as the group is looking for a partner to take the drug beyond its current phase I, the additional costs could be a deterrent to any talks.
Novelty factor
The FDA's wariness about Intermezzo appears to center on the fact that this approval would have been the first in this indication and the ultra cautious regulator needs to be seen to be assessing all risks around dosing and residual effects (Event - Transcept hoping for a dream approval, October 22, 2009).
Thursday on a conference call, Glenn Oclassen, Transcept's chief executive, said that the group would initiate next day driving tests to study the drug both at the correct dose and also at inadvertent double dose levels. Some comfort can be taken because these tests will only involve tens rather than hundreds of patients.
However, the Herculean task facing the group will be finding a way to stop patients taking the drug too late in the night or ensuring double dosing is avoided. Transcept's management team mooted the idea of strong warnings on the packet to try to reduce such a risk, but whether this will be enough to appease the regulator is unclear.
Milestone misery
Another issue that has arisen from Intermezzo's failure to get approval this time round is the group's possible $30m milestone payment from US marketing partner Purdue Pharma, which wisely attached a penalty to the deal, meaning that the sum would decline by $2m a month if approval had not been granted by the end of June 2010.
The deal also has another interesting clause, meaning that Purdue has 10 days after approval to decide whether to go through with the licensing deal. The means that if the labelling on Intermezzo is so restrictive that the sales potential is greatly diminished, Purdue could choose to walk away; another factor that could prevent the Transcept management team getting a good night's rest anytime soon.