By Sumit Roy
The Department of Energy reported yesterday that in the week ended Sept. 13, U.S. crude oil inventories decreased by 4.4 million barrels, gasoline inventories decreased by 1.6 million barrels, distillate inventories decreased by 1.1 million barrels, and total inventories decreased by 6.1 million barrels.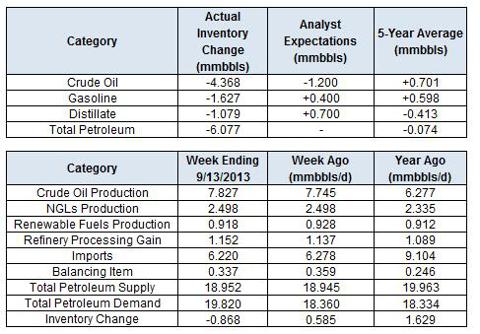 Oil prices rallied after the latest inventory figures. The data were bullish, as all the major inventory categories saw declines despite another 28-year high in U.S. output. Cushing inventories also continued to decline, which is supportive of a narrower spread between WTI and Brent. As we wrote last week, in our view, the Syria risk premium is completely out of oil prices. Thus, prices should fluctuate based on supply and demand fundamentals. In that regard, today's move by the Fed from refraining to taper its bond-buying program is bullish, as it supports economic growth.

Brent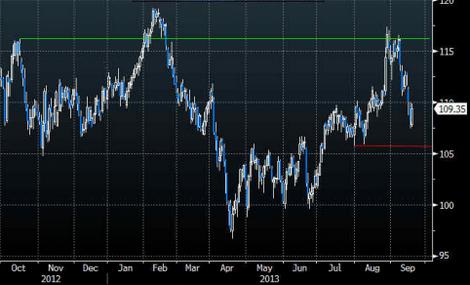 WTI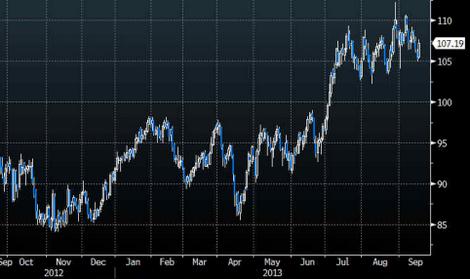 Turning to this week's EIA inventory figures, total petroleum inventories in the U.S. fell by 6.1 mmbbl, against the five-year average of a 0.1 mmbbl decrease. In turn, the inventory surplus fell to 44.4 mmbbl, or 4.1%.
Crude oil inventories fell by 4.4 mmbbl, against the five-year average of a 0.7 mmbbl increase. In turn, the surplus in the crude category fell to 17.5 mmbbl, or 5.2%. Regionally, inventories inside and outside the Midwest fell.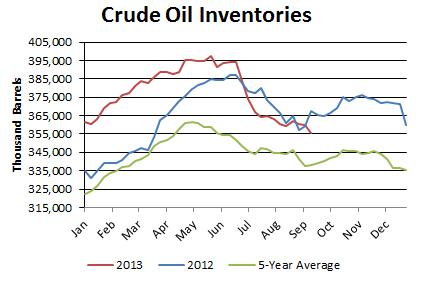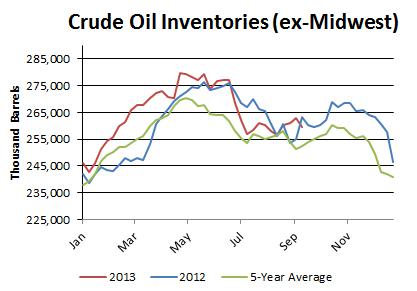 Gasoline inventories fell by 1.6 mmbbl against the five-year average of a 0.6 mmbbl increase. The gasoline surplus now stands at 10.4 mmbbl, or 5%. Distillate inventories fell by 1.1 mmbbl against the five-year average of a 0.4 mmbbl decrease. In turn, the distillate deficit widened to 20.3 mmbbl, or 13.4%.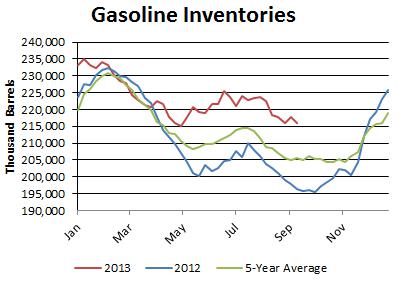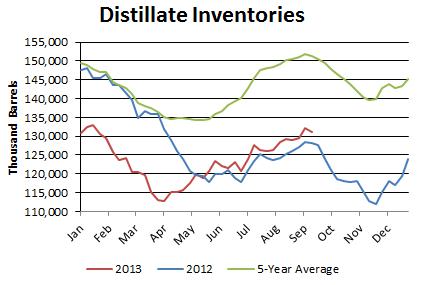 Demand

Total petroleum demand in the U.S. rose to 19.8 mmbbl/d. Gasoline demand rose to 9 mmbbl/d and distillate demand rose to 4.1 mmbbl/d. On a four-week rolling basis, total demand was up by 2.9% from last year. On that same basis, gasoline demand was flat and distillate demand was up by 10.8%.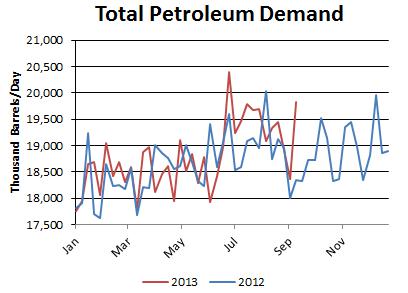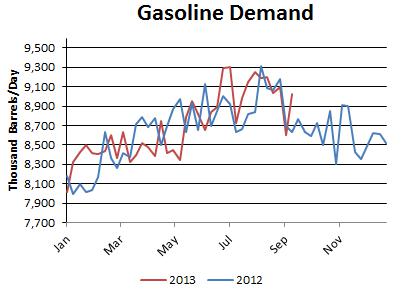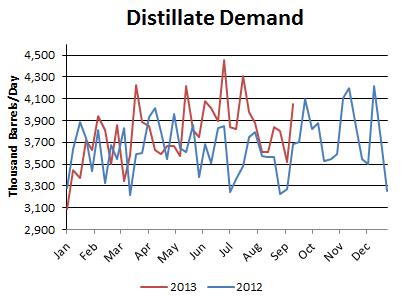 Imports

Crude oil imports fell by 0.4 mmbbl/d to 7.6 mmbbl/d. On a four-week rolling basis, imports have been 0.9 mmbbl/d below the year-ago level.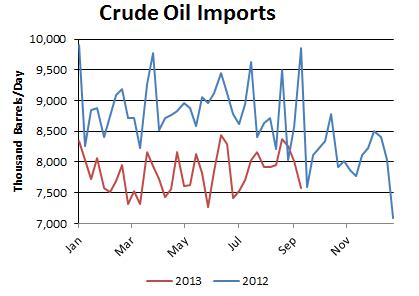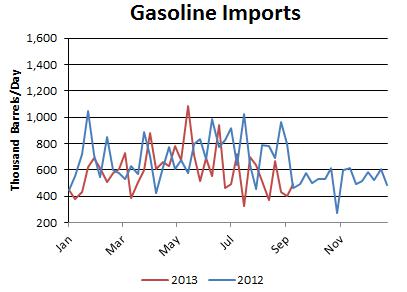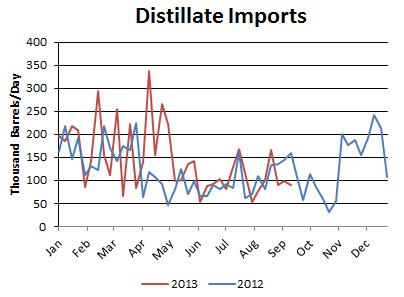 Refinery Activity

Refinery utilization was unchanged at 92.5%. Utilization is above the year-ago level and the five-year average. Gasoline production rose to 9.3 mmbbl/d, while distillate production edged up to 5.1 mmbbl/d.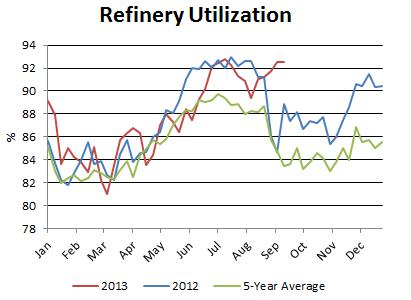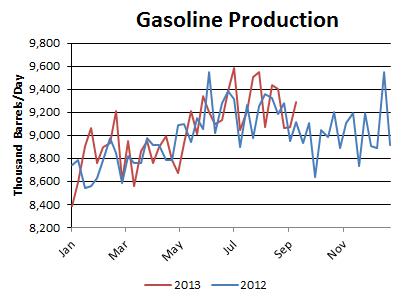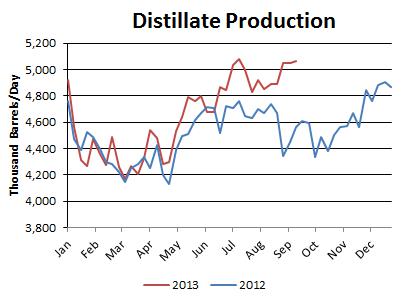 Miscellaneous

U.S. crude oil production rose to 7.827 mmbbl/d, a fresh 24-year high. Output has been rising swiftly this year due to surging production in unconventional oil plays. Since the start of the year, output has averaged 1.3 mmbbl/d, or 21%, above the same period a year ago.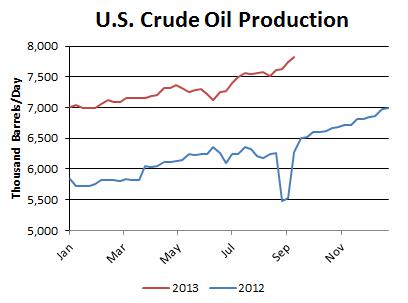 Inventories at the Nymex delivery point in Cushing, Okla., fell by 0.9 million barrels to 33.3 million barrels, or 41.7% percent of the EIA's estimate of capacity. Overall, Midwest inventories fell by 1 million barrels to 96.2 million barrels, or 62.7% of estimated storage capacity.
Front-month WTI calendar spreads remained in backwardation at -$0.60. Front-month Brent calendar spreads remained in backwardation at-$0.92. West Texas Intermediate's discount to Brent fell week over week from -$3.94 to -$3. WTI's discount to Louisiana Light Sweet fell from -$1.65 to -$0.80.