Here we go again. Another day, another speculation theory on what will happen to poor Blackberry (NASDAQ:BBRY). The latest talk of the town is that there are many investors who may want to buy the company, not in whole, but rather in part.
The question is, what are those parts?
The MDM business Blackberry pioneered is not a stand alone business. Sure there are many other start-up companies doing the same thing (almost), that have gained market share in the space, however none of them are used by the U.S Armed forces (and probably never will). Simply because none of them offer the security capabilities of Blackberry.
Blackberry's MDM platform is probably the most robust, but only when used in collaboration with BB10 devices. Yes you can use Apple (NASDAQ:AAPL) and Google (NASDAQ:GOOG) Android devices, but in order to take full advantage of the security features and robustness of the platform, BB10 devices should be used.
So in the absence of being able to offer BB10 devices with a Blackberry MDM solution, why would anyone simply want to buy Blackberry's MDM business and become just another of the many MDM companies out there?
Next we have Blackberry's operating system. Why would anyone simply want to buy the OS? Would it not be much simpler -- and cheaper -- to license it, if there was a company that is really interested in making BB10 devices? Sure, having your own operating system means a lot and I have talked about this many times, but simply buying the operating system by itself makes no sense. But if you are going to pay good money to buy BB10, you probably want to buy the devices unit also.
But even if there was someone interested in the devices unit alone, how much would they pay? Furthermore, why would Blackberry sell? Everyone has a price, but unless this is a very high price, what can Blackberry shareholders hope to gain by selling the devices division?
As far as patents are concerned, I am not an expert on the matter, but I doubt there are any companies that are simply interested exclusively in Blackberry patents. Sure they are worth a lot of money, but are worth that money to Blackberry as a business. Take Blackberry apart and I have no idea what they might be worth. But looking at how much money Microsoft (NASDAQ:MSFT) paid Nokia (NYSE:NOK) recently -- simply to lease Nokia's patents for 10 years -- they are worth something. And I assume if Microsoft wanted to buy those patents, it would have had paid a whole lot more money.
So as far as I'm concerned, I don't think Blackberry can be bought in pieces. There are simply no synergies in the parts. It's either all or none, the way I see it.
Even with no bidders, Blackberry should do fine
Recently Blackberry rolled out a new device, the five-inch Z30. Will this device drive Blackberry's share to $30? No it will not, but it is another product and it will add to its portfolio. It will help, but it is not the determining device that will make stockholders rich.
Blackberry will also roll out BBM for Android and iOS over the weekend. Will this move add value to the company? That remains to be seen, for it is not yet clear how the company aims to monetize BBM. But it will not hurt. And no one really knows how this will play out. BBM might just take the market by storm. We really don't know. However it is a product that has potential and under certain conditions, might just be a home run for the company.
There are rumors that the company might lay off as much as 40% of its workforce. While that is sad, it is nevertheless a fact of life. Many companies have gone through the restructuring process recently and saw their stocks lift off. Nokia is but just one of those stocks. So I don't necessarily see this a negative for the stock.
Then there are those pesky short sellers. The most recent NASDAQ data shows that short interest is lower once again, although not by much. But the fact that they are once again lower, probably means many investors don't see much lower prices.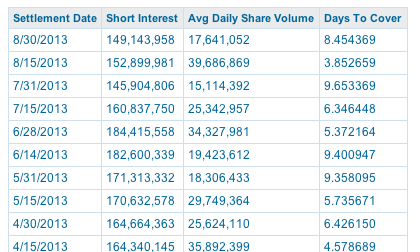 But if the company does get a bid (which I doubt very much), then it will not be at $10 a share. It will probably be around 50% higher at least. So as I see it, short sellers are taking a lot of chances at current levels. And if the company does do well over the next several quarters, this big outstanding short position can be considered fuel for higher prices.
Bottom line
I still think the company can go at it alone. Of course we have to see how the latest quarter goes, but with the exception that the news is really bad, I think Blackberry can manage by itself and make more money for shareholders over the long run, as opposed to getting a small premium to today's price.
Also, I doubt there will any bidders for the company in parts. I think Blackberry will be an all or none deal. And the only buyers on an all or none basis that I see is probably an Asian buyer. But even if no buyer emerges, I still think this company -- unless proven otherwise -- will survive, and at current prices, remains a bargain.
Disclosure: I have no positions in any stocks mentioned, and no plans to initiate any positions within the next 72 hours. I wrote this article myself, and it expresses my own opinions. I am not receiving compensation for it (other than from Seeking Alpha). I have no business relationship with any company whose stock is mentioned in this article.