Microsoft Corporation (NASDAQ:MSFT) announced on September 17 that it was boosting its quarterly dividend per share by 21.7% from $.23 to $.28 and repurchasing $40B worth of its stock was a case of good news and bad news. Investors initially reacted favorably by pushing up Microsoft's share price by 2% however the gains dissipated after investors realized that the share repurchase plan would replace Microsoft's existing $40B plan that was due to expire this month and which Microsoft most likely completed as it had $3.6B remaining on the share repurchase authorization. Microsoft's previous $40B share repurchase program began in September 2008 and was good for 5 years or $40B in share repurchases.
At first, I was excited to hear about Microsoft's since I thought Microsoft finally decided to return part of its foreign source cash to shareholders. However, after further review, I saw that Microsoft authorized this share repurchase program to succeed its $40B share repurchase program that took place from 2008 to 2013. As this program has no expiration date, I believe that Microsoft will take another five years to repurchase another $40B worth of its common stock. Furthermore, this repurchase program does not take into account shares issued from employee stock compensation programs. Microsoft's $40B repurchase program only reduced its share count by 1B shares (from 9.47B to 8.47B or 10.6%) from 2008 to 2013 because Microsoft issued $11.9B worth of its stock through its employee stock compensation programs from 2008 to 2013.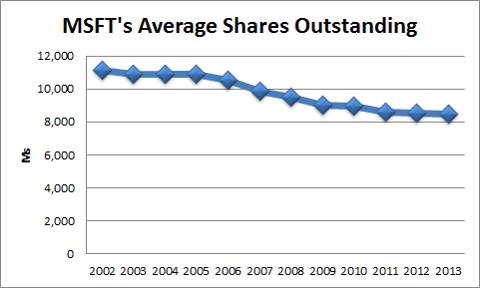 Source: Morningstar Direct
The good news about Microsoft's recent dividend boost was that this was larger than the 2012 dividend increase in terms of dollar amount increase as well as percentage growth. Microsoft's 2012 dividend increase was $.03/share and represented a 15% increase versus the 2011 dividend level. Meanwhile, the 2013 dividend boost was $.05/share and represented a 21.7% boost versus the 2012 dividend. Microsoft's recent dividend increase was the 10th time it has increased its quarterly equivalent dividend payment per share in the last 11 years. Microsoft initiated dividend payments in February 2003 ($.08/share) and made two annual equivalent dividend payments of $.08/share in February 2003 and $.16/share in October 2003 before initiating regular quarterly dividend payments of $.08/share in August 2004.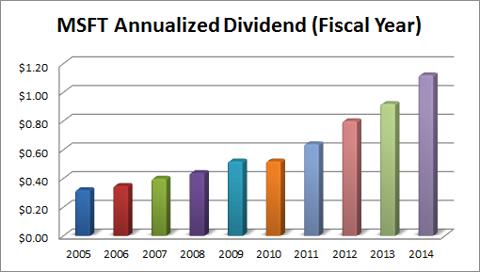 Source: Microsoft Investor Relations
Microsoft should disclose its U.S. source domestic income in its financial reports and conference calls so investors can see how much Microsoft can pay out to its shareholders without having to borrow cash or even repatriate foreign source income and cash. This would help investors understand its balance sheet better and may help improve its perception amongst investors. Microsoft earned $21.9B in FY 2013 and 53.1% of its revenues came from the U.S. market according to its FY 2013 Annual Report. If one assumes that Microsoft USA has the same profit margin as Microsoft International, one would estimate that Microsoft USA earned $11.61B in FY 2013 ($1.37/share) and that Microsoft International earned $10.25B ($1.21/share). Analysts are forecasting that Microsoft will increase its worldwide EPS from $2.58 in FY 2013 to $2.76 in FY 2014. If Microsoft USA generates 53.1% of Microsoft's worldwide income in FY 2014, Microsoft USA will generate $1.466/share in domestic source income that it could pay to shareholders as dividends, which is 31% more than the $1.12/share in dividends that it will pay to shareholders in FY 2014.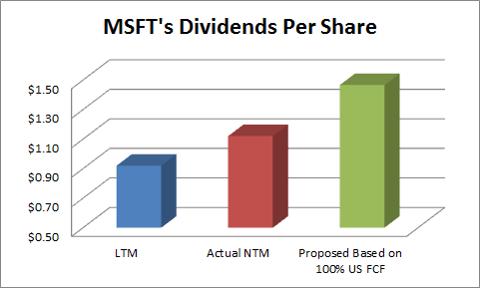 Source: Microsoft Investor Relations and our Estimates
Microsoft also announced that it signed an agreement to cooperate with activist investor ValueAct Holdings. ValueAct had recently pushed Microsoft to return more of its cash to shareholders. Under the agreement, Microsoft will hold regular meetings with ValueAct's President Mason Morfit and ValueAct has the option having Morfit become a director beginning at the first quarterly board meeting of 2014. According to The Seattle Times, pressure from ValueAct may have been a factor in Steven Ballmer stepping down as Microsoft's CEO. ValueAct is not the only firm that has expressed interest in Microsoft returning more of its cash to shareholders. Last year, Saibus Research called for Microsoft to return cash to shareholders even if it meant paying repatriated profits taxes. Saibus Research also shared alternative cash return proposals to avoid repatriated profits taxes as well as the proposals highlighted by Whitney Tilson and Strategic Analysis Corporation.
Why should investors consider the thought of having Microsoft and other tech titans pay out its gargantuan levels of foreign-sourced liquidity holdings to shareholders even though repatriating the cash flows will result in huge tax liabilities. Well, the founders of these technology firms did not wait around for handouts from the government in order to build their business, why exactly should they wait around to repatriate its foreign source cash holdings in order to pay dividends to their shareholders. Furthermore, many of the technology company founders like Bill Gates and Mark Zuckerberg have gone on record in demanding higher taxes on the rich. Bill Gates' father William Henry Gates Senior has also demanded a higher estate tax. Of course, everyone knows that Mark Zuckerberg, Bill Gates and his father have no intention towards putting their money where their mouths are. Gates and Zuckerberg signed The Giving Pledge. By donating their assets to their favorite charities, they will avoid paying estate taxes.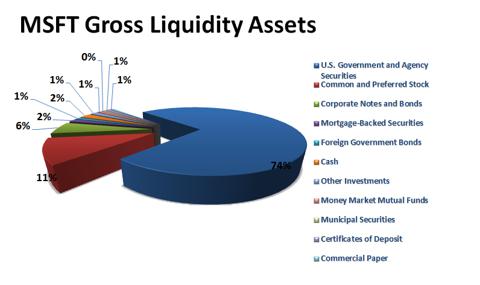 Source: 2013 Microsoft Annual Report
If Microsoft were to repatriate its $69.6B in foreign source liquidity assets, Microsoft would pay up to 35% tax ($24.4B) less any foreign source taxes that it has already paid. Even so, this would still enable Microsoft to pay a $45.2B ($5.34/share) special dividend to shareholders. Why should Microsoft repatriate its $69.6B foreign source liquidity assets and pay repatriated profits tax? Well, since Microsoft does not have any productive uses for it, Microsoft might as well pay the repatriation tax and distribute it to shareholders who may have a more productive use for it than stashing it in cash, cash equivalents, short-term investments and even equity securities. When Microsoft's stockholders and management are thinking about Microsoft's gargantuan pile of cash, they need to realize that it's the shareholders' money, not the company's money! If the company can't anything more with the shareholders' money than government securities, then management needs to return the money to the shareholders.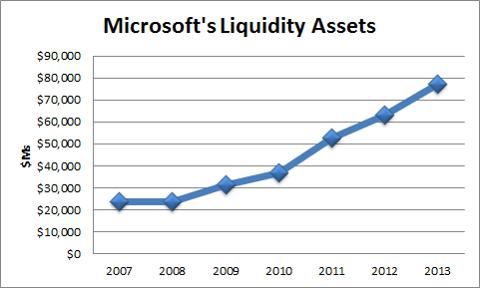 Source: Morningstar Direct
In conclusion, Microsoft's dividend growth and its new repurchase program shows that it is making efforts to reward its shareholders. However, we believe that Microsoft needs to pay out its foreign source liquidity holdings and cash flows to shareholders in order to monetize the value of its holdings. We are aware that the Internal Revenue Service is looking at ways to clamp down on the ability of firms to avoid punitive taxation on repatriating company profits and assets. However, at some point, we believe that it would be better for Microsoft to repatriate its foreign cash and pay it out to shareholders even if it has to pay repatriation taxes instead of leaving its assets festering away in low-yielding fixed income securities. Microsoft needs to realize that its days of exceptionally strong growth are gone. Microsoft's decelerating EPS growth and its inability to maintain a strategy in mobile communications is why its total return since the end of FY 1999 has been flat.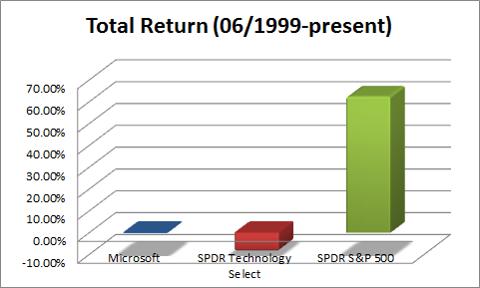 Source: Morningstar Direct
Disclosure: I have no positions in any stocks mentioned, and no plans to initiate any positions within the next 72 hours. I wrote this article myself, and it expresses my own opinions. I am not receiving compensation for it (other than from Seeking Alpha). I have no business relationship with any company whose stock is mentioned in this article.