After a decade of robust dividend hikes, McDonald's (NYSE:MCD) announced Wednesday that it would be only raising its dividend by about 5.2% next quarter and assumably for the next year. This is almost 50% less than the increase the company rewarded shareholders with in 2012. Though it's certainly difficult to say if this is the beginning of a protracted lower dividend growth paradigm for the fast food giant, I'm of the opinion investors should certainly temper their forward payout expectations. McDonald's annual dividend in 2003 was 40 cents, in 2013 it will be $3.12. Given the current payout ratio and corporate challenges, I doubt we'll see anywhere near that kind of growth over the next decade.
MCD - 5 years vs. SPY (click to enlarge)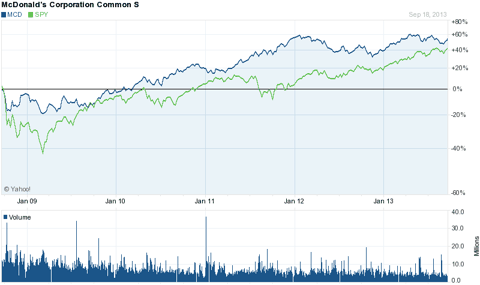 For some dividend investors or long-time MCD holders, this year's lower payout growth may constitute a non event, however, for others it could be a rather concerning development, especially those dependent on robust dividend growth to meet retirement planning needs. As I posited last year in an article, wholesale dividend growth may be much more difficult to come by over the next ten years, given economic headwinds and other corporate challenges. This theory may cause some to ponder whether a dividend growth strategy with stocks yielding in the neighborhood of 3%, growing payouts in the mid-single-digits - like McDonald's - will be sufficient to meet income goals in the years ahead.
The MCD Road
Continuing with our look at Mickey D's, I think it's prudent for investors to extrapolate various forward yield on cost (YOC) scenarios when considering equities for their income growth potential. Let's simulate four various dividend growth scenarios for McDonald's over the next 10 years. We will assume shares are purchased at recent dealings of $97.50, constituting a beginning yield of 3.2%, and are held for ten years, with dividends not reinvested to alter the average cost or YOC.
| | | |
| --- | --- | --- |
| MCD dividend growth | YOC after 5 Years | YOC after 10 Years |
| 3% (pessimistic) | 3.71% | 4.3% |
| 5% (2013) | 4.08% | 4.96% |
| 8% (average) | 4.70% | 6.91% |
| 11% (optimistic) | 5.39% | 9.08% |
In our best-case scenario, YOC elevated to a little better than 9% over the ten years. In the more reasonable scenarios, we could assume that YOC will elevate to somewhere between 5 and 7 percent over ten years.
Taking a Higher Road
From a quantitative perspective, utilizing exercises such as above, one must decide independently if future YOC of a dividend growth enterprise such as MCD is sufficient to meet near- and/or long-term income goals. My objective is not to direct but to advise towards an appropriate conclusion. However, it is my view that while a dividend growth strategy may be an appropriate means for many income investors, depending on individual expectations and actual forward dividend realization, it may or may not be succeed as an exclusive strategy.
I want to point out that I've actually incorporated dividend growth thinking into a portion of my portfolio, so while I may be coming across as somewhat critical of its potential ends, I am by no means advocating avoidance of its utilization. But the fact of the matter is there are many higher income options that would seem to eliminate the uncertainty involved in dividend growth investing and instantly better the multi-year YOC scenarios for stocks such as McDonald's as illustrated above.
If one can achieve 5-10% initial yield in alternative investments without taking on a tremendous amount of risk, it would seem at minimum worthy of one's attention. Optimally, in my opinion, one should undertake consideration of a plethora of vehicles at different yield points and with varying cash generation strategies to diversify and protect the income stream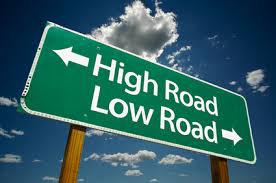 High Road Options
So if one opts toward the high income road, where should efforts be focused? I continue to believe that diversification is the hallmark of an income portfolio and would advocate a variety of investment types when allocating to high income. These would include:
High Yield Bonds: I recommend a pooled, short maturity approach to the group either via an ETF like JNK or HYG, although I currently prefer a closed-end fund trading at a discount to NAV like HYI. Read my recommendation on HYI here.
Business Development Companies: Bought at or near NAV, I think BDCs with solid management are a worthwhile purchase. I personally own both Prospect Capital (NASDAQ:PSEC) and Solar Capital (NASDAQ:SLRC), however Prospect is trading well above last stated NAV and Solar has had some portfolio issues over the last quarter, so I'd consider both holds at present.
MLPs: Recent controversy in the group has made me a bit more skittish to recommend, although I maintain pooled exposure through Neuberger Berman MLP Income (NYSEMKT:NML) and believe the group is a strong hold here.
REITS: Probably still a decent option for elevated income and some dividend growth, however I would not overweight the group at present, despite the recent pullback. Favorites include American Realty (ARCP), NorthStar (NRF), and Campus Crest (NYSE:CCG)
mREITs: While I've personally decided to avoid the group due to its convoluted nature, the dividends here are awfully tempting for those with a higher risk backbone. I'd probably recommend going with a pooled play like REM or a less levered situation like MFA Financial (NYSE:MFA).
Options and Option-Income Funds: For a bit more sophisticated investor, covered call writing and cash secured put selling can beef up portfolio income. A simpler, more convenient option may be to purchase option-income funds from Eaton Vance, Blackrock, and Nuveen.
Conclusion
In the end, income strategy is a highly personal endeavor. While committing to equities with attractive dividend growth prospects may be one solution, I think investors may be best served by considering the breadth of higher income alternatives in the current market. While you won't win any moral points for taking the high road with your dividend positions, I think you could end up being a better rounded investor with a better rounded portfolio.
Disclosure: I am long ARCP, NRF, CCG, PSEC, HYI, NML, SLRC. I wrote this article myself, and it expresses my own opinions. I am not receiving compensation for it (other than from Seeking Alpha). I have no business relationship with any company whose stock is mentioned in this article.
Additional disclosure: Disclaimer: The above should not be considered or construed as individualized or specific investment advice. Do your own research and consult a professional, if necessary, before making investment decisions.