By Sumit Roy
Natural gas was last trading down by a penny to $3.70/mmbtu after the Energy Information Administration reported that operators injected 46 billion cubic feet into storage last week, below the 47 to 60 bcf range of analyst estimates. The injection was also below last year's build of 67 bcf and the five-year average build of 78 bcf.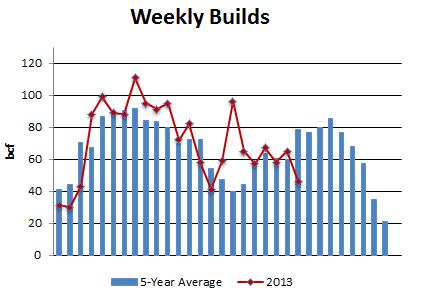 In turn, inventories now stand at 3,299 bcf, which is 197 bcf below the year-ago level and 20 bcf above the five-year average (calculated using a slightly different methodology than the EIA).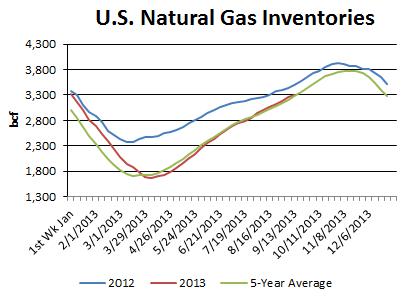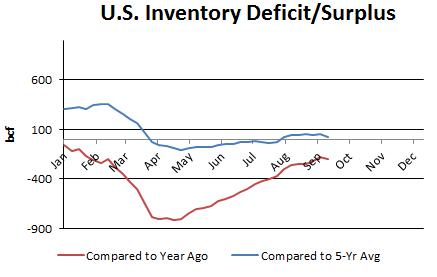 The weather last week was warmer than seasonal norms and during the same period a year ago. The Edison Electric Institute said that utilities generated 81,463 GWh in the week ending Sept.14, which was 6% above the same week a year ago.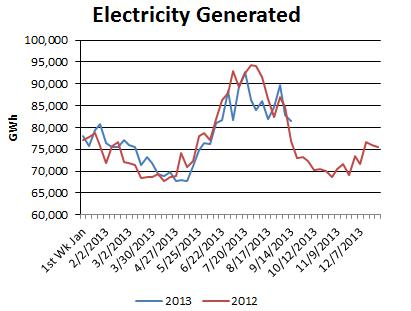 Looking forward, the NOAA's six- to 10-day outlook continues to call for warmer-than-normal temperatures across most of the United States, though cooler-than-normal temperatures are expected on the West Coast.
NOAA Six- to 10-Day Outlook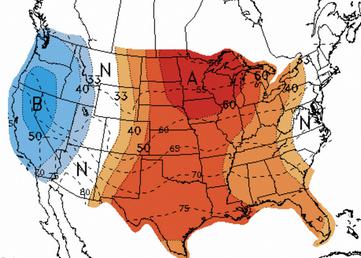 Meanwhile, the number of rigs drilling for natural gas in the U.S. rose by seven to 401 last week.
Natural Gas Rig Count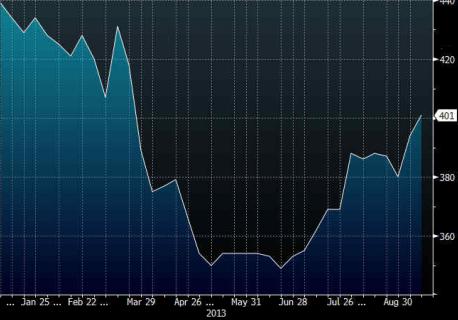 Natural Gas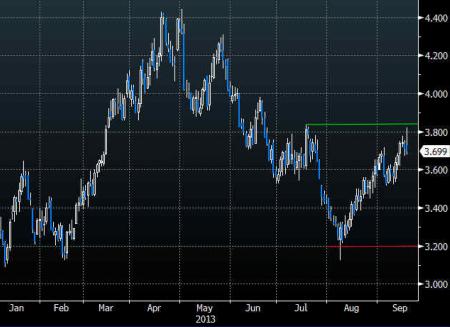 Bottom line: The latest inventory data from the EIA were bullish, as surplus against the five-year average fell from 53 bcf to 20 bcf. However, the brief spike above $3.80/mmbtu didn't last, as traders sold, perhaps anticipating reduced demand during the fall shoulder season. Currently, inventories are on a trajectory to peak around 3,800 bcf in November, which would be roughly 100 bcf below last year's record levels.
Natural gas is a trader's market, and we would buy on dips ahead of winter. But a front-month price of $3.70 and winter futures near $4 aren't anything to get excited about; we opt to remain on the sidelines until a more compelling trade opportunity develops.